Grammy Nominee for Best Album Notes
Joseph C. Smith's Orchestra: Songs of the Night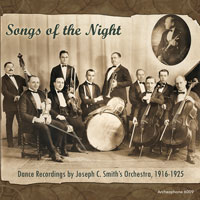 It took a violin virtuoso leading the band at an upscale New York hotel to turn the world of dance records upside down. Eschewing the cold, impersonal arrangements of military bands, Joseph C. Smith brought a warmth and intimacy to the soundtrack of the 1910s dance craze--always with taste and discipline. He reinvigorated the waltz, helped standardize the fox trot, incorporated vocal refrains, and introduced many future classics. For a brief moment, the night belonged to Maestro Smith.
Songs of the Night features 47 tracks recorded between 1916 and 1925 and includes a 32-page booklet that tells the story of Smith's career and the innovations he pioneered. Researcher Ryan Barna has uncovered new information on Smith's life and shares valuable insights into the bandleader's singular contributions during the rapidly-changing world of early-century dance music. Smith was the first bandleader to introduce vocal refrains on dance records, and you can hear old industry pros Harry Macdonough on songs such as "Smiles" and "Peggy" and Billy Murray on "Ching-a-Ling's Jazz Bazaar." Moreover, Smith provided a launching pad for many top musicians, who perform their solo specialties here, including trombonist Harry Raderman; xylophonists Teddy Brown and George Hamilton Green; pianists Hugo Frey, Harry Akst and William Bergé; and saxophonist Rudy Wiedoeft. Smith himself provides sometimes beautiful ("Missouri Waltz"), sometimes scorching violin work ("Sally") throughout the proceedings.
Read more | Listen to samples | Add to Cart
---
recently released
Dan W. Quinn, Anthology: The King of Comic Singers, 1894-1917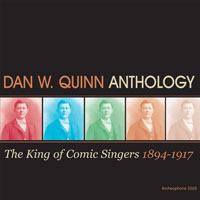 For thousands of patrons listening to a phonograph for the first time in the 1890s, the voice they heard coming out of the horn belonged to Dan W. Quinn. In an era when performers were seen as secondary to the song, early record buyers understood that the name Dan Quinn meant the record was a winner. He always brought the newest hits, sung with pep and consistent clarity, and he did so thousands of times for dozens of labels. Anthology: The King of Comic Singers, 1894-1917 features 30 selections, taken from rare cylinders and discs, that highlight Quinn's quarter-century in the studio, featuring the up-to-date comic numbers he was best known for, along with sentimental ballads and ragtime songs he helped establish as standards. The 52-page booklet inside presents original research and stunning new discoveries about the man and his career, illustrated with many previously unpublished photos.
news
Discover some pioneers this Black History Month
Celebrate the sounds of the earliest African-American artists on record this Black History Month. Through February 29th, all releases highlighting African-American recording stars are on sale for 15% off. Grammy-winner Lost Sounds offers a terrific introduction to many of these pioneers, and we also have individual sets dedicated to Bert Williams, Wilbur Sweatman, Mary Stafford and Edith Wilson, and King Oliver. All feature extensive liner notes that contextualize their lives and artistry. Visit our specials page to see all discounted titles > [2/2/16]
A Grammy nod for Joseph C. Smith
Grammy nominations are out, and our Joseph C. Smith compilation Songs of the Night is nominated for Best Album Notes. Congratulations to notes author Ryan Barna! [12/7/15]
Songs of the Night now available
Our Joseph C. Smith collection, Songs of the Night: Dance Recordings, 1916-1925 is now available and shipping immediately. The 2 CD set features 47 selections and a 32-page booklet full of new research on Smith and his innovations. Learn more and order > [9/11/15]
Facebook |
Twitter |
RSS feed | News Archive
---
from our blog
Have you visited our blog, Archeophone Outtakes, yet? New posts are online regularly—so stop by and join the conversation. You can learn of new posts via Facebook and Twitter and there's a handy "subscribe" box in the right column of the blog pages you'd like to receive a digest and link in your inbox.
Recent posts
---
Today in Acoustic History: February 11