Coming September 9
1911: "Up, Up a Little Bit Higher"
26 selections from the year the nation got wrapped up in the aviation craze and the Triangle fire changed workplace safety laws. Highlights include Gene Greene's "King of the Bungaloos," Blanche Ring's "Come Josephine in My Flying Machine," and Collins and Harlan's "Alexander's Ragtime Band."

See the complete track listing and listen to samples »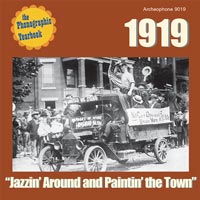 1919: "Jazzin' Around and Paintin' the Town"
25 selections from the year the White Sox threw the World Series and the nation experienced one of the largest labor strikes in history. Highlights include Marion Harris' "After You've Gone," John Steel's "A Pretty Girl is Like a Melody," Billy Murray's "The Alcoholic Blues" and hits by some of the leading dance orchestras of the day.

See the complete track listing and listen to samples »
---
Archeophone Archives update


Eleven releases now available
Eleven releases are now available on our new Archeophone Archives imprint. Archives is dedicated to preserving, restoring, and reissuing extensive runs of early sound recordings in digitally downloadable form. All Archives releases feature careful professional transfers, expert audio restorations, and complimentary downloadable liner notes that contextualize the recordings.
Learn more about the Archeophone Archives and our inaugural set of releases, the Domestic Popular Series of Edison Blue Amberol Records.
News
Isham Jones, Happy now available
Isham Jones, Happy: The 1920 Rainbo Orchestra Sides is now on sale and shipping. The 2 CD set features all 37 selections recorded by Jones' Rainbo Orchestra in 1920 and a 32-page booklet with liner notes by jazz scholar and trombonist David Sager. Happy is on sale for $24.99; order your copy today. » [8.19.14]
Learn more | Listen to samples | Add to Cart

Two new Phonographic Yearbooks coming September 9
Two new volumes in our Phonographic Yearbook series are scheduled for September 9. 1911: "Up, Up a Little Bit Higher" and 1919: "Jazzin' Around and Paintin' the Town" both feature top-notch audio restorations and are packaged with a 24-page color booklet with historical images, notes on the recordings, and an interpretive historical essay on key events of the year. Track listings and sound samples are online for both. [8.13.14]

Stereophile magazine declares Lost Sounds a 'Record to Die For'
Stereophile magazine has included Lost Sounds: Blacks and the Birth of the Recording Industry, 1891-1922 on their 2014 list of 'Records to Die For.' Read the review online » [3.12.14]

Facebook |
Twitter |
RSS feed | News Archive
---
Today in Acoustic History: September 1
---
Create your own catalogue
We've launched an online catalogue tool which allows you to create a customized, printer-friendly catalogue that includes only the items you want to see. In 2 easy steps you can create a catalogue that includes one of the following:
You also can decide how much information you include: Get just a short description, or add in a quick overview or a even the complete track list. Create yours today!