coming September 11
Joseph C. Smith's Orchestra: Songs of the Night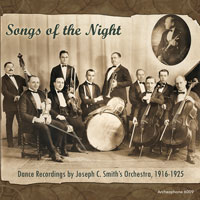 Close out your summer with the sweet sounds of 1920s dance music. Our next release, slated for Friday, September 11, is Joseph C. Smith's Orchestra: Songs of the Night. Featuring 47 selections recorded between 1916 and 1925, the 2-CD set showcases Smith's innovations: The vocal refrains he introduced on "Smiles," the legendary pairing of Smith's laugh and Harry Raderman's trombone on "Yellow Dog Blues," and his beautiful violin work on "Missouri Waltz." Songs of the Night includes a full-color 32-page booklet with liner notes by Ryan Barna that tell Smith's story and explore his critical role in transitioning dance music from the military bands of the early teens to the jazz dancers embraced in the 1920s.
See the full tracklist and sample all of the selections »
---
recently released
Dan W. Quinn, Anthology: The King of Comic Singers, 1894-1917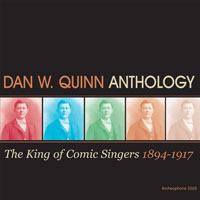 For thousands of patrons listening to a phonograph for the first time in the 1890s, the voice they heard coming out of the horn belonged to Dan W. Quinn. In an era when performers were seen as secondary to the song, early record buyers understood that the name Dan Quinn meant the record was a winner. He always brought the newest hits, sung with pep and consistent clarity, and he did so thousands of times for dozens of labels. Anthology: The King of Comic Singers, 1894-1917 features 30 selections, taken from rare cylinders and discs, that highlight Quinn's quarter-century in the studio, featuring the up-to-date comic numbers he was best known for, along with sentimental ballads and ragtime songs he helped establish as standards. The 52-page booklet inside presents original research and stunning new discoveries about the man and his career, illustrated with many previously unpublished photos.
from our blog
Have you visited our blog, Archeophone Outtakes, yet? New posts are online regularly—so stop by and join the conversation. You can learn of new posts via Facebook and Twitter and there's a handy "subscribe" box in the right column of the blog pages you'd like to receive a digest and link in your inbox.
Recent posts
---
news
Sound samples online for Songs of the Night by Joseph C. Smith's Orchestra
Sounds samples are online for all 47 selections on our upcoming September release Songs of the Night. See the full playlist and enjoy the music > [8/15/15]
Anthology: The King of Comic Singers, 1894-1917 reviewed in the L.A. Times
Randall Roberts reviewed our Dan W. Quinn set in the L.A. Times. Read the review online > [7/7/15]
What's up next? Songs of the Night by Joseph C. Smith's Orchestra
Our next release will be a 2 CD compilation of Joseph C. Smith's recordings. See the playlist and listen to one of the selections that didn't make the cut at our blog > [6/26/15]
Anthology: The King of Comic Singers, 1894-1917 released
Dan W. Quinn, Anthology: The King of Comic Singers, 1894-1917 is now available and shipping immediately. Anthology features 30 selections that trace Quinn's career from the early 1890s through his 1910s comeback and includes a 52-page full-color booklet with extensive new research andnotes. Learn more > [6/16/15]
Facebook |
Twitter |
RSS feed | News Archive
---
Today in Acoustic History: August 28