Coming Soon
Dan W. Quinn, Anthology: The King of Comic Singers, 1894-1917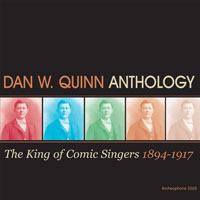 Coming this spring: The first-ever collection dedicated to the recordings of Dan W. Quinn.
Quinn was one of the first stars of the recording business, and the 30 selections on Anthology: The King of Comic Singers, 1894-1917 trace his career from hit records in the 1890s to the final records he made in his 1910s comeback. Standout tracks include "The Streets of Cairo," Quinn's own composition "Lindy, Does You Love Me?," "My Pearl is a Bowery Girl," and "They All Follow Me." Anthology includes a 52-page booklet with rare images and extensive new research. See the full tracklist, listen to samples, and follow us on Facebook and our blog to learn more about Quinn ahead of Anthology's release.
---
2 GRAMMY Nominations
Isham Jones, Happy: The 1920 Rainbo Orchestra Sides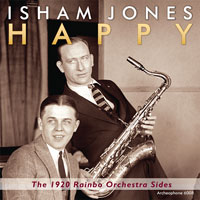 Years before writing "It Had to Be You" and "I'll See You in My Dreams," Isham Jones honed his craft at Mann's Rainbo Gardens in Chicago—composing, arranging, and perfecting songs that he and his band performed nightly before the dinner-and-dance patrons. Jones' style, capturing elements of the social dance craze of the 1910s and anticipating the jazz revolution of the 1920s, offers a rare glimpse into the beginnings of the era of great American dance bands. Happy presents remarkable restorations of all 37 sides Jones' Rainbo Orchestra recorded in 1920 and includes a 32-page booklet with notes by Grammy-nominated author and trombonist David Sager.
New on our Blog
Have you visited our blog, Archeophone Outtakes, yet? New posts are online every week—so stop by and join the conversation. You can learn of new posts via Facebook and Twitter and there's a handy "subscribe" box in the right column of the blog pages you'd like to receive a digest and link in your inbox.
Recent posts
---
News
Sound Samples online for Anthology: The King of Comic Singers, 1894-1917
Sound samples are online for our next release, Dan W. Quinn, Anthology: The King of Comic Singers, 1894-1917. Anthology features 30 selections that trace Quinn's career from the early 1890s through his 1910s comeback. Anthology will be released in early May. Learn more >
Facebook |
Twitter |
RSS feed | News Archive
---
Today in Acoustic History: May 27