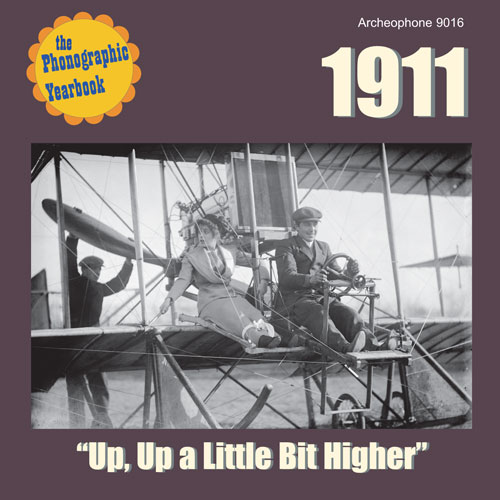 26 hits from 1911, the year the nation got wrapped up in the aviation craze and the Triangle fire changed workplace safety laws. Highlights include Gene Greene's "King of the Bungaloos," Blanche Ring's "Come Josephine in My Flying Machine," and Collins and Harlan's "Alexander's Ragtime Band. The set includes a 24-page full-color booklet with an interpretive historical essay on key events of the year and notes on all of the selections. List price: $17.49
OVERVIEW
Catalogue number: ARCH 9016
UPC: 778632906655
Original release date: September 9, 2014
Running length: 76:27 / 26 tracks
Notes & packaging: Includes a 24-page full-color booklet
Tracks recorded: 1910-1911
Contains racially derogatory language
In Archeophone's Phonographic Yearbook series
Tracks and Sound Samples
Product Description
Package Deals
More by these Artists
Sample all tracks
Tracklist

1.
Alexander's Ragtime Band
Arthur Collins and Byron Harlan
1911

2.
Come, Josephine, in My Flying Machine
Ada Jones and American Quartet
1910

3.
On Mobile Bay
Albert Campbell and Henry Burr
1911

4.
Mother Machree
Will Oakland
1911

5.
I'm Falling in Love with Some One
John McCormack
1911

6.
I Want a Girl Just Like the Girl that Married Dear Old Dad
American Quartet
1911

7.
I Like the Hat, I Like the Dress, and I Like the Girl that's in It
Byron G. Harlan
1911

8.
Day Dreams, Visions of Bliss
Elise Stevenson and Henry Burr
1911

9.
Italian Street Song
Lucy Isabelle Marsh with Victor Light Opera Company
1910

10.
Under the Yum Yum Tree
Arthur Collins and Byron Harlan
1910

11.
King of the Bungaloos
Gene Greene
1911

12.
Steamboat Bill
Edward Meeker
1911

13.
The Oceana Roll
Eddie Morton
1911

14.
Stop, Stop, Stop ("Love Me Some More")
Elida Morris
1910

15.
Down by the Old Mill Stream
Arthur Clough and Brunswick Quartette
1911

16.
All Aboard for Blanket Bay
Ada Jones
1911

17.
Don't Wake Me Up, I Am Dreaming
Walter Van Brunt
1911

18.
Jimmy Valentine
Peerless Quartet
1911

19.
All Alone
Ada Jones and Billy Murray
1911

20.
Put Your Arms Around Me, Honey
Arthur Collins and Byron Harlan
1910

21.
Come, Josephine, in My Flying Machine
Blanche Ring
1910

22.
I Love the Name of Mary
Will Oakland
1910

23.
Mother Machree
John McCormack
1911

24.
Billy (She Always Dreams of Bill)
American Quartet
1911

25.
Some of These Days
Sophie Tucker
1911

26.
Let Me Call You Sweetheart
Columbia Quartette
1911
26 gloriously restored tracks from the year that witnessed excitement and terror in the skies. The aviation craze delighted the country, but the fire at the Triangle Shirtwaist Company in New York City took 146 lives and horrified the public conscience. Safety laws put into place in the aftermath of the blaze were one aspect of progressive legislation that asserted government's right to regulate the way business owners treated their employees. These are the stories behind the music on 1911: "Up, Up a Little Bit Higher," the sixteenth volume in our popular Phonographic Yearbook series.
Some of the Most Popular Songs of All Time
Each year has at least one or two all-time classics, but 1911 seems to have had more than its fair share: Beth Slater Whitson's "Let Me Call You Sweetheart," performed by the Columbia (Peerless) Quartette; Shelton Brooks' "Some of These Days," by Sophie Tucker; Tell Taylor's "Down by the Old Mill Stream," by the Brunswick Quartette (with Arthur Clough, tenor); and Bryan and Fischer's "Come, Josephine, in My Flying Machine," sung in two versions. The first is by Ada Jones with Billy Murray and the American Quartet, and the second is by stage legend Blanche Ring. It's irresistible no matter who's singing it.
Ragtime Resurge
Another all-timer is Irving Berlin's "Alexander's Ragtime Band," sung here in the most famous recording by Arthur Collins and Byron G. Harlan, and it has never sounded better. This was the song that started off the "second wave" of ragtime in the 1910s, even though many claimed it wasn't really ragtime. The flip-side of the original disc, "The Oceana Roll," by Eddie Morton, certainly fits the ragtime description, however, and songs such as "Stop, Stop, Stop" by Elida Morris and "King of the Bungaloos" by Gene Greene indulge in some most delicious syncopation as well. Listen for Greene's groundbreaking "jig chorus," often called a forerunner of scat singing.
Important Show Tunes
Will Oakland made his first Columbia record in 1911, "I Love the Name of Mary," the show-stopping winner by Chauncey Olcott. Counter-tenor Oakland sure could get up there! But he also did another Olcott, the evergreen from Barry of Ballymore, "Mother Machree"–as did Ireland's favorite son, John McCormack. So you can compare and see which you think is the better version. McCormack also scored with "I'm Falling in Love with Some One," from Naughty Marietta, the big Victor Herbert show, and he soars. Listen to the control and the masterful pacing McCormack displays. Another from Naughty Marietta is "Italian Street Song," by Lucy Isabelle Marsh and the Victor Light Opera Company, which must have been a triumph of technical engineering, because there were a lot of people singing into that horn. "Mother Machree," "I'm Falling in Love with Some One," and "Italian Street Song" all had lyrics penned by Rida Johnson Young, who turned in a banner year. "Day Dreams, Visions of Bliss" comes from The Spring Maid, which starred Christie MacDonald.
Nautical and Other Novelties
Besides "The Oceana Roll," several of the top hits of 1911 embark upon the sea for their imagery. "Steamboat Bill" is the story of an unlucky captain–a Casey Jones figure, only in a boat–heard here by Edward Meeker, the man whose voice can be found on hundreds of announcements on Edison cylinders. Ada Jones' "All Aboard for Blanket Bay" is a tender lullaby aloft the waves, while Elida Morris asks in "Stop, Stop, Stop" for her lover to "Take me out upon that ocean called the 'Lovable Sea.'" And lastly, "On Mobile Bay" is the very first duet recorded by Albert Campbell and Henry Burr, and it's a good one. As for other novelties, Jones and Murray present the "Great Telephone Song" by Albert Von Tilzer, "All Alone." Collins and Harlan yuk it up as usual on "Under the Yum Yum Tree" and "Put Your Arms Around Me Honey," the latter revived in the 1950s by several artists, including Fats Domino. Take notice of one interesting development on this Yearbook: the formerly ubiquitous genre known as "coon songs" has started to slip away. It's still present, but not as obviously; it's as if the songwriters have started to speak in "code" on some of the songs.
What Else?
"Jimmy Valentine" is one of the coolest things we've heard in a while. The Peerless do a descriptive scene of the notorious criminal being chased by police in the middle of the record, and it's got enough commotion to be convincing. Byron G. Harlan does a nice solo turn on "I Like the Hat, I Like the Dress, and I Like the Girl that's in It," going somewhat against type with a song that's not about mothers or babies. "Billy" shows the American Quartet at its harmonic best with Billy Murray, while the barbershop classic, "I Want a Girl Just Like the Girl that Married Dear Old Dad," shows them to top effect with Walter Van Brunt guesting in place of Murray. The young Van Brunt also gives a stirring performance on "Don't Wake Me Up, I Am Dreaming," another hit by Beth Slater Whitson.
This release is included in the following packages.
Phonographic Yearbook Starter Kit
Save 15% when you order all in-stock editions of our Phonographic Yearbook series together.
Save 20% on our entire catalogue