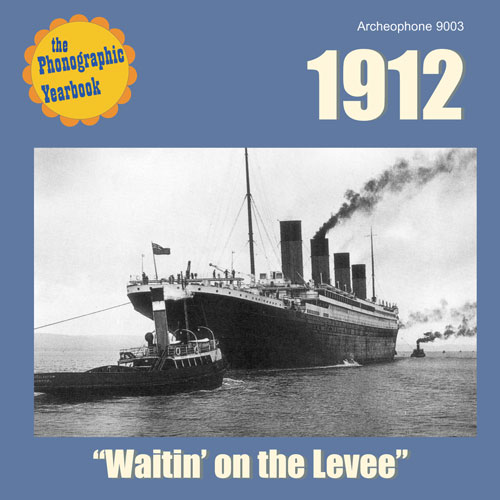 Out of Stock
24 hits from 1912, the year that the unsinkable Titanic went down and Teddy Roosevelt launched his Bull Moose Party. Big songs by Billy Murray and the American Quartet, Heidelberg Quintet, Ada Jones, Bob Roberts doing "Ragtime Cowboy Joe," a very young Al Jolson singing "That Haunting Melody" and "Ragging the Baby to Sleep," Collins and Harlan, Harry Lauder, and more. Deluxe, full-color 24-page booklet features detailed notes on the songs, an historical essay, and rare graphics. List price: $17.49
OVERVIEW
Catalogue number: ARCH 9003
UPC: 656605923826
Original release date: April 4, 2001
Running length: 66:56 / 24 tracks
Notes & packaging: Includes a 24-page full-color booklet
Tracks recorded: 1911-1912
Contains racially derogatory language
In Archeophone's Phonographic Yearbook series
Tracks and Sound Samples
Product Description
Package Deals
More by these Artists
Sample all tracks
Tracklist

1.
Down by the Old Mill Stream
Harry Macdonough and Chorus
1911

2.
Oh, You Beautiful Doll
American Quartet
1911

3.
Snap Your Fingers
Al Jolson
1912

4.
I'm Going Back to Dixie
Arthur Collins and Byron Harlan
1911

5.
I Love You Truly
Elsie Baker
1912

6.
Be My Little Baby Bumble Bee
Ada Jones and Billy Murray
1912

7.
Red Pepper: A Spicy Rag
Fred Van Eps
1911

8.
Moonlight Bay
American Quartet
1911

9.
When I Was Twenty-One and You Were Sweet Sixteen
Albert Campbell and Henry Burr
1912

10.
Whispering Hope
Alma Gluck and Louise Homer
1912

11.
The Ragtime Violin
American Quartet
1911

12.
It's a Long Lane that Has No Turning
Columbia Quartet
1911

13.
Roamin' in the Gloamin'
Harry Lauder
1911

14.
Love Is Mine
Enrico Caruso
1911

15.
That Haunting Melody
Al Jolson
1911

16.
I'm Afraid, Pretty Maid, I'm Afraid
Ada Jones and Walter Van Brunt
1912

17.
Waiting for the Robert E. Lee
Heidelberg Quintet
1912

18.
In the Land of Harmony and Stop Stop Stop (medley)
Guido Deiro
1912

19.
Ring Ting-a-Ling
Ada Jones
1912

20.
If You Talk in Your Sleep, Don't Mention My Name
Billy Murray
1911

21.
Ragging the Baby to Sleep
Al Jolson
1912

22.
Take Me Back to the Garden of Love
Charles W. Harrison and Columbia Quartet
1912

23.
Ragtime Cowboy Joe
Bob Roberts
1912

24.
Everybody Two-Step
American Quartet
1912
Ragtime was in a full-swing comeback in 1912. Tunesmiths like Irving Berlin rode the craze and churned out hit after hit. Now, whether Berlin's "The Ragtime Violin" or Gilbert and Muir's "Ragging the Baby to Sleep" were true ragtime is for musicologists to debate, but the public grabbed on to these songs as the real thing, much as audiences nearly 50 years later would consume rock and roll records in substitution for black rhythm and blues.
Jolson and Murray break out
Al Jolson's first recordings for Victor were hits in 1912. He was a new Broadway sensation, starring in La Belle Paree and performing "That Haunting Melody." Billy Murray, meanwhile, was in the process of becoming a recording superstar. The always popular Murray was featured on records as a solo singer (the risque "If You Talk in Your Sleep, Don't Mention My Name"), in duets with Ada Jones ("Be My Little Baby Bumble Bee"), as the leader of the American Quartet ("Oh, You Beautiful Doll," "Moonlight Bay," "Everybody Two-Step"), and as a member of the Heidelberg Quintet ("Waiting for the Robert E. Lee"). So prominent was Murray that Columbia Records hired the young Murray sound-alike Walter Van Brunt to work with Ada Jones on duets such as "I'm Afraid, Pretty Maid, I'm Afraid," since Murray was under exclusive contract to Victor and Edison.
Classical popularity
Opera stars Enrico Caruso and Alma Gluck with Louise Homer thanked their faithful American audiences who, over the years, purchased all those expensive Victor Red Seal records, by giving them English-language recordings to feast upon. Caruso's "Love Is Mine" and Gluck and Homer's "Whispering Hope" are more serious than the rags of 1912, but they were smashes all the same. And, while not high-brow, the Scot Harry Lauder found Americans eager to hear his brogue-inflected musings on "Roamin' in the Gloamin'," a release in Victor's 12-inch purple-label specialty series.
Widely representative
Archeophone's "1912" CD has many of the biggest names of the acoustic era. In addition to Jolson, Murray, Caruso, Lauder, and the American Quartet, you'll find Collins and Harlan ("I'm Going Back to Dixie"), Campbell and Burr ("When I Was Twenty-One and You Were Sweet Sixteen"), Bob Roberts ("Ragtime Cowboy Joe"), Fred Van Eps ("Red Pepper: A Spicy Rag"), Guido Deiro ("In the Land of Harmony and Stop Stop Stop"), and Ada Jones (doing the charmingly silly "Ring, Ting-a-Ling").
Music during a time of international tragedy
The sinking of the Titanic was not simply an American problem; lives from both sides of the Atlantic were lost, and debate continues today over how class status affected who lived and who died. The color booklet accompanying this compact disc contains an essay that attempts to make sense of the time that encompassed both the fateful voyage of the Titanic and the re-emergence of ragtime. Also detailed is one of the most exciting presidential campaigns of American history, when former president Teddy Roosevelt challenged his one-time friend, the Republican incumbent William Howard Taft, before becoming the Bull Moose candidate. The result was a split vote that allowed Democrat Woodrow Wilson to sneak a narrow popular victory.
This release is included in the following packages.
Save $8 when you order our four yearbooks from the mid-nineteen teens together.
Phonographic Yearbook Starter Kit
Save 15% when you order all in-stock editions of our Phonographic Yearbook series together.
Save 20% on our entire catalogue