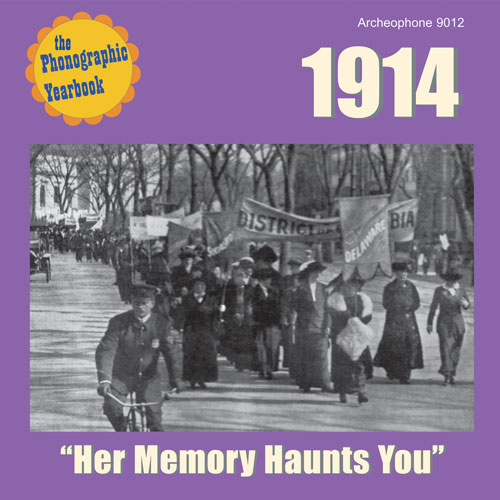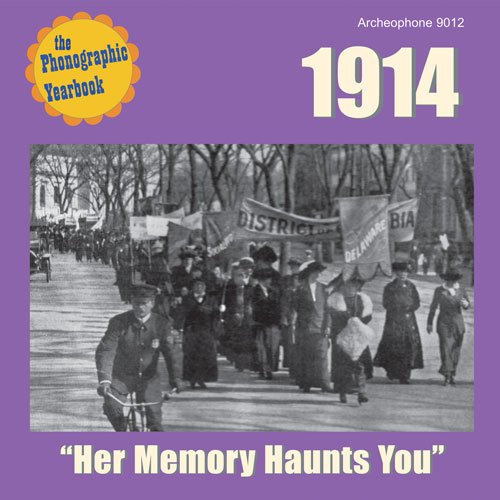 1914: "Her Memory Haunts You" features 25 selections from the year that the hopes and dreams of the progressive coalition that had put their faith in the presidency of Woodrow Wilson saw their agenda put on hold while economic issues--and then the beginning of World War I--took center stage. The soundtrack to the year brings us a good mix of future classics and songs of the moment, odes to country life, and more than a handful of songs longing for home and hearth, both pathetic and humorous. As with Archeophone's other Phonographic Yearbooks, 1914 includes a full-color 24-page booklet. List price: $17.49
OVERVIEW
Catalogue number: ARCH 9012
UPC: 778632904378
Original release date: June 14, 2011
Running length: 77:00 / 25 tracks
Notes & packaging: Includes a 24-page full-color booklet
Tracks recorded: 1913-1914
In Archeophone's Phonographic Yearbook series
Tracks and Sound Samples
Product Description
Package Deals
More by these Artists
Sample all tracks
Tracklist

1.
When You Wore a Tulip and I Wore a Big Red Rose
American Quartet
1914

2.
I Love the Ladies
Arthur Collins and Byron Harlan
1914

3.
I'm on My Way to Mandalay
Oakland-Campbell-Burr
1913

4.
Little Grey Home in the West
Alma Gluck
1914

5.
California and You
Irving Kaufman
1914

6.
By the Beautiful Sea
Heidelberg Quintette
1914

7.
Can't You Hear Me Calling, Caroline?
George MacFarlane
1914

8.
A Little Love, a Little Kiss
John McCormack
1913

9.
The Aba Daba Honeymoon
Arthur Collins and Byron Harlan
1914

10.
The Good Ship Mary Ann
Nora Bayes
1914

11.
Rebecca of Sunny-Brook Farm
American Quartet
1914

12.
The Song that Stole My Heart Away
Henry Burr
1914

13.
Ballin' the Jack
Prince's Band
ca. 1914

14.
Cohen on the Telephone
Joe Hayman
1913

15.
In the Valley of the Moon
Helen Clark and Henry Burr
1914

16.
He'd Have to Get Under-Get Out and Get Under (to Fix Up His Automobile)
Billy Murray
1913

17.
He's a Devil in His Own Home Town
Ed Morton
1914

18.
By the Beautiful Sea
Ada Jones and Billy Watkins
1914

19.
Too-Ra-Loo-Ra-Loo-Ral
Chauncey Olcott
1913

20.
When You're a Long, Long Way from Home
Henry Burr
1914

21.
The International Rag
Arthur Collins and Byron Harlan
1913

22.
The Memphis Blues-One-Step
Victor Military Band
1914

23.
I Want to Go Back to the Farm
Elida Morris
1914

24.
All Aboard for Dixie
Ada Jones and Peerless Quartette
1913

25.
It's a Long, Long Way to Tipperary
American Quartet
1914
Fans of Archeophone's celebrated Phonographic Yearbook series, take note. The summer 2011 release of 1914: "Her Memory Haunts You" fills in a gap in the sequence that now results in a solid stretch of releases covering 1912 through 1916 (1912, 1913, 1914, 1915, 1916). 1914 was the year that the hopes and dreams of the progressive coalition that had put their faith in the presidency of Woodrow Wilson saw their agenda put on hold while economic issues–and then the beginning of World War I–took center stage. The soundtrack to the year brings us a good mix of future classics and songs of the moment, odes to country life, and more than a handful of songs longing for home and hearth, both pathetic and humorous. As with Archeophone's other Phonographic Yearbooks, 1914 comes with a handsomely illustrated, full-color 24-page booklet to accompany the brilliant sound of the 25 tracks.
Fond Memories
The CD starts with a future barbershop classic, "When You Wore a Tulip and I Wore a Big Red Rose," composed by Percy Wenrich and Jack Mahoney and sung by the Billy Murray-led American Quartet. It's a song looking fondly on days of yore, just one of several songs in the survey urging us to "go back." Check out "California and You," by Irving Kaufman (one of his first recordings), "Rebecca of Sunny-brook Farm," Henry Burr's "When You're a Long, Long Way from Home," and "I Want to Go Back to Michigan (Down on the Farm)" by Elida Morris for similar themes. In the case of "The Good Ship Mary Ann," Nora Bayes' character waits longingly for her "Paddy dear" to arrive at port from across the Atlantic. What's extraordinary about these pieces is their variety of musical styles.
Out from the Country
In contrast to the "home" songs, we have a smattering of selections expressing eagerness to get off the farm and into the city or some other faraway place. The central character of Collins and Harlan's "I Love the Ladies" is a cosmopolitan who wants to experience everything the world has to offer. The destination is the mysterious east on "I'm on My Way to Mandalay," sung by the original "Three Tenors": Albert Campbell, Henry Burr and Will Oakland. But it's to the beach for summertime fun on "By the Beautiful Sea," sung in two versions by the Heidelberg Quintet and Ada Jones and Billy Watkins.
Sentimental Beauties
On "Can't You Hear Me Calling, Caroline?" stage star George MacFarlane (veteran of Gilbert and Sullivan shows) proves that a full-bodied baritone voice can carry a ballad, as opposed to the tenors who usually got the leads in operettas. One such tenor, the venerable Chauncey Olcott, gives us the lasting ditty, "Too-Ra Loo-Ra Loo-Ral (That's an Irish Lullaby)," while Ireland's favorite son, John McCormack, supplies the aching "A Little Love, a Little Kiss," based on a French song. And a very curious number by Henry Burr, "The Song that Stole My Heart Away," waxes on about how the old chestnut, "Ben Bolt," caused the speaker to fall in love.
A Faster Pace
The infectious dance rhythms of Chris Smith's "Ballin' the Jack," performed by Prince's Band, and W.C. Handy's "The Memphis Blues," by the Victor Military Band, show a move toward a different, more exciting kind of musical language than the polite dance music of the past. Other pieces reflect a world shifting with technology. Billy Murray's "He'd Have to Get Under-Get Out and Get Under (to Fix Up His Automobile)" is the quintessential early expression of man vs. machine–though Joe Hayman's "Cohen on the Telephone" gives it a run for its money.
Conflict Brewing
World War I began in the summer of 1914, but Irving Berlin didn't know what lay ahead for the world when he penned "The International Rag," which takes a humorous tone toward the subject of America's cultural infiltration of Europe. Likewise, "Little Grey Home in the West," sung here by Alma Gluck, and "It's a Long, Long Way to Tipperary," rendered by the American Quartet, were not written as war songs, although they quickly became adopted by British troops marching off to the front. The famous Christmas truce between British and German soldiers occurred in December 1914, but it wouldn't be long before everyone realized that the war would not come to a speedy conclusion.
This release is included in the following packages.
Save $8 when you order our four yearbooks from the mid-nineteen teens together.
Phonographic Yearbook Starter Kit
Save 15% when you order all in-stock editions of our Phonographic Yearbook series together.
Save 20% on our entire catalogue