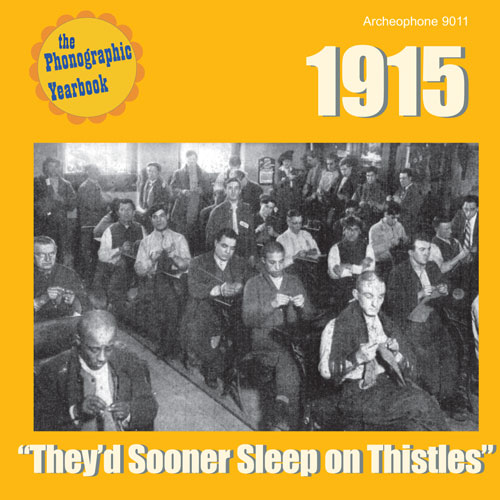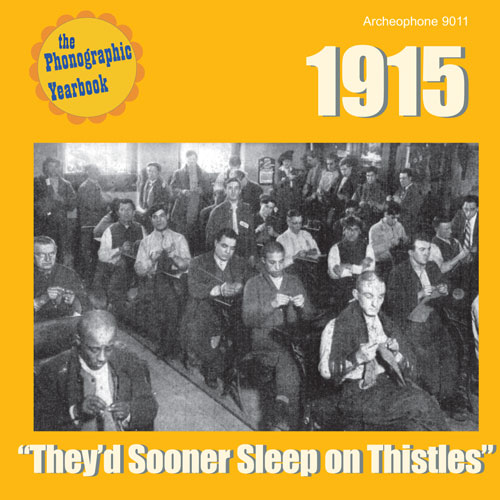 Refreshed edition coming April 2023
25 songs from 1915, the year submarine warfare and the sinking of the Lusitania hit the news. Popular songs included the American Quartet's "On the 5:15" and Billy Murray's "The Little Ford Rambled Right Along," Al Jolson's "Sister Susie's Sewing Shirts for Soldiers," and one of the most famous war protest songs of all, "I Didn't Raise My Boy to Be a Soldier." 1915: "They'd Sooner Sleep on Thistles" includes a 24 page full color booklet featuring an essay on the Lusitania and the push to war, discographical information on the records, notes on the songs, and rare images and photographs. List price: $17.49
OVERVIEW
Catalogue number: ARCH 9011
UPC: 777215111158
Original release date: October 11, 2006
Running length: 78:04 / 25 tracks
Notes & packaging: Includes a 24-page full-color booklet
Tracks recorded: 1910-1915
In Archeophone's Phonographic Yearbook series
Tracks and Sound Samples
Product Description
Package Deals
More by these Artists
Sample all tracks
Tracklist

1.
Hello Frisco! (I Called You Up to Say "Hello!")
Alice Green and Edward Hamilton
1915

2.
Carry Me Back to Old Virginny (Plantation Melody)
Alma Gluck and Male Chorus
1914

3.
I Didn't Raise My Boy to Be a Soldier
Morton Harvey
1915

4.
My Bird of Paradise
Peerless Quartet
1915

5.
It's Tulip Time in Holland (Two Lips Are Calling Me)
Harry Macdonough
1915

6.
You'll Always Be the Same Sweet Girl
James Reed and J. F. Harrison
1915

7.
A Little Bit of Heaven ("Shure They Call It Ireland")
George MacFarlane
1915

8.
On the 5:15
American Quartet
1914

9.
It's a Long, Long Way to Tipperary
John McCormack with Male Chorus
1914

10.
Sister Susie's Sewing Shirts for Soldiers
Al Jolson
1914

11.
Goodbye Girls, I'm Through
Raymond Dixon
1915

12.
They Didn't Believe Me
Alice Green and Harry Macdonough
1915

13.
Home, Sweet Home
Miss Alice Nielsen
1910

14.
The Little Ford Rambled Right Along
Billy Murray
1915

15.
He's a Rag Picker
Peerless Quartet
1914

16.
If We Can't Be the Same Old Sweethearts, We'll Just Be the Same Old Friends
Irving Kaufman
1915

17.
There's a Little Lane Without a Turning "On the Way to Home Sweet Home"
Henry Burr
1915

18.
Back Home in Tennessee (Introducing: I Love to Stay at Home)
Prince's Band
1915

19.
Close to My Heart
Albert Campbell and Henry Burr
1915

20.
Down Among the Sheltering Palms
Lyric Quartet
1915

21.
My Little Dream Girl
James Reed and J. F. Harrison
1915

22.
Chinatown, My Chinatown
American Quartet
1914

23.
Alabama Jubilee
Arthur Collins and Byron Harlan
1915

24.
I Didn't Raise My Boy to Be a Soldier
Peerless Quartette
1915

25.
Back to the Carolina You Love
Al Jolson
1914
In 1915, under the direction of future president Herbert Hoover, the Committee for Belgian Relief was earning the U.S. respect the world over for its demonstrated dedication to neutrality and its humanitarian work to that nation, blighted by German occupation during the opening months of the Great War. American neutrality was strained, however, in May 1915, when a German U-boat torpedoed and sank the luxury passenger liner, the RMS Lusitania. Along with a full-color booklet featuring notes and an historical essay, Archeophone's eleventh installment in its Phonographic Yearbook series includes 25 tracks from this year that American resolve was put to the test.
Songs of Pacifism and (Comic) Relief
Probably the biggest hit of the year, and one still very well-known today, was "I Didn't Raise My Boy to Be a Soldier," with popular versions waxed by both Morton Harvey and the Peerless Quartet (and immortalized in sheet music with Ed Morton's face on the cover). Listen to the differences in the two versions: Harvey's is more serious and martial-sounding, while the Peerless' version sounds breezy and carefree. Once the U.S. entered the war, both recordings would be hard to find. Meanwhile, Al Jolson sang the most popular tongue twister of the year, "Sister Susie's Sewing Shirts for Soldiers," chronicling how British soldiers would sooner spurn Sister Susie's good-natured relief efforts and sleep on thistles than to wear her uncomfortable shirts.
Problems with Transportation
But the war was still a world away in 1915. More domestic concerns revealed themselves in popular song, especially the problem of urban sprawl and commuting witnessed in "On the 5:15" by the American Quartet, as well as the peculiar joys of owning a Ford, as heard in Billy Murray's "The Little Ford Rambled Right Along." These are two of the acoustic era's most requested songs of all time!
Yearning for Home
On the other end of the spectrum from these comical ditties are stirring American classics of yearning for home, "Home, Sweet Home" and "Carry Me Back to Old Virginny," sung by opera stars Alice Nielsen and Alma Gluck, respectively. Henry Burr sings (and talks) on "There's a Little Lane Without a Turning 'On the Way to Home Sweet Home,'" Jolson longs for home and his girl in "Back to the Carolina You Love," and the Lyric Quartet sing of lovers separated on two coasts in "Down Among the Sheltering Palms." And, on the other side of the ocean, the song of longing for home as Tommies marched to battle was "It's a Long, Long Way to Tipperary," sung here in a command performance by Ireland's own John McCormack.
A Year of Pseudonyms
Classic love songs from 1915 by acoustic-era stars gone incognito prove the old saying that a rose by any other name is still a rose. Messrs. Reed and Harrison (a.k.a. Reed Miller and Frederick Wheeler) sing the beautiful "My Little Dream Girl" and "You'll Always Be the Same Sweet Girl," while Olive Kline (masquerading as Alice Green) duets with Harry Macdonough on "They Didn't Believe Me" and with Edward Hamilton (that's Reinald Werrenrath to you and us) on "Hello Frisco," a song from the Ziegfeld Follies about both the Pan American Exposition and transcontinental telephone service. Finally, Raymond Dixon (a.k.a. Lambert Murphy) takes his turn at "Goodbye Girls, I'm Through," a standout number from Montgomery and Stone's Chin Chin.
Caricatures from Ragtime, Hawaii, and Chinatown
Collins and Harlan show they still know how to rag on the infectious "Alabama Jubilee," complete with stereotypes from old Southern culture. Irving Berlin's "He's a Rag Picker" by the Peerless Quartet also has Arthur Collins out front, ragging like it was 1902 again. Another Berlin song, "My Bird of Paradise," also sung by the Peerless, was inspired by a play thought to have been largely responsible for the Hawaiian craze. "Chinatown, My Chinatown" was actually written in 1906 and published in 1910, but that didn't stop its caricatures from being revived by the American Quartet in 1915 and by other acts in the big-band era.
Another beautiful booklet, a fascinating look at the Lusitania and American neutrality, and 25 crisp, clean tracks make our 1915 yearbook one of the best yet!
This release has been removed from our package deals until it is back in stock.