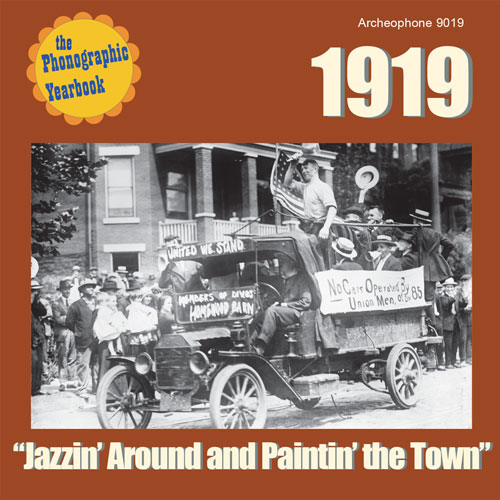 25 selections from 1919, the year the White Sox threw the World Series and the nation experienced one of the largest labor strikes in history. Highlights include Marion Harris' "After You've Gone," John Steel's "A Pretty Girl is Like a Melody," Billy Murray's "The Alcoholic Blues" and hits by some of the leading dance orchestras of the day. The set includes a 24-page full-color booklet with an interpretive historical essay on key events of the year and notes on all of the selections. List price: $17.49
OVERVIEW
Catalogue number: ARCH 9019
UPC: 778632906662
Original release date: September 9, 2014
Running length: 25 tracks / 77 minutes
Notes & packaging: Includes a 24-page full-color booklet
Tracks recorded: 1918-1919
Contains racially derogatory language
In Archeophone's Phonographic Yearbook series
Tracks and Sound Samples
Product Description
Package Deals
More by these Artists
Sample all tracks
Tracklist

1.
After You've Gone
Marion Harris
1918

2.
I'm Forever Blowing Bubbles
Selvin's Novelty Orchestra
1919

3.
Till We Meet Again
Albert Campbell and Henry Burr
1918

4.
Oui, Oui Marie (Wee, Wee, Marie)
Arthur Fields
1918

5.
How 'Ya Gonna Keep 'Em Down on the Farm? (After They've Seen Paree)
Nora Bayes
1918

6.
Tell Me
Al Jolson
1919

7.
Beautiful Ohio
Henry Burr
1918

8.
It's Nobody's Business but My Own
Bert Williams
1919

9.
Nobody Knows (and Nobody Seems to Care)
Irving and Jack Kaufman
1919

10.
Mandy
Gus Van and Joe Schenck
1919

11.
A Pretty Girl Is Like a Melody
John Steel
1919

12.
That Wonderful Mother of Mine
Henry Burr
1919

13.
Till We Meet Again
Charles Hart and Lewis James
1918

14.
The Vamp
Joseph C. Smith's Orchestra
1919

15.
A Good Man Is Hard to Find
Marion Harris
1919

16.
The Alcoholic Blues
Billy Murray
1919

17.
Ja-Da (Ja Da, Ja Da, Jing Jing!)
Arthur Fields
1918

18.
Beautiful Ohio
Waldorf-Astoria Dance Orchestra
1918

19.
Oh! What a Pal Was Mary
Henry Burr
1919

20.
I'll Say She Does
Al Jolson
1918

21.
I'm Forever Blowing Bubbles
Albert Campbell and Henry Burr
1919

22.
When You Look in the Heart of a Rose
John McCormack
1919

23.
The Rose of No Man's Land
Charles Hart and Elliott Shaw
1918

24.
O Death, Where Is Thy Sting?
Bert Williams
1918

25.
Till We Meet Again
Nicholas Orlando's Orchestra
1919
1919: "Jazzin' Around and Paintin' the Town" brings you 25 selections from the year Americans returned from war, the White Sox threw the World Series, and labor strife swept the nation. Having "done their bit" and denied raises during the war effort, workers across the country were ready to get their due in peacetime, but business owners resisted. In February 1919, a general strike in Seattle, noteworthy for its peaceful and orderly conduct, brought the city to a standstill. Huge strikes in the coal and steel industries followed later in the year, and they all were denounced as the work of Bolshevists–a growing sentiment that unleashed a Red Scare throughout the land. The Chicago White Sox also couldn't petition for raises, and they certainly couldn't strike back then, so several players conspired with gamblers to throw the World Series. They would become known as the Chicago Black Sox.
The music that provided the soundtrack to this season of unrest is notable for its rueful character–even the numbers from the wildly successful Ziegfeld Follies of 1919. Waltzes and minor keys dominate the post-war soundscape, but the tone is thoughtful and never turns mawkish. Many of the songs–"After You've Gone," "I'll Say She Does," "A Pretty Girl Is Like a Melody" and others–are all-time classics. Others were so popular as to require the inclusion here of multiple interpretations. In Henry Burr's hands, "Beautiful Ohio" is a haunting ballad, while Joseph Knecht's Waldorf-Astoria Orchestra makes it a brisk, muscular waltz. Campbell and Burr sing "I'm Forever Blowing Bubbles" with mist in their eyes, while Ben Selvin's Novelty Orchestra make it a playful dance that highlights the xylophone. And "Till We Meet Again" was the biggest hit of all, a fitting coda to mark the end of World War I. Top performers include Marion Harris, Arthur Fields, Nora Bayes, Bert Williams, and Al Jolson, along with the pre-jazz sound of Joseph C. Smith's Orchestra doing "The Vamp," and Billy Murray crying in "The Alcoholic Blues" about the coming of Prohibition.
The seventeenth volume in Archeophone's popular Phonographic Yearbook series, 1919: "Jazzin' Around and Paintin' the Town" features our customary 24-page full-color booklet, loaded with notes and illustrations and the pristine sound you've come to expect. It's one of the best yet!
This release is included in the following packages.
Phonographic Yearbook Starter Kit
Save 15% when you order all in-stock editions of our Phonographic Yearbook series together.
Save 20% on our entire catalogue