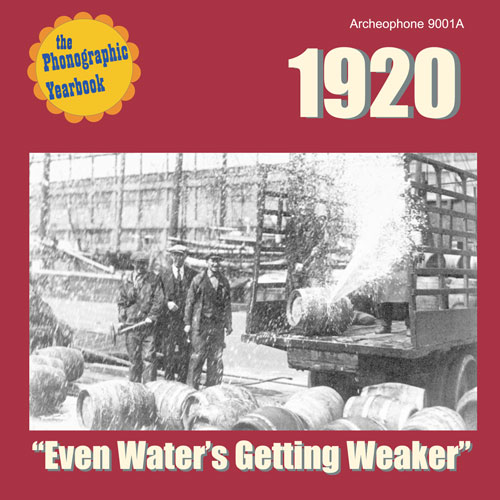 24 hits from 1920, the year that national Prohibition and women's suffrage took effect. Top artists include Al Jolson, Billy Murray, Paul Whiteman's Orchestra, Van and Schenck, John Steel, Selvin's Novelty Orchestra, Nora Bayes, and Art Hickman's Orchestra. 24-page color booklet features detailed notes on the songs, an historical essay, and rare graphics. List price: $17.49
OVERVIEW
Catalogue number: ARCH 9001A
UPC: 656605911823
Original release date: September 1, 1999
Running length: 75:36 / 25 tracks
Notes & packaging: Includes a 24-page full-color booklet
Tracks recorded: 1919-1920
In Archeophone's Phonographic Yearbook series
Tracks and Sound Samples
Product Description
Package Deals
More by these Artists
Sample all tracks
Tracklist

1.
I've Got My Captain Working for Me Now
Al Jolson
1919

2.
Wait Till You Get Them Up in the Air, Boys
Billy Murray
1919

3.
Dardanella
Selvin's Novelty Orchestra
1919

4.
The Moon Shines on the Moonshine
Bert Williams
1919

5.
Let the Rest of the World Go By
Elizabeth Spencer and Charles Hart
1919

6.
The Love Nest
Art Hickman's Orchestra
1920

7.
When My Baby Smiles at Me
Ted Lewis Jazz Band
1920

8.
Left All Alone Again Blues
Marion Harris
1920

9.
All the Boys Love Mary
Gus Van and Joe Schenck
1920

10.
Alice Blue Gown
Edith Day
1920

11.
Yellow Dog Blues
Joseph C. Smith's Orchestra
1919

12.
Swanee
Al Jolson
1920

13.
Hold Me
Art Hickman's Orchestra
1919

14.
Prohibition Blues
Nora Bayes
1919

15.
Whispering
Paul Whiteman and His Ambassador Orchestra
1920

16.
Rose of Washington Square
Kentucky Serenaders
1920

17.
You Ain't Heard Nothing Yet
Al Jolson
1919

18.
The Love Nest
John Steel
1920

19.
I'll See You in C-u-b-a
Billy Murray
1920

20.
I'll Be With You in Apple Blossom Time
Charles Harrison
1920

21.
Tell Me Little Gypsy
Art Hickman's Orchestra
1920

22.
You'd Be Surprised
Eddie Cantor
1919

23.
The St. Louis Blues
Marion Harris
1920

24.
Chile Bean
Paul Biese Trio with Frank Crumit
1920

25.
The Japanese Sandman
Paul Whiteman and His Ambassador Orchestra
1920
The biggest hits of 1920 are now available in a beautiful second edition! This is the first volume of Archeophone Records' celebrated Phonographic Yearbook series, and this new edition features three bonus tracks, an expanded booklet, improved sound, and the high standards you've come to expect from the leader in acoustic-era reissues.
National Prohibition went into effect in January 1920, and Bert Williams moaned about the loss of his beloved liquor in "The Moon Shines on the Moonshine," singing wryly, "Even water's getting weaker / 'Bout one tenth of one percent." But also in January of that year, the U.S. went through its first "red scare," in which thousands of suspected Communists were rounded up and arrested. Further, for the first time in American history, the population in cities surpassed that of rural areas, while veterans returning from World War I flooded an uncertain domestic economy.
No Prohibition Against Laughter
The palpable fear of change evident in American society was soothed over by the comedians, who took Prohibition as their subject. In addition to Bert Williams, there was Billy Murray urging his countrymen in "I'll See You in C-u-b-a" to take a trip to the land where wine is flowing; Nora Bayes lamenting the passing of her old friend, Alcohol ("Al" for short) in "Prohibition Blues"; and Van and Schenck extolling the virtues of Mary in "All the Boys Love Mary." It turns out that Mary's charms are not in her face but in the secret her father keeps in the cellar.
Dance Away
The dance craze was in full swing by 1920, with Paul Whiteman's first record, "Whispering" and "The Japanese Sandman" becoming one of the best-selling singles of the entire acoustic era. The future "King of Jazz" was joined in setting dance halls to music by Ted Lewis and his trademark "When My Baby Smiles at Me," as well as Art Hickman, whose "Hold Me" features a splendid piano duet in the middle, and the Kentucky Serenaders' "Rose of Washington Square" (one of the bonus tracks on this second edition). Possibly the biggest of all dance hits was "Dardanella," by Selvin's Novelty Orchestra, a song still played today.
Don't Let the Blues Get You Down
The emergence of jazz was accompanined in the late 1910s by the blues, and here are featured several early attempts. Marion Harris shines on "The 'St. Louis Blues'" and "Left All Alone Again Blues," while trombonist Harry Raderman steps out with the Joseph C. Smith Orchestra on "Yellow Dog Blues" (another bonus track).
Abundant Classics
1920 had more than its share of classics, and they're all here, in the best-sounding versions you will find anywhere on compact disc: songs such as Al Jolson's "Swanee," John Steel's "The Love Nest," Edith Day's "Alice Blue Gown," and Eddie Cantor's "You'd Be Surprised" (the third bonus track included on the new edition). Archeophone's "1920" CD is now a classic in its own right, and with this new edition, you'll be surprised just how much better it is
This release is included in the following packages.
Save $6 when you order our three yearbooks from the 1920s together
Phonographic Yearbook Starter Kit
Save 15% when you order all in-stock editions of our Phonographic Yearbook series together.
Save 20% on our entire catalogue