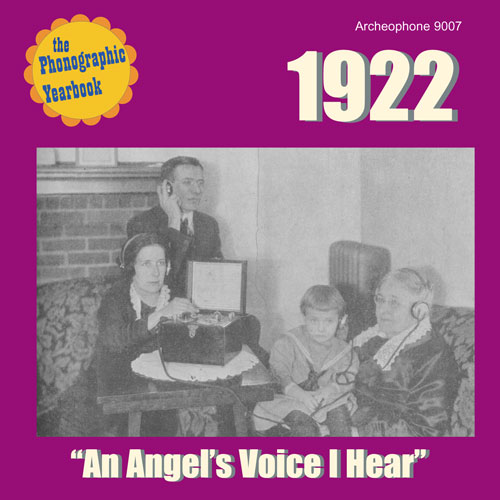 24 hits from 1922, the year that sales of radios to American homes skyrocketed. The music was also getting jazzier, witnessed by hits such as "Lovin' Sam" by Miss Patricola and the Virginians, "On the Alamo" by Isham Jones, and "Hot Lips" by Paul Whiteman with Henry Busse. Other hits are by Fanny Brice ("My Man" and "Second Hand Rose"), Jones and Hare, Henry Burr, Al Jolson, and Lucy Isabelle Marsh and Royal Dadmun. Features the last hit by Jones and Murray, and the song of the year, the insanely popular "Mister Gallagher and Mister Shean" in two different versions. Deluxe, full-color 24-page booklet features detailed notes on the songs, an historical essay, and rare graphics. List price: $17.49
OVERVIEW
Catalogue number: ARCH 9007
UPC: 777215104136
Original release date: December 30, 2002
Running length: 75:11 / 24 tracks
Notes & packaging: Includes a 24-page full-color booklet
Tracks recorded: 1921-1922
Contains racially derogatory language
In Archeophone's Phonographic Yearbook series
Tracks and Sound Samples
Product Description
Package Deals
More by these Artists
Sample all tracks
Tracklist

1.
Do It Again!
Paul Whiteman and His Orchestra
1922

2.
My Man (Mon Homme)
Fanny Brice
1921

3.
April Showers
Al Jolson
1921

4.
I Love Her-She Loves Me (I'm Her He-She's My She)
Eddie Cantor
1922

5.
Ma
Isham Jones Orchestra
1921

6.
Mister Gallagher and Mister Shean
Billy Jones and Ernest Hare
1922

7.
The Sheik
Club Royal Orchestra
1921

8.
When Francis Dances with Me
Ada Jones and Billy Murray
1921

9.
Sweet Indiana Home
Marion Harris with Isham Jones Orchestra
1922

10.
Weep No More (My Mammy)
Vernon Dalhart
1921

11.
On the Alamo
Isham Jones Orchestra
1922

12.
Song of Love
Lucy Isabelle Marsh and Royal Dadmun
1922

13.
My Sunny Tennessee
Peerless Quartet
1921

14.
Angel Child
Al Jolson
1922

15.
Stumbling
Paul Whiteman and His Orchestra
1922

16.
Lovin' Sam (The Sheik of Alabam')
Isabelle Patricola with The Virginians
1922

17.
Second Hand Rose
Fanny Brice
1921

18.
In the Little Red School House
Billy Jones and Ernest Hare
1922

19.
My Buddy
Henry Burr
1922

20.
Mister Gallagher and Mister Shean–"Positively, Mr. Gallagher"
Ed Gallagher and Al Shean
1922

21.
Hot Lips (He's Got Hot Lips When He Plays Jazz)
Paul Whiteman and His Orchestra
1922

22.
I'm Just Wild About Harry
Vaughn De Leath
1922

23.
Mandy 'N' Me
American Quartet
1921

24.
Three O'Clock in the Morning
Paul Whiteman and His Orchestra
1922
Radio was the biggest story of 1922 in America, as hundreds of stations popped up all over the country. A new era of mass communication was born, connecting big city and rural town over hundreds of miles. At the same time, the Jazz Age was getting underway. The songs of 1922 hint at what was to come and look back with a bittersweet nostalgia at the past of popular music.
A look forward
Some of the biggest stars of the 1920s, on stage and radio, are heard on this CD. Fanny Brice, a Ziegfeld mainstay for a decade, reached new heights with her trademark double-sided smash, "Second-Hand Rose" and "My Man." Vaughn De Leath, "the original radio girl," scored a hit with the Blake and Sissle vehicle from Shuffle Along, "I'm Just Wild about Harry." Meanwhile, Isabelle Patricola, accompanied by the very hot Ross Gorman-led Virginians, stands out with "Lovin' Sam (The Sheik of Alabam')." All things concerning "The Sheik" were the craze of 1922; Rudolph Valentino played the part in the hit film of the same name, the song "The Sheik (of Araby)" was a hit for the Club Royal Orchestra, and other songs, including Eddie Cantor's "I Love Her–She Loves Me" allude to "the sheik."
A look to the past
Like "Swanee" (from 1920), "My Sunny Tennessee" yearns for the yesterday of Southern skies and rolling hills, performed here by the Peerless Quartet, a recording industry staple of nearly two decades. Billy Jones and Ernest Hare, soon to be known on radio as The Happiness Boys, scored big with an early offering, the nostalgic "In the Little Red School House." "When Francis Dances with Me" was a comeback hit surprise for the team of Jones and Murray, who had recorded together infrequently in the late 1910s. "Frances" would be Ada Jones' last record with Billy for Victor, as she died while on tour in May 1922.
Dance bands take center stage
Paul Whiteman's band continued its supremacy in national sales, as dance songs such as "Do It Again!" and "Stumbling" reigned supreme in 1922. Trumpeter Henry Busse steps out on "Hot Lips," which he penned as a follow-up to his huge hit "The Wang-Wang Blues," also for Whiteman. "Three O'Clock in the Morning"–a waltz, unusual for Whiteman–would be one of the biggest hits of the entire acoustic era. Isham Jones showed why his outfit was the biggest Chicago band on his first self-composed hit, "On the Alamo."
Stage stars translate hit shows into hit records
The *phenom* of 1922 was "Mister Gallagher and Mister Shean," featured in Ziegfeld's Follies of 1922 and performed in hit recordings by a number of artists, including two very different versions included here. One is by the originators, Ed Gallagher and Al Shean, and the second is by Jones and Hare, who recorded it for both Brunswick and Okeh. As in previous years, Al Jolson continued his unbroken streak of popularity with the smash hit "April Showers," from Bombo, and "Angel Child."
This release is included in the following packages.
Save $6 when you order our three yearbooks from the 1920s together
Phonographic Yearbook Starter Kit
Save 15% when you order all in-stock editions of our Phonographic Yearbook series together.
Save 20% on our entire catalogue