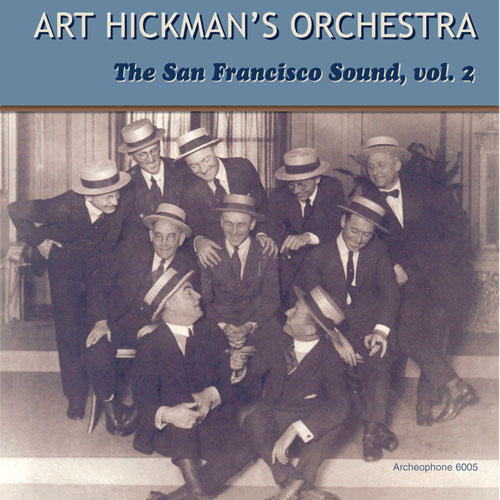 The San Francisco Sound: Volume 2 compiles 25 selections from Hickman's 1920-1921 sessions together with extensive notes by Bruce Vermazen in a 24-page booklet. The follow-up to our first collection of Art Hickman's recordings, this second volume brings to a close thestory of the influential band's dominance of dance floors on both U.S. coasts. List price: $16.49
OVERVIEW
Catalogue number: ARCH 6005
UPC: 777215109018
Original release date: October 2, 2005
Running length: 76:28 / 25 tracks
Notes & packaging: Includes a 24-page booklet
Tracks recorded: 1920-1921
In Archeophone's Jazz, Dance & Blues series
Tracks and Sound Samples
Product Description
Package Deals
More by this Artist
Sample all tracks
Tracklist
1.
A Young Man's Fancy
Art Hickman's Orchestra
1920

2.
Cuban Moon
Art Hickman's Orchestra
1920

3.
Whispering
Art Hickman's Orchestra
1920

4.
If a Wish Could Make It So
Art Hickman's Orchestra
1920

5.
Anytime, Anyday, Anywhere
Art Hickman's Orchestra
1920

6.
The Japanese Sandman
Art Hickman's Orchestra
1920

7.
Avalon
Art Hickman's Orchestra
1920

8.
Darling
Art Hickman's Orchestra
1920

9.
Missy
Art Hickman's Orchestra
1920

10.
June
Art Hickman's Orchestra
1920

11.
Nightingale
The Hickman Trio
1920

12.
Sweet Little Stranger
The Hickman Trio
1920

13.
Siren of a Southern Sea
Art Hickman's Orchestra
1921

14.
Goodbye Pretty Butterflies
Art Hickman's Orchestra
1921

15.
Cherry Cherokee
Art Hickman's Orchestra
1921

16.
Dream of Me
Art Hickman's Orchestra
1921

17.
Near Me
Art Hickman's Orchestra
1921

18.
Day Dreams
Art Hickman's Orchestra
1921

19.
I Spoiled You
Art Hickman's Orchestra
1921

20.
I Call You Sunshine
Art Hickman's Orchestra
1921

21.
Nestle in Your Daddy's Arms
Art Hickman's Orchestra
1921

22.
Hokum
Art Hickman's Orchestra
1921

23.
Honey Lou
Art Hickman's Orchestra
1921

24.
Honeymoon Home
Art Hickman's Orchestra
1921

25.
Happiness
Art Hickman's Orchestra
1921
The follow-up to the very popular first volume of the Art Hickman Orchestra's 1919-1920 recordings called The San Francisco Sound. This second volume features another 25 tracks, recorded between 1920 and 1921, and brings to a close the story of the influential band's dominance of dance floors on both U.S. coasts. In some ways this collection is more subdued than Volume 1, but for the jazz collector, The San Francisco Sound, Vol. 2 has plenty of treats in store. These selections find Hickman's players taking greater freedoms than before and developing their own distinctive jazz style.
As on Vol. 1, the musicians are Art Hickman (drums, piano, slide whistle), Clyde Doerr (saxes), Frank Ellis (piano), Ben Black and Vic King (banjos), Steve Douglas (violin), Walter Roesner (trumpet), Fred Kaufman (trombone), Bert Ralton (saxes, oboe, and English horn), and Bela Spiller (string bass). Notes are again provided by expert Bruce Vermazen.
Fighting for Prominence with Whiteman
Before Paul Whiteman's band first recorded in August 1920, the Hickman outfit had the dance-band field largely to themselves for close to a year. But after that, the two groups struggled for control of the market, and Whiteman got the upper hand. It may be simply that with "Whispering" and "The Japanese Sandman," (both on 1920: "Even Water's Getting Weaker") Whiteman put his trademark on the classics earlier and beat Hickman to market. Too bad, as close listening to the Hickman versions of "Whispering" and "The Japanese Sandman" is rewarded by intricate passages by Frank Ellis on piano and Bert Ralton on soprano sax.
More Fine Piano Solos and Drums
If you like the piano solos from Volume 1 of The San Francisco Sound, there are more here to enjoy, especially on "June," which features a more prominent piano sound, showing the studio engineers were finally getting the hang of Hickman's sound, always featuring shifting leads. Art Hickman again highlights his abilities on tom toms on the rhythmic and infectious "Hokum," a piece that allowed the players less freedom than usual—but that also featured innovative dance-band arranging with its two-trumpet team playing over concerted saxes and trombone.
Headliners at Ziegfeld's Midnight Frolic
Just a couple of months after their first sessions in New York, the Hickman band returned in the fall of 1920 to the Big Apple for more recordings and a gig as the finale in Ziegfeld's Follies and, afterward, at the Midnight Frolic. Before they finished up, the Hickman Trio, composed again of Frank Ellis on piano and Clyde Doerr and Bert Ralton on saxes, waxed a couple more tracks, "Nightingale" and "Sweet Little Stranger." So much in demand by Columbia were the Hickman Orchestra that in February 1921, just four months after their previous session, the company sent a team out to San Francisco to make more recordings. Bert Ralton and Vic King were out by this time, and Walter Beban (tenor sax) and an unknown trumpet player were added.
End of the Road
Clyde Doerr left the band shortly after the February 1921 sessions, marking the end of the early Hickman recordings. The group struggled on for another year, and after a six-month engagement at the Cocoanut Grove restaurant in the new Ambassador Hotel in Los Angeles, they broke up in April 1922. Hickman himself dropped from largely from view, making a few recordings over the next few years, before he died of Banti's disease at the young age of 43, in January 1930. Hickman left us a sizeable achievement, the influence of which we can now appreciate 85 years later.
This release is included in the following packages.
Save 15% when you order all in-stock releases in our Jazz, Dance & Blues Series
Save 20% on our entire catalogue