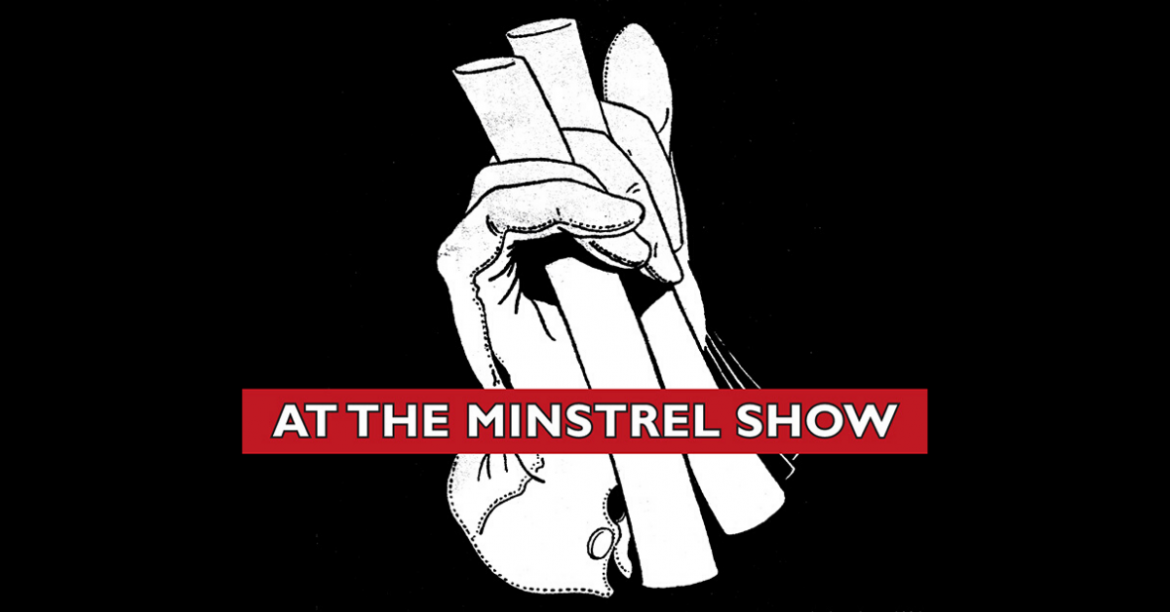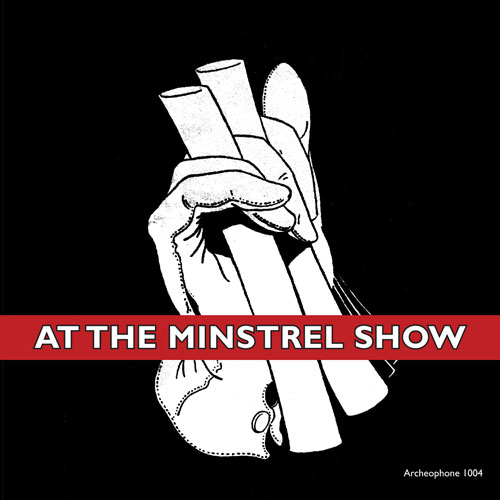 For all the vexed issues they pose to us now, minstrel shows were an important part of American social life in the 19th and early 20th centuries. In the early days of the phonograph industry, the record labels attempted to bring the experience of minstrelsy into consumers' homes. The records were popular; hundreds of titles and thousands of examples survive to this day.
A few of these records have been issued by modern labels, but never before has an attempt been made to deal authoritatively with the genre as a whole. At the Minstrel Show fills the void with 51 tracks on two CDs and a 56-page heavily annotated booklet by Tim Brooks, author of the new McFarland book, The Blackface Minstrel Show in Mass Media. Many of the recordings discussed in the book are featured here.
Disc One features three complete minstrel "shows"—that is, series of discs or cylinders that were intended to be listened to sequentially to give the listener the experience of a whole minstrel show. Disc Two has a number of minstrel "first part" routines (some extremely rare) and songs and skits about minstrelsy, recorded between 1894 and 1926.
At the Minstrel Show will be released in February 2020. The final track list is below; follow us on Facebook and Twitter for updates, and subscribe to our newsletter using the form below to get an email when the CD is available for purchase.
Tracklist: CD 1
Victor's "An Evening with the Minstrels" Series

1.
No. 1: Ethiopian Carnival of Melody
Victor Minstrels (Entire Company)
1905

2.
No. 2: Minstrel Ballad: My Creole Sue
Victor Minstrels (feat. S. H. Dudley, Len Spencer & Harry Macdonough)
1905

3.
No. 3: End Song: Chimes of the Golden Bells
Victor Minstrels (feat. S. H. Dudley, Len Spencer & Quartette)
1905

4.
No. 4: Musical Act: Ebony Emperors of Melody
Victor Minstrels (feat. S. H. Dudley & Len Spencer)
1903

5.
No. 5: Having Fun with the Orchestra
Victor Minstrels (feat. Len Spencer & Steve Porter)
1904

6.
No. 6: The Cake Walk in Coontown
Victor Minstrels (feat. Len Spencer)
1905

7.
No. 7: Sidewalk Conversation: Funny Things You See in the Papers
Victor Minstrels (feat. S. H. Dudley & Len Spencer)
1902

8.
No. 8: Grand Afterpiece: Scenes on the Levee
Victor Minstrels (Entire Company)
1904
Columbia's "An Evening with the Minstrels" Series

9.
Introductory Overture
Columbia Minstrels (Entire Company)
1903

10.
Our Land of Dreams
Columbia Minstrels (feat. J. W. Myers)
1903

11.
End Man's Stories
Columbia Minstrels (feat. Len and Harry Spencer)
1903

12.
End Man Song: I'm a N- That's Living High
Columbia Minstrels (feat. Arthur Collins)
1903

13.
Jokes Between Interlocutor and End Men
Columbia Minstrels (feat. Len and Harry Spencer & Arthur Collins)
1903

14.
I'm Wearing My Heart Away for You
Columbia Minstrels (feat. George J. Gaskin)
1903

15.
Jokes Between Interlocutor and End Man
Columbia Minstrels (feat. Harry Spencer & Arthur Collins)
1903

16.
End Man's Song: My Friend from Home
Columbia Minstrels (feat. Len Spencer)
1903

17.
Finale: Black Hussars March
Columbia Minstrels (feat. J. W. Myers)
1903

18.
Musical Specialty: Trumpet Solo
Columbia Minstrels (feat. Albert Bode)
1903

19.
Monologue
Columbia Minstrels (feat. George Graham [presumed])
1903

20.
Yankee Doodle: Banjo Solo
Columbia Minstrels (feat. Vess L. Ossman)
1903
Edison's "At the Minstrel Show" Series

21.
At the Minstrel Show No. 1
Edison Minstrels (Entire Company)
1906

22.
At the Minstrel Show No. 2
Edison Minstrels (feat. Arthur Collins & Byron G. Harlan)
1906

23.
At the Minstrel Show No. 3
Edison Minstrels (feat. Len Spencer & Billy Murray)
1906

24.
At the Minstrel Show No. 4
Edison Minstrels (feat. Will F. Denny)
1906

25.
At the Minstrel Show No. 5
Edison Minstrels (feat. Len Spencer & Billy Murray)
1906

26.
At the Minstrel Show No. 6
Edison Minstrels (Entire Company)
1906
Tracklist: CD 2

1.
The Minstrel Parade
Arthur Collins & Byron G. Harlan
1915

2.
Minstrel 1st Part, "A High Old Time"
Spencer, Williams & Quinn's Imperial Minstrels
ca. 1894-1895

3.
Minstrel 1st Part, "Dese Bones Shall Rise Again"
The Imperial Minstrels
ca. 1899

4.
Minstrel 1st Part, "The Laughing Song"
Billy Heins & the Ancient City Quartette
ca. 1898

5.
Minstrel 1st Part, "A Hot Time in the Old Town Tonight"
Excelsior Minstrel Company
ca. 1898

6.
It's Got to Be a Minstrel Show Tonight
Dan W. Quinn
1902

7.
Minstrel 1st Part, "Echoes of Minstrelsy"
Arthur Collins, S. H. Dudley & the Ancient City Quartette
1899

8.
Minstrel 1st Part, "All I Want Is My Chicken Back"
Alabama Troubadours
ca. 1900

9.
Minstrel 1st Part, "Three Minutes with the Minstrels"
Arthur Collins, S. H. Dudley & the Ancient City Quartette
1899

10.
That Minstrel Man of Mine
Len Spencer and Vess L. Ossman
1901

11.
Minstrel 1st Part, "My Wild Irish Rose"
Climax Minstrels
ca. 1902

12.
Minstrel 1st Part, "Goo Goo Eyes"
Zonophone Minstrels
ca. 1901

13.
Monarch Minstrels 1st Part, No. 5
The Georgia Minstrels
1902

14.
An Amateur Minstrel Rehearsal
Edison Vaudeville Company
1907

15.
I Got to See the Minstrel Show
Arthur Collins
1906

16.
Minstrel Record "D"
Rambler Minstrels
1906

17.
The Peerless Minstrels
Peerless Quartette and Company
1910

18.
The Elks Minstrels
Elks Minstrel Company
1908

19.
The Stranded Minstrel Man
Murry K. Hill
1908

20.
Me an' de Minstrel Ban'
Billy Murray
1905

21.
Military Minstrels (No. 26)
Victor Minstrel Company
1912

22.
Rex Minstrel No. 2
Peerless Quartette
1914

23.
Minstrels Part VI: I Want to Go Back to the Land of Cotton
Little Wonder Minstrels
1916

24.
The Land of Minstrelsy
Premier Quartet Minstrels
1919

25.
Bring Back Those Minstrel Days
Al Campbell and Jack Kaufman
1926