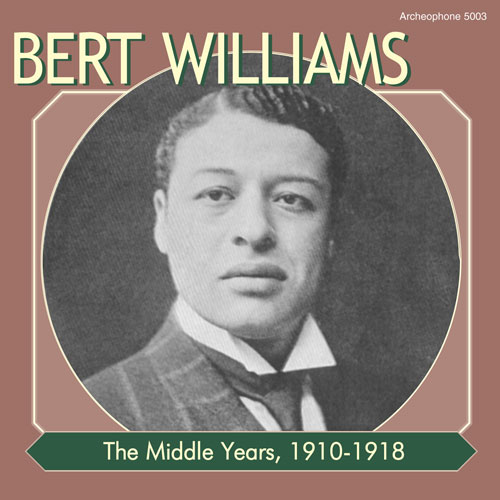 Out of Stock
The second volume of The Complete Bert Williams. 26 songs from 1910-1918, recorded in New York, including two monologuesthat were held for release until after Bert's death: "How? Fried" and "You Can't Do Nothing Till Martin Gets Here." 24-page booklet with rare graphics, and notes co-written by Allen G. Debus. Also features the entire article "The Comic Side of Trouble," by Bert Williams, published in 1918 by the American Magazine. List price: $16.49
OVERVIEW
Catalogue number: ARCH 5003
UPC: 656605928920
Original release date: August 15, 2002
Running length: 77:17 / 26 tracks
Notes & packaging: Includes a 24-page booklet
Tracks recorded: 1910-1918
Volume 2 of The Complete Bert Williams
In Archeophone's Pioneers series
Tracks and Sound Samples
Product Description
Package Deals
More by this Artist
Sample all tracks
Tracklist

1.
I'll Lend You Anything
Bert Williams
1910

2.
Something You Don't Expect
Bert Williams
1910

3.
Constantly
Bert Williams
1910

4.
Play That Barber-Shop Chord
Bert Williams
1910

5.
You Can't Do Nothing Till Martin Gets Here
Bert Williams
1913

6.
How? Fried
Bert Williams
1913

7.
My Landlady
Bert Williams
1913

8.
Woodman, Spare That Tree
Bert Williams
1913

9.
Nobody
Bert Williams
1913

10.
Borrow from Me
Bert Williams
1913

11.
On the Right Road
Bert Williams
1913

12.
I Certainly Was Going Some
Bert Williams
1913

13.
You Can't Get Away from It
Bert Williams
1914

14.
The Darktown Poker Club
Bert Williams
1914

15.
I'm Neutral
Bert Williams
1915

16.
Everybody
Bert Williams
1915

17.
Indoor Sports
Bert Williams
1915

18.
Samuel
Bert Williams
1915

19.
Purpostus
Bert Williams
1915

20.
Never Mo'
Bert Williams
1915

21.
The Lee Family
Bert Williams
1916

22.
I'm Gone Before I Go
Bert Williams
1916

23.
No Place Like Home
Bert Williams
1917

24.
Twenty Years
Bert Williams
1917

25.
O Death, Where Is Thy Sting?
Bert Williams
1918

26.
When I Return
Bert Williams
1918
The second volume in The Complete Bert Williams is Bert Williams: The Middle Years, 1910-1918. This CD contains 26 tracks, over 77 minutes of playing time, and a 24-page booklet with high-quality graphics, an essay on Williams' Ziegfeld years by noted scholar Allen G. Debus, and the entirety of Williams' 1918 article, "The Comic Side of Trouble." For music buffs and scholars of African-American history alike, this collection is one-of-a-kind.
Going It Alone
After his partner, George Walker, became too ill to perform, Williams began a solo career with Ziegfeld's Follies. He was a smash hit, singing songs such as "Constantly" and "Play That Barber-Shop Chord." The material Bert performed was more wry than outrageous as it had been with Williams and Walker, and the comic genius showed himself to be an astute observer of human nature.
The Comic Goat
In his article, "The Comic Side of Trouble," for The American Magazine in January 1918 (reprinted in the accompanying booklet), Bert Williams reflected on how most comedy centers around laughing about the man who always gets the worst of it. The true comedian, Bert says, is the one who can take the brunt of this laughter upon himself—which is exactly what Williams did in his routines. Listen to his classic, "Nobody," to see just how true the observation was.
"One of the Favored Few"
The ironic understatement of Williams' humor will be evident in the two monologues featured on The Middle Years: "You Can't Do Nothing Till Martin Gets Here" and "How? Fried." These masterpieces were recorded in January 1913, but for some reason were not issued until after Bert's death in 1922. Today the 12-inch record is quite rare and collectable. In each monologue, Bert plays on motifs from African-American folklore to great comic effect. In "How? Fried," Uncle Benjamin has such a legendary memory that he even gave the devil a run for his money. We won't spoil the fun, so you can hear why he was "one of the favored few."
A Complete Package
As you have come to expect from Archeophone CDs, this compact disc has all of Bert Williams' released material that was recorded between 1910 and 1918, in order of the original matrices. Most of these tracks have never before been reissued on commercial compact disc—and when you include our volume 3 of The Complete Bert Williams, His Final Releases, that's a total of 50 songs representing one of the most important acoustic-era giants. The accompanying booklet is a prize in itself, and the whole package will be an indispensable part of any listener's CD collection.
This release is included in the following packages.
Save 20% on our entire catalogue