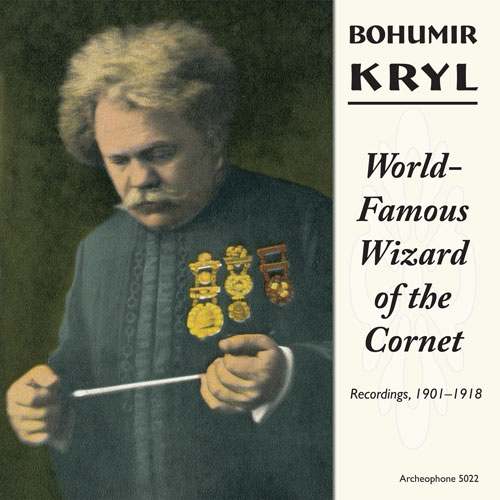 Bohemian-born Bohumir Kryl made sounds with the cornet that audiences had never heard before and that no one had dared to try to record until he came along. He had the outsized ego to make sure he would not soon be forgotten, making his interpretations of the classic repertoire into standards along the way. World-Famous Wizard of the Cornet features 28 selections, recorded between 1901 and 1918, that showcase Kryl's unique technical gifts. A 32-page full-color booklet is included that tells Kryl's life story from his earliest days as a circus acrobat and sculptor. A must-have for musicians. List price: $16.99 Sale price: $13.59
OVERVIEW
Catalogue number: ARCH 5022
UPC: 778632905931
Original release date: September 25, 2012
Running length: 72:53 / 28 tracks
Notes & packaging: Includes a 32-page full-color booklet
Tracks recorded: 1901-1918
In Archeophone's Pioneers series
Tracks and Sound Samples
Product Description
Package Deals
More by this Artist
Sample all tracks
Tracklist

1.
Carnival of Venice
Bohumir Kryl
ca. 1903

2.
Du Du-German Air
Bohumir Kryl
ca. 1903

3.
Arbucklenian Polka
Bohumir Kryl
ca. 1901

4.
Facilita
Bohumir Kryl
ca. 1903

5.
Inflammatus from Stabat Mater
Bohumir Kryl
ca. 1901

6.
Alice, Where Art Thou?
Bohumir Kryl and Leroy Haines
ca. 1903

7.
Birds of the Forest
Bohumir Kryl and Leroy Haines
1903

8.
Down Deep in the Cellar
Bohumir Kryl
1902

9.
Kryl's Favorite
Bohumir Kryl
1904

10.
The Last Rose of Summer
Bohumir Kryl
1903

11.
Russian Fantasia
Bohumir Kryl
1902

12.
Cary Waltz
Bohumir Kryl
ca. 1903

13.
Columbia Polka
Bohumir Kryl
ca. 1901

14.
King Carnival
Bohumir Kryl
ca. 1903

15.
Serenade
Bohumir Kryl
ca. 1903

16.
Sing Smile Slumber
Bohumir Kryl
1905

17.
Utility Polka
Bohumir Kryl and Leroy Haines
ca. 1903

18.
Short and Sweet Polka
Bohumir Kryl and Leroy Haines
ca. 1905

19.
Sweet Sixteen Waltz
Bohumir Kryl
ca. 1901

20.
Blue Bell
Bohumir Kryl
ca. 1905

21.
The Lost Chord
Bohumir Kryl
ca. 1905

22.
Libuöse Overture
Kryl's Bohemian Band
1911

23.
Cleopatra Polka
Bohumir Kryl
1918

24.
Gobble Duet from The Mascot
Bohumir Kryl and Jaroslav Cimera
1906

25.
The Ring
Bohumir Kryl
1911

26.
At the Mill
Kryl's Bohemian Band
1911

27.
Irish Fantaisie
Bohumir Kryl
ca. 1918

28.
Carnival of Venice
Bohumir Kryl
ca. 1918
He was a virtuoso's virtuoso. Stubborn, sometimes miserly, a gifted acrobat, sculptor, and fine art collector to boot. Bohemian-born Bohumir Kryl (1875-1961) made sounds with the cornet that audiences had never heard before and that no one had dared to try to record until he came along. He had the outsized ego to make sure he would not soon be forgotten, making his interpretations of the classic repertoire into standards along the way. World-Famous Wizard of the Cornet celebrates Kryl's career with a retrospecive of his recordings, spanning the years 1901-1918. Notes in the enclosed full-color 32-page booklet are by cornetist John Wetzel, along with Richard Martin, Meagan Hennessey, and trombonist Tim McCormick.
An Acrobat of Music
Kryl's fireworks on the cornet were not unlike a circus performer's freak tricks or a trapeze artist's crazy twists in the air. That's no coincidence. Before he fled his homeland near Prague for the U.S. in 1889, Kryl was a circus tumbler and trapeze flyer before an accident that busted his nose sidelined him. He then turned to another art, stone carving, a family avocation borne out of his hometown's rebuilding efforts after a fire destroyed the city. All this early training would aid young Bohumir in America. He ended up in Chicago apprenticing under sculptor H. R. Saunders, eventually working on the ornaments on the library of General Lew Wallace (of Ben Hur fame) in Crawfordsville, Indiana. When not sculpting, Kryl practiced the cornet and developed his remarkable technical skills, able to produce "sub-pedal notes" on the cornet–quite possibly because of the deviated septum he suffered in the circus in Bohemia.
Cornet Soloist for Sousa and Innes
On a tour through Indiana, Sousa discovered the young cornetist and hired him as his band's cornet soloist. During his brief stint in the band (ca. 1897-ca. 1899), Kryl made his first recordings for Berliner in March 1899. Kryl moved from band to band, landing with Fred Innes' outfit for his longest tenure, beginning in 1902. About this time, Kryl began his most fertile period of recording activity, churning out spectacular solos for the Big Three record companies and small ones as well. Selections such as "Arbucklenian Polka," "Inflammatus" from Stabat Mater, and the lovely "Last Rose of Summer" were standard repertoire requring no special skill that Kryl put his own delightful spin on. But other numbers, such as "Du Du" and Levy's "Russian Fantasia," may have been standards, but Kryl made into showcases for his extraordinary method.
"Sub-pedal" Notes
Kryl's readings of "Down Deep in the Cellar," "Kryl's Favorite" (composed for him by friend and fellow cornetist Paris Chambers), and "Carnival of Venice" show the master doing the awe-inspiring feat he became legendary for. He would toss off notes on the cornet lower than the lowest note deemed physically possible with ease and humor. Apparently, when asked how he did it, Kryl had no answer. These selections and many others, such as his own brilliant composition, "King Carnival," highlight Kryl's mastery of the techniques of double- and triple-tonguing, as well as the peculiar trick of "doodle-tonguing."
Waltzes and Lyrical Numbers
It's not all fireworks with Kryl. Listen to his command on the sensitive numbers, such as "Sing Smile Slumber," Arthur Sullivan's "Lost Chord," "The Ring" (a U-S Everlasting two-minute cylinder), and even "Blue Bell." The precision and tone of these are spot on. For a change in tempo there's Pierné's "Serenade," a most uncommon disc from 1903. For variety on the technical pieces, Kryl mixes it up with some waltzes, like "Cary Waltz"–a Kryl original that he later changed to "Josephine Waltz" in honor of his daughter–and "Sweet Sixteen Waltz," which again returns us to the realm of technical wizardry.
Cornet and Trombone Duets
The CD is sprinkled with a handful of duets Kryl made with trombonists, four with Leroy Haines and one with Jaroslav (Jerry) Cimera. With Haines, Kryl performs "Alice, Where Art Thou?" "Birds of the Forest," "Utility Polka," and "Short and Sweet Polka." Besides their playing in perfect sympathy, the recordings are extraordinary for the arrangements. Kryl plays his cornet in the low register in several places and weaves around the trombone until you can't tell at times which is the cornet and which is the trombone! With his assistant bandmaster Cimera, Kryl performs "Gobble Duet" from Audran's The Mascot, this time with the instrumentalists entering and existing as individual soloists.
Kryl's Bohemian Band
Bohumir Kryl's recording activity came to halt around 1906 when he formed his own band and took to the road. In 1911, he returned with his ensemble to the studio and made a number of new recordings, including several four-minute cylinders for Edison. "At the Mill" is one such number, written by Bohemian composer Fr. Knoch. Smetana's "Libusse Overture" is another band piece. Listen for the unusual dynamic range on this piece, which goes from a whisper to a roar in the middle section–most unusual for an acoustic recording.
Final Recordings
During World War I, Kryl disbanded his outfit and became director of all military band camps in the U.S. Army. After the war came a flurry of activity for Edison, including "Cleopatra Polka," and four numbers for Pathé, including "Irish Fantaisie" and a new and spectacular version of "Carnival of Venice," thus marking the end of Kryl's recording career around 1918. Kryl now turned to other pursuits: banking (he was president of the First National Bank of Berwyn, a Chicago suburb) and art collecting (he had a widely admired collection that he eventually donated to St. Joseph's College in Rensselaer, Indiana). In the 1930s, Kryl formed his all-female Kryl's Symphony, playing to packed houses all over the country and winning rave reviews well into the late 1940s. Kryl and his wife, Mary, finally retired to a flat on Chicago's Lake Shore Drive and lived out their final years going between there and a summer home in Wilmington, New York. The Wizard of the Cornet died on August 7, 1961, aged 86.
The Bohumir Kryl Project
This first-ever compilation of Kryl is launched in conjunction with The Bohumir Kryl Project, held at Wabash College in Crawfordsville, Indiana, on September 22, 2012. It is made possible in part through the generosity of the Michigan Antique Phonograph Society and International Antique Phonograph Society. As with other Archeophone releases, the CD is packed full, with 28 selections, and includes a richly-illustrated and heavily annotated booklet on Kryl's life and career. Therein chronicled are new discoveries about Kryl, his famous hair, his legendary offer of $100,000 to each of his two daughters if they pursued art and put off marriage until after age 30, and his involvement in the Czech community of the Chicago suburb of Berwyn. Many rare photos from Kryl family scrapbooks illustrate the pages.
This release is included in the following packages.
Save 20% on our entire catalogue