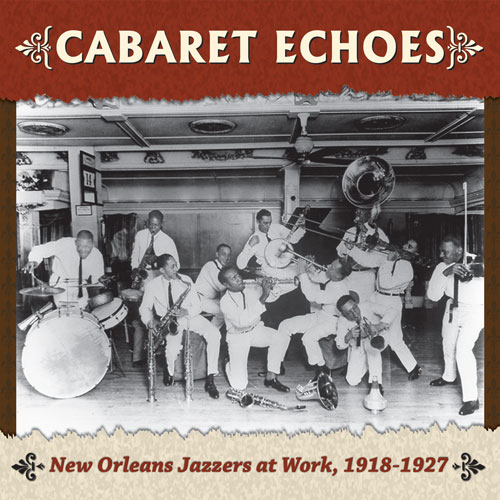 Out of Print
Off The Record's follow up to their highly acclaimed King Oliver set! Cabaret Echoes presents 40 rare recordings by artists that lived and worked in New Orleans alongside 23 spoken introductions by the musicians themselves. The 2-CD set also includes a 60-page booklet with rare photographs and illustrations of the artists--many of which have not been seen since their original publication--and a detailed essay that places the recordings and artists in their historical context. List price: $31.99
OVERVIEW
Catalogue number: ARCH OTR-MM10-C1
UPC: 778632904200
Original release date: May 25, 2010
Running length: 143:34 / 63 tracks / 2 CD set
Notes & packaging: Includes a 60-page booklet
Tracks recorded: 1918-1927
An Off The Record production
Tracks and Sound Samples
Product Description
More by these Artists
Sample all tracks
Tracklist: CD 1
1.
Interview
Kid Ory
1957

2.
Ory's Creole Trombone
Ory's Sunshine Orchestra
1922

3.
Society Blues
Ory's Sunshine Orchestra
1922

4.
Interview
Babette Ory (daughter of Kid Ory)
2008

5.
When You're Alone
Ory's Sunshine Orchestra with Roberta Dudley
1922

6.
Krooked Blues
Ory's Sunshine Orchestra with Roberta Dudley
1922

7.
Interviews
Kid Ory and Babette Ory
1957 & 2008

8.
That Sweet Something Dear
Ory's Sunshine Orchestra with Ruth Lee
1922

9.
Maybe Someday
Ory's Sunshine Orchestra with Ruth Lee
1922

10.
Interview
Johnny De Droit
1969

11.
Panama
Johnny De Droit and his New Orleans Orchestra
1924

12.
Nobody Knows Blues
Johnny De Droit and his New Orleans Orchestra
1924

13.
New Orleans Blues
Johnny De Droit and his New Orleans Orchestra
1924

14.
Interview
Johnny De Droit
1969

15.
The Swing
Johnny De Droit and his New Orleans Orchestra
1924

16.
Brown Eyes
Johnny De Droit and his New Orleans Orchestra
1924

17.
Interview
Johnny De Droit
1969

18.
Number Two Blues
Johnny De Droit and his New Orleans Orchestra
1924

19.
Interview
Amos White
1958

20.
Frankie and Johnny
Fate Marable's Society Syncopators
1924

21.
Pianoflage
Fate Marable's Society Syncopators
1924

22.
Interview
Yvonne Powers Gass (daughter of saxophonist Eddie Powers)
2009

23.
Sensation
Original Crescent City Jazzers
1924

24.
Christine
Original Crescent City Jazzers
1924

25.
Interview
Johnny De Droit discusses Johnny Bayersdorffer
1969

26.
I Wonder Where My Easy Rider's Riding Now
Johnny Bayersdorffer and his Jazzola Novelty Orchestra
1924

27.
The Waffle Man's Call
Johnny Bayersdorffer and his Jazzola Novelty Orchestra
1924

28.
Interview
Willie Hightower
1958

29.
Boar Hog Blues
Hightower's Night Hawks
1927

30.
Squeeze Me
Hightower's Night Hawks
1927
Tracklist: CD 2
1.
Interview
Abbie Brunies
1957

2.
Pussy Cat Rag
Half-Way House Orchestra
1925

3.
Interview
Joe Loyacano
1959

4.
Barataria
Half-Way House Orchestra
1925

5.
Interview
Tony Parenti
1959

6.
That's A Plenty
Anthony Parenti's Famous Melody Boys
1925

7.
Cabaret Echoes
Anthony Parenti's Famous Melody Boys
1925

8.
Interview
Billy and Mary McBrides
1959

9.
My Heart Breakin' Gal
Billy Mack and Mary Mack
1925

10.
Interview
Babette Ory
2008

11.
Black But Sweet, Oh God!
Billy Mack and Mary Mack
1925

12.
Interview
Norman Brownlee
1961

13.
Peculiar
Brownlee's Orchestra of New Orleans
1925

14.
Dirty Rag
Brownlee's Orchestra of New Orleans
1925

15.
Interview
Norman Brownlee
1961

16.
I'm Afraid to Care for You
John Tobin's Midnight Serenaders
1925

17.
Interview
William "Baba" Ridgley
1959

18.
Original Tuxedo Rag
Original Tuxedo Jazz Orchestra
1925

19.
Interview
William "Baba" Ridgley
1959

20.
Careless Love
Original Tuxedo Jazz Orchestra
1925

21.
Interview
Abby "Chinee" Foster
1960-1961

22.
Black Rag
Original Tuxedo Jazz Orchestra
1925

23.
Interview
Frank Christian
1956

24.
Ole Miss
New Orleans Jazz Band
1918

25.
Ja Da (Introducing You'll Find Old Dixieland in France)
New Orleans Jazz Band
1918

26.
He's Had No Lovin' for a Long, Long Time
Original New Orleans Jazz Band
1919

27.
Ja Da Medley
Original New Orleans Jazz Band
1919

28.
Interview
Arnold Loyacano
1956

29.
Why Cry Blues
Jimmy Durante's Jazz Band
1920

30.
Interview
Arnold Loyacano
1956

31.
Ja Da Medley
Original New Orleans Jazz Band
1919

32.
Ja Da Medley
Original New Orleans Jazz Band
1919

33.
He's Had No Lovin' for a Long, Long Time
Original New Orleans Jazz Band
1919
New Orleans holds a special allure like that of no other city, and its most famous music has cast its spell on the world for more than a century. New Orleans jazz has been discussed and written about nearly as much as it has been performed, and its recordings have been issued and reissued constantly since 1917. Many of the earliest seminal recordings are muddy and indistinct due to the primitive equipment used. Many reissues of this material have clouded the sound even further.
Now once again, master restoration engineer Doug Benson and jazz historian David Sager bring you the earliest and scarcest of New Orleans. Cabaret Echoes brings together 40 rare recordings by actual working New Orleans groups, restored with unprecedented clarity. They are presented alongside 23 spoken introductions by the musicians themselves, taken from rare one-of-a-kind interviews.
As with the previous Off The Record release, Benson, using his pitch-perfect musical ear, the teachings of the late John R.T. Davies, and up-to-date digital technology has meticulously restored these 40 rare jazz classics. Sager, after going through many hours of recorded oral histories and carefully applying his well-honed musical skills, has written a scholarly essay that creates an historical context for these selections.
First African-American New Orleans Jazz Band On Record
In the late spring of 1922, a group of musicians—immigrants from the city of New Orleans—entered a threadbare Los Angeles recording studio and cut the first records by a black New Orleans jazz band. The six surviving sides featuring Kid Ory's Sunshine Orchestra are priceless docucabments that prove how sophisticated jazz could be, even at that early date. Also, these sides capture a band that was a real working unit, performing as they did nightly at the Creole Café in Oakland. Unfortunately, the recordings are decidedly low-fi, even for those pre-microphone days; and the various reissues to date do not serve the music or the musicians well.
Off The Record, the label that brought us the startling restorations of the 1923 King Oliver Creole Jazz Band, now offers the six legendary Kid Ory Sunshine/Nordskog sides in remarkable fidelity (even Ed Garland's faint string bass can be heard!), along with 34 other early recordings of actual working New Orleans bands.
First Recordings Of Jazz From New Orleans—Oh, the Clarity!
This marvelous set also includes the first jazz recordings made in the city of its birth, New Orleans. Collected here are all of the sides made by working ensembles during OKeh Records' 1924 and 1925 field trips. These recordings, already known for their comparatively superior sonic detail, are rendered here with greater clarity than ever before.
The Musicians Speak For Themselves
Not content with just the music, OTR, in cooperation with the Hogan Jazz Archive of Tulane University, has also included spoken introductory tracks by many of the performing musicians. These rare excerpts taken from the Hogan Archive shed valuable light on the early days of jazz. Included are the voices of such early jazz luminaries as Kid Ory, Willie Hightower, Abbie Brunies, The Loyacano Brothers, Billy and Mary Mack, and many others.
"Stop Da Music"—The Complete Durante Band
So, what does Jimmy Durante have to do with New Orleans jazz anyway? The answer—PLENTY. In 1915 Durante was hired to work at the rowdy Alamo Café in New York's Harlem. For his band he imported three New Orleanians (and one Chicagoan) and in 1918 the Original New Orleans Jazz Band became the second jazz band from New Orleans to make records. These historic recordings—the only ones made by legendary Creole clarinetist Achille Bacquet—are reissued here complete for the first time.
Willie Hightower And His Nighthawks
Among the very rare recordings presented in this set is one of the rarest of them all—"Boar Hog Blues" and "Squeeze Me" by New Orleans cornetist Willie Hightower and his band, which was composed of several New Orleans natives including Richard M. Jones, Bud Scott, and John Lindsay. This ultra-scarce disc is presented in unprecedented beautiful fidelity, with Mr. Hightower himself introducing the titles!
Lavish Booklet, Pictures, Notes
And, of course, there is David Sager's insightful, scholarly, but entertaining essay—a fine follow-up to his Grammy-nominated notes for King Oliver, Off The Record. The essay is written from the point of view of someone who not only lived in New Orleans for many years but actively performs classic New Orleans-style jazz. The words are carefully selected to complement the music.
Sager has also selected a plethora of illustrations: photographs and ads culled from rare trade journals and vintage newspapers, rare record labels, and sheet music covers. Many of these have not been seen since first published in now-defunct trade journals and New Orleans newspapers. Included are photos taken inside OKeh's makeshift New Orleans studio, a previously unpublished photograph of the Original New Orleans Jazz Band (with Jimmy Durante and Achille Baquet) and a rare photo of the Original Tuxedo Jazz Orchestra from Talking Machine World.
The essay and illustrations are handsomely presented in a 60-page booklet—beautifully designed by Richard Martin and Meagan Hennessey of Archeophone Records. Known for their outstanding artistic endeavors, this booklet presents the words, pictures, and music with the finest style and highest class.
Advance Praise for Cabaret Echoes
The great duo has done it again! This is like hearing the music—really hearing it—for the first time, and the interviews add another dimension. Excellent notes as well. Congratulations!
—Dan Morgenstern, Director, Institute of Jazz Studies, Rutgers University
"WOW! A great job of transfers—the Ory Nordskogs never sounded this good, and that goes down the line . . . for the first time I can enjoy hearing these early instrumentals. An important addition to the historic library."
—George Avakian, legendary jazz record producer
For anyone interested in achieving depth on the early development and variegation of jazz (and understanding New Orleans musicians' role in it), this double CD package is a blessing.
—Bruce Boyd Raeburn, Curator, Hogan Jazz Archive, Tulane University
Doug Benson and Dave Sager strike New Orleans gold again! Those who treasure their masterful (and masterfully annotated) Off The Record collection of King Oliver's 1923 masterpieces will welcome more astonishing New Orleans music from the early days. It wasn't like anything else in those days, and it still packs a wallop ninety years later.
—Dick Spottswood, Author/Compiler Ethnic Music on Record, producer, radio host