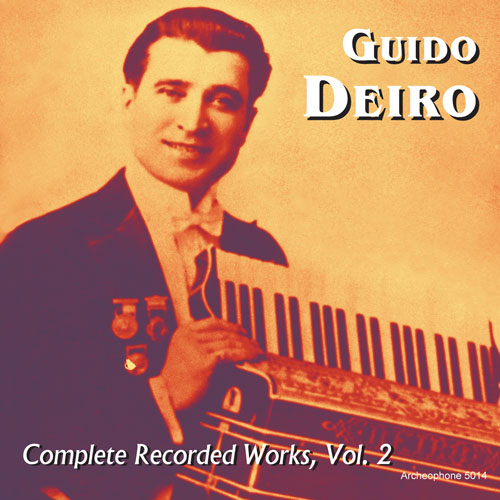 Volume 2 of Guido Deiro's complete recordings includes 25 tracks showcasing Deiro's mastery of both popular and classical material. The package includes a 24-page full-color booklet with extensive notes by free-reed scholar Henry Doktorski, meticulous restorations of the music, and personal photos provided by Guido's son, Count Guido Roberto Deiro. The tracks were recorded between 1911 and 1917 and include the only two accordion duets waxed by Guido and his brother, Pietro. Additionally, Complete Recorded Works, Volume 2 will be of interest to historians of vaudeville and films, as it features new revelations about the marriage of Guido Deiro and Mae West. In his detailed notes, Guido's son recalls his meeting with Mae West in 1959 when she told him the facts of her relationship with Deiro--the mysterious "Mr. D" mentioned in her autobiography, Goodness Had Nothing to Do with It. These are the things she never told any interviewer, and now the historical record is set straight. List price: $16.49
OVERVIEW
Catalogue number: ARCH 5014
UPC: 778632901971
Original release date: May 12, 2009
Running length: 75:15 / 25 tracks
Notes & packaging: Includes a 24-page full-color booklet
Tracks recorded: 1911-1917
Volume 2 of The Complete Guido Deiro
In Archeophone's Pioneers series
Tracks and Sound Samples
Product Description
Package Deals
More by this Artist
Sample all tracks
Tracklist
1.
My Sweetheart
Guido Deiro
1911

2.
Get Busy
Guido Deiro
1912

3.
Deiro Rag
Guido Deiro
1912

4.
La BohÍme-Musetta's Waltz Song
Guido Deiro
1912

5.
My Florence
Guido Deiro
1912

6.
Dream of the Rarebit Fiend
Guido Deiro
1912

7.
Everybody's Doing It Now
Guido Deiro
1912

8.
Waiting for the Robert E. Lee
Guido Deiro
1912

9.
Unrequited Love
Guido Deiro
ca. 1912

10.
Deirina
Guido Deiro
ca. 1913

11.
Stars and Stripes Forever
Guido Deiro
ca. 1913

12.
Song of Naples
Guido Deiro
ca. 1913

13.
Il Pianto
Guido Deiro
ca. 1913

14.
Hungarian Rag
Guido Deiro
ca. 1913

15.
Les Patineurs
Guido Deiro
ca. 1913

16.
I Don't Care
Guido Deiro
ca. 1913

17.
Mammy Jinny's Jubilee
Guido Deiro and Pietro Deiro
1913

18.
I Love Her, Oh, Oh, Oh!
Guido Deiro and Pietro Deiro
1913

19.
El Seducion
Guido Deiro
1915

20.
Hop a Jitney with Me / My Little Girl
Guido Deiro
1915

21.
Oh, Those Days
Guido Deiro
1915

22.
Put Me to Sleep with an Old-Fashioned Melody
Guido Deiro
1915

23.
Down in Bom-Bombay
Guido Deiro
1915

24.
Serenade
Guido Deiro
1916

25.
Preparedness March
Guido Deiro
1917
Volume 2 of Guido Deiro's Complete Recorded Works continues the story of the man who popularized the piano-accordion and made himself a vaudeville superstar in the meantime. Once again, in collaboration with accordionist and free-reed scholar Henry Doktorski and Deiro's son, Count Guido Roberto Deiro, Archeophone presents 25 tracks by the Italian-born virtuoso who altered the way the world heard and understood the accordion. The CD includes a 24-page full-color booklet with extensive notes, meticulous restorations of the music, and one-of-a-kind illustrations from Count Deiro's family collection.
Vaudeville Headliner
Volume 2 starts with Guido's 1911 Edison cylinder of "My Sweetheart," and then picks up in earnest with recordings from 1912, when he was an established star on vaudeville. He traveled by private rail car, wore the finest clothes, and spent money freely on fine food, friends, and lovers. His music showed off his bravado as well, with notable eponymously titled selections as "Deiro Rag" and "Deirina." These compositions, and other standouts such as "My Florence" and "I Don't Care," earned Guido his stellar reputation as much as his consummate playing. However, the skill is in abundance as well; Henry Doktorski writes that he believes "Il Pianto" is the fullest display of Guido's musicianship–because of his skillful nuances, not because of flashiness.
More Pop and Rags
With ragtime's "second wave" in full swing by 1912, the record labels clearly wanted more popular selections, and Guido obliged. We get Deiro's read on ragtime hits "Get Busy," the rapid-fire "Hungarian Rag," Irving Berlin's "Everybody's Doing It Now," and Gilbert and Muir's "Waiting for the Robert E. Lee." Even the more serious works are very popular ones, such as Sousa's march masterpiece, "The Stars and Stripes Forever," and "Song of Naples" by DeCurtis. For sheer pop fun, Guido romps through "Down in Bom-Bombay," "Put Me to Sleep with an Old-Fashioned Melody," and a medley of "Hop a Jitney with Me" and "My Little Girl." Finally, "Dream of the Rarebit Fiend" is a cleverly menacing piece based on Winsor McCay's comic strip of the same name.
Duets with Brother Pietro
Guido's generosity extended to his younger brother, Pietro, who also dreamed of a vaudeville career. Guido gave his brother a helping hand, setting him up with a piano-accordion, teaching him to play it, and performing with him as a team. Though their partnership was a tense one–the relationship would dissolve with the brothers not speaking for years–they did record two accordion duets in 1913: "Mammy Jinny's Jubilee" and "I Love Her, Oh, Oh, Oh!" Volume 2 includes both of these recordings as well as a personal essay by Guido Deiro's son reflecting on the relationship between his father and uncle.
Stormy Marriage to Mae West
Like a modern-day rock star, Guido's status and high life made him attractive to women, and he took advantage of it. A shotgun marriage to a Seattle pianist ended in scandal, with abandonment charges, a very public arrest, and a large fine being assessed before Guido could get a divorce from one Julia Tatro. Then Guido met a largely-unknown vaudevillian named Mae West. Consumed by their passionate romance and desire to conquer vaudeville with their double bill, their marriage unraveled in bitter acrimony. The essay describes their tempestuous relationship, while Guido's son provides concrete evidence in a mini-feature about the veracity of heretofore undisclosed details. Find out, for instance, why Deiro's recorded output slows to a halt in 1916. . . .
The Panama Pacific Exposition
The end of the CD represents Guido at the height of his fame, about the time he played to an audience of 8,000 at the Panama Pacific Exposition in San Diego in 1916. Once regarded a poor man's instrument, the accordion had won respect among critics; its players had earned adulation from fans starting accordion clubs across the country. This was due in large measure to Guido, who was greeted at performances with gifts and elaborate floral arrangments at his shows. His skill and originality peaked as well, as you'll hear in the final track, "Preparedness March." Much of Deiro's success lay ahead, however, as well as many of his best-known compositions.
This release is included in the following packages.
Save 20% on our entire catalogue