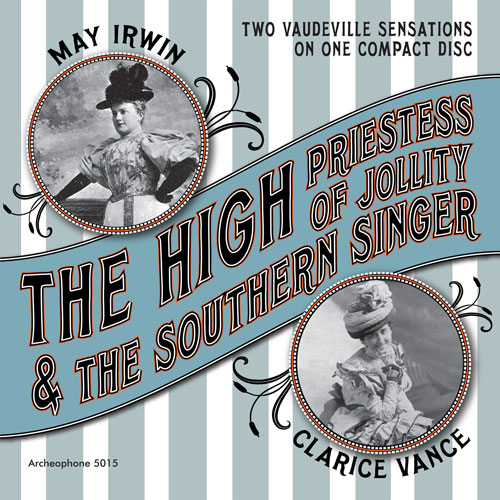 The High Priestess of Jollity & The Southern Singer brings together the complete recorded output of two early stars of the vaudeville stage: Clarice Vance and May Irwin. Though prominent on stage—and sheet music covers—both had very short recording careers, with Irwin's output totalling 6 sides and Vance's 15. This set presents these 21 recordings for the first time and tells the story of these two remarkable women. The package includes a 32-page, full-color booklet with biographical essays on each of women and a bounty of photographs and lush illustrations. List price: $16.99
OVERVIEW
Catalogue number: ARCH 5015
UPC: 778632904385
Original release date: June 14, 2011
Running length: 53:46 / 21 tracks
Notes & packaging: Includes a 32-page full-color booklet
Tracks recorded: 1905-1909
Contains racially derogatory language
In Archeophone's Pioneers series
Tracks and Sound Samples
Product Description
Package Deals
More by these Artists
Sample all tracks
Tracklist

1.
Moses Andrew Jackson, Goodbye
May Irwin
1907

2.
The Bully
May Irwin
1907

3.
Mat-ri-mony
May Irwin
1907

4.
When You Ain't Got No Money, You Needn't Come Around
May Irwin
1907

5.
May Irwin's Frog Song
May Irwin
1907

6.
Don't Argify
May Irwin
1907

7.
Mariar [cylinder version]
Clarice Vance
ca. 1905

8.
Save Your Money, 'Cause de Winter Am Comin' On
Clarice Vance
ca. 1905

9.
If Anybody Wants to Meet a Jonah, Shake Hands with Me
Clarice Vance
1906

10.
He's a Cousin of Mine
Clarice Vance
1906

11.
I'd Rather Two-Step than Waltz, Bill
Clarice Vance
1907

12.
Yo' Eyes Are Open, but You're Sound Asleep
Clarice Vance
1907

13.
Mariar [short version]
Clarice Vance
1907

14.
I'm Wise
Clarice Vance
1907

15.
Handle Me with Care
Clarice Vance
1907

16.
That Friend of Mine
Clarice Vance
1908

17.
I'm Afraid to Come Home in the Dark
Clarice Vance
1908

18.
Mariar [long version]
Clarice Vance
1908

19.
Goodbye to Johnnie
Clarice Vance
1909

20.
It Looks to Me Like a Big Night Tonight
Clarice Vance
1909

21.
Love Me Like I Like to Be Loved
Clarice Vance
1909
Another one-of-a-kind production from Archeophone Records, new for summer 2011: the complete recorded output by two former legends of the stage, May Irwin and Clarice Vance. Each of these women were so fully booked in variety and legitimate shows that they hardly ever had the time to make it to the studio to record. Thus, the few recordings they did wax were treated by the companies as celebrity "events," which the theatre-going public would recognize as such. Recorded between 1905 and 1909, the selections on this CD are now very scarce, and putting them all in one place has taken hard work from the production team and our dedicated network of private and institutional collectors. With thanks to them we give you The High Priestess of Jollity & The Southern Singer.
First, the High Priestess: May Irwin
This giant of the American stage is well-known to most students of Broadway history. But few probably realize that she ever made recordings at all, let alone how few. Born Georgina May Campbell in Whitby Ontario, Canada, in 1862, May hit the planks by age 13. She was in an act with her sister as May and Flo Irwin until the early 1890s, when May found her greatest success as a solo. In shows such as the 1895 farce, The Widow Jones, and Mrs. Black Is Back, from 1904, Irwin knocked 'em over with her bold, brassy delivery of the voguish "coon" songs of the moment. She had a big figure and a bigger personality, but if you wanted to hear her, you had to go to the show.
Irwin's Records from 1907
In the notes included with the CD, Elizabeth Surles gives us great insight into the life of Irwin, particularly the events surrounding her first and only trips to the recording studio, in May 1907. The one-time widow had just remarried when she cut six records over three days–a mix of her greatest stage hits and some of the newer material she was promoting. The hits included her signature, "The Bully," as well as "When You Ain't Got No Money, You Needn't Come Around" and "May Irwin's Frog Song." These are definitely "coon" songs of the original variety: cruel, violent, and mean. The other three contemporary pieces Irwin made–"Mat-ri-mony," "Moses Andrew Jackson, Goodbye," and "Don't Argify"–are much different. The first is a topical "women's" song, the second a more "mellow" type of "coon" song, and the third much like Bert Williams' "Let It Alone."
Next, the Southern Singer: Clarice Vance
Less familiar than Irwin today, Clarice Vance worked tirelessly in vaudeville for two decades and would have been well known to the show-going public of 100 years ago. Born in Ohio in 1870, she always said she was from Louisville, in order to present a front of "Southern charm." In the mid-1890s, just like Irwin, Vance was a popular "coon shouter," and she wrote some of her own pieces. Marriage to songwriter Mose Gumble opened up a lot of professional doors for her; Vance saw herself booked all over the U.S. and Britain.
Vance's Records from 1905-1909
Researcher Sterling Morris knows more about Clarice Vance than anyone else does, and he graces our booklet with in-depth details, including his most recent discoveries. Vance made her first records for Edison in 1905, beginning with the Gumble-penned "farmer's serenade" called "Mariar." The second and final cylinder was "Save Your Money, 'Cause de Winter Am Coming On," a typical song of the era about a preacher with a bad gambling habit. When she signed with Victor, Vance did the kind of hard-luck song Arthur Collins was performing, "If Anybody Wants to Meet a Jonah, Shake Hands with Me." The Bert Williams' vehicle, "He's a Cousin of Mine," was next. With "I'd Rather Two-Step than Waltz, Bill" and "I'm Wise," we see Vance going in a different direction. These are comic songs–still genuinely funny–dealing with personalities and situations rather than racial caricatures.
Reinventing a Genre
The Boston Journal of February 24, 1909 put it right: they compared the old, hateful style of coon shouting made popular by May Irwin with the new "soft pedal" approach championed at that time by Clarice Vance. "Yo' Eyes Are Open, but You're Sound Asleep," "That Friend of Mine," and "Handle Me with Care"–which are still shocking today–mark a progression of the coon song genre away from the violence and physical caricatures. By now though, Clarice's recorded output is almost exclusively comical: the popular "I'm Afraid to Come Home in the Dark," the feminist-leaning "Goodbye to Johnnie," and one of her biggest, "It Looks to Me Like a Big Night Tonight." And there's one final hilarious version of her signature, "Mariar."
Ups and Downs
May Irwin retired to a life of luxury on the Thousand Islands, while Clarice Vance faded into obscurity and poverty. Luckily, Sterling Morris received a personal scrapbook of Vance's that was destined for the dump, and with it, we are able to paint her with the same bright colors as the better known Irwin. The two are forever immortalized together on one record that lasted almost until the electric era in Victor's catalog: a pairing of Irwin's "Frog Song" and Vance's "I'm Wise." They belonged together then and we have brought them together again. Listen and learn from this strange, funny, and often painful history.
This release is included in the following packages.
Save 20% on our entire catalogue