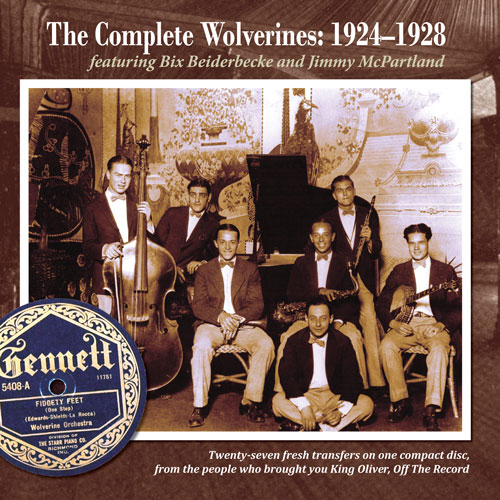 Out of Print
The Complete Wolverines: 1924-1928 reissues for the first time all of the sides made by The Wolverine Orchestra: the groundbreaking records with Bix, the two often-missing Jimmy McPartland sides, and the electrically-recorded sides by the Original Wolverines, featuring McPartland and two other Wolverine alumni. The set features 27 selections and includes a 32-page booklet with notes by David Sager and rare, previously unpublished graphics. List price: $17.99
OVERVIEW
Catalogue number: ARCH OTR-03
UPC: 778632905696
Original release date: April 10, 2012
Running length: 75:56 / 27 tracks
Notes & packaging: Includes a 32-page booklet
Tracks recorded: 1924-1928
An Off The Record production
Tracks and Sound Samples
Product Description
More by these Artists
Sample all tracks
Tracklist

1.
Fidgety Feet
Wolverine Orchestra
1924

2.
Jazz Me Blues
Wolverine Orchestra
1924

3.
Oh Baby
Wolverine Orchestra
1924

4.
Copenhagen
Wolverine Orchestra
1924

5.
Riverboat Shuffle
Wolverine Orchestra
1924

6.
Susie [take A]
Wolverine Orchestra
1924

7.
Susie [take B]
Wolverine Orchestra
1924

8.
I Need Some Pettin'
Wolverine Orchestra
1924

9.
Royal Garden Blues
Wolverine Orchestra
1924

10.
Tiger Rag
Wolverine Orchestra
1924

11.
Sensation
Wolverine Orchestra
1924

12.
Lazy Daddy [take A]
Wolverine Orchestra
1924

13.
Lazy Daddy [take B]
Wolverine Orchestra
1924

14.
Tia Juana
Wolverine Orchestra
1924

15.
Big Boy
Wolverine Orchestra
1924

16.
Flock O' Blues
Sioux City Six
1924

17.
I'm Glad
Sioux City Six
1924

18.
Toddlin' Blues
Bix and His Rhythm Jugglers
1925

19.
Davenport Blues
Bix and His Rhythm Jugglers
1925

20.
When My Sugar Walks Down The Street
Wolverine Orchestra
1924

21.
Prince of Wails
Wolverine Orchestra
1924

22.
Royal Garden Blues
The Original Wolverines
1927

23.
Shim-Me-Sha-Wabble
The Original Wolverines
1927

24.
A Good Man Is Hard To Find
The Original Wolverines
1927

25.
The New Twister
The Original Wolverines
1927

26.
Limehouse Blues
The Original Wolverines
1928

27.
Dear Old Southland
The Original Wolverines
1928
Bring On The Wolves! All of 'em!
The Wolverine Orchestra was the talk of the music world and the rage of college campuses—albeit for a very short time. They were truly modern for their time and the records are amazingly fresh and vital today.
Their 1924 recordings featuring cornetist Bix Beiderbecke are essential jazz classics, and the rarely reissued sides with Jimmy McPartland are rare delights. However, past reissues of the band have two recurring problems: Sound quality that suffers from over filtering and too much "restoration" and incorrect pitch and ignoring the complete output of the band. Off The Record's new release fixes these problems.
From the producers of "King Oliver, Off the Record," comes the definitive reissue of the Wolverines!
Famous for its ground-breaking reissue of King Oliver's Creole Jazz Band, Off The Record has collected all of the titles by the Wolverine Orchestra—including the two often-missing Jimmy McPartland sides, and the electrically-recorded sides by the Original Wolverines, featuring McPartland and two other Wolverine alumni—and reissued them in stunning new transfers!
Off The Record engineer Doug Benson and researcher David Sager have combed the collecting fraternity and have come up with the best available copies of all the Wolverines and Wolves-related titles. Doug Benson made all-new transfers, carefully chose playback speeds, and applied as little filtering as possible, to provide the most alive restoration of the Wolverines and friends yet! David Sager, whose highly-regarded notes for "King Oliver" garnered a Grammy nomination, has penned a fascinating, informative essay on the Wolverines, with a new spin on their importance and place in jazz history.
Bix's First
These recordings include the first made by jazz legend Bix Beiderbecke, who was not quite 21 years old when he first stepped before the recording horn; his uniquely lyrical style, advanced harmonic approach, and sheer rhythmic drive was already developed and recognizable. Though nervous and inexperienced, Bix's first outing on "Fidgety Feet" and "Jazz Me Blues" shows him already well on his way to mastery: succinct, clear-toned, in control. Thanks to these simple and profound restorations, we now hear these classics as never before!
A Hoagy Carmichael Classic!
The great Hoagy Carmichael, composer of "Stardust," "Georgia on My Mind" and so many classic American popular songs, wrote an instrumental ditty especially for the Wolverines. Although he called it "Free Wheeling," the boys in the band settled upon "Riverboat Shuffle" as a more fitting and memorable title when they recorded it at their second session.
Bix Extras
Included also are two other Beiderbecke sessions made shortly after he left the Wolverines. Here in stunning audio quality are the Sioux City Six, featuring Frank Trumbauer and Miff Mole, the latter's agile trombone featured on "I'm Glad." And don't forget Bix & his Rhythm Jugglers, with Tommy Dorsey and Don Murray. This legendary gin-drenched session produced the classic premier recording of Bix's own "Davenport Blues."
Jimmy McPartland Too!
Many past reissues of the Wolves do not include their final recordings, made after Bix's departure. Off The Record proudly presents "the rest of the story" for the Wolverines' discography. Cornetist Jimmy McPartland replaced Bix and made the band's final 1924 sides. He also took place in four "reunion" recordings with two other ex-Wolves: Dick Voynow and Vic Moore. These records by the "Original Wolverines," recorded electrically in 1927, are stunning examples of authentic Chicago Jazz. "Shim-Me-Sha-Wabble" captures him in exciting relief! Wrapping up the set are two "Original Wolverines" sides from 1928 that feature a revolutionary, style-setting clarinetist, and Bix disciple, Frank Teschemacher.
Lavish Booklet
Included in the set is a lavishly illustrated thirty-two page booklet, chock full of rare photographs—a few of them unpublished—and rare artifacts: news articles, ads and record labels. Designed by Archeophone's Richard Martin and Meagan Hennessey, the booklet is alone a delight to the eye!