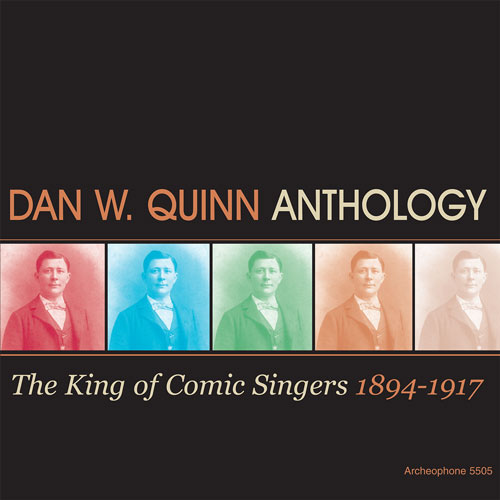 Anthology: The King of Comic Singers, 1894-1917 features 30 selections, taken from rare cylinders and discs, that highlight Dan W. Quinn's quarter-century in the studio, featuring the up-to-date comic numbers he was best known for, along with sentimental ballads and ragtime songs he helped establish as standards. The 52-page booklet inside the digipak presents original research and stunning new discoveries about the man and his career, illustrated with many previously unpublished photos. List price: $17.99 Sale price: $14.39
OVERVIEW
Catalogue number: ARCH 5505
UPC: 778632907133
Original release date: June 16, 2015
Running length: 78:06 / 30 tracks
Notes & packaging: Digipak with a 52-page full-color booklet
Tracks recorded: 1894-1917
Contains racially derogatory language
In Archeophone's Anthology series
Tracks and Sound Samples
Product Description
Reviews
Honors & Awards
Package Deals
More by this Artist
Explore Further
Sample all tracks
Tracklist

1.
The Private Tommy Atkins
Dan W. Quinn
ca. 1894

2.
Lindy, Does You Love Me?
Dan W. Quinn
1894

3.
The Streets of Cairo
Dan W. Quinn
1895

4.
A Hot Time in the Old Town
Dan W. Quinn
1896

5.
My Pearl Is a Bowery Girl
Dan W. Quinn
1897

6.
The Handicap Race
Dan W. Quinn
ca. 1897

7.
Mr. Captain, Stop the Ship
Dan W. Quinn
1898

8.
They All Follow Me
Dan W. Quinn
1898

9.
When a Coon Sits in the Presidential Chair
Dan W. Quinn
1899

10.
Say You Love Me Sue
Dan W. Quinn
1899

11.
On the Banks of the Wabash
Dan W. Quinn
1899

12.
Oh, Wouldn't that Jar You?
Dan W. Quinn
1900

13.
Pretty as a Picture
Dan W. Quinn
1900

14.
Ma Blushin' Rosie
Dan W. Quinn
1900

15.
Vaudeville Specialty
Dan W. Quinn
1900

16.
My Jersey Lily
Dan W. Quinn
1901

17.
I Want to Go to Morrow
Dan W. Quinn
1901

18.
Bill Bailey, Won't You Please Come Home
Dan W. Quinn
1902

19.
Good Morning, Carrie
Dan W. Quinn
1902

20.
Couldn't Help It, Had to
Dan W. Quinn
1902

21.
Mister Dooley
Dan W. Quinn
1903

22.
Drill, Ye Tarriers, Drill
Dan W. Quinn
1904

23.
O, Didn't He Ramble
Dan W. Quinn
1904

24.
Growler on a String
Dan W. Quinn
1905

25.
Football
Dan W. Quinn
1905

26.
Fol De Iddley Ido
Dan W. Quinn and Helen Trix
1906

27.
Beatrice Fairfax, Tell Me What to Do
Dan W. Quinn
1915

28.
At the Fountain of Youth
Dan W. Quinn
1915

29.
It's Not Your Nationality (It's Simply You)
Dan W. Quinn
1916

30.
How Could Washington Be a Married Man (and Never, Never Tell a Lie?)
Dan W. Quinn
1917
For thousands of patrons listening to a phonograph for the first time in the 1890s, the voice they heard coming out of the horn belonged to Dan W. Quinn. In an era when performers were seen as secondary to the song, early record buyers understood that the name Dan Quinn meant the record was a winner. He always brought the newest hits, sung with pep and consistent clarity, and he did so thousands of times for dozens of labels. These 30 selections, taken from rare cylinders and discs, highlight Quinn's quarter-century in the studio, featuring the up-to-date comic numbers he was best known for, along with sentimental ballads and ragtime songs he helped establish as standards. The 52-page booklet inside presents original research and stunning new discoveries about the man and his career, illustrated with many previously unpublished photos.
Among the Very First Recording Stars
Quinn recalled making his first test for the phonograph at a social club in Hoboken, January 1892, when the commercial recording business was only about three years old and fighting mightily for visibility. Hired by the New York Phonograph Company, and then by the United States Phonograph Company, Quinn quickly brought vitality to the new medium. He had amazing versatility and extraordinary stamina—meaning he could sing just about every kind of song hot off the publishers' presses and he could do so for hours on end, filling demand for records "by the round" in those days before mastering technology. Dan made himself indispensible to all the record companies of the 1890s and familiar to consumers of phonographic entertainment.
Prodigious Output
In 1896 Quinn estimated he had already sung 2,500 songs over about a five-year period, so choosing representative pieces for this collection has certainly been a challenge! We've gone back to 1894, almost to the very start, and followed his career forward to 1917, close to the end of the singer's career. Some of the best-known hits of the Gay '90s are here, such as "The Streets of Cairo," "A Hot Time in the Old Town," "My Pearl Is a Bowery Girl," and "On the Banks of the Wabash." Quinn helped bring these and other songs into prominence when they were new. He was a songwriter himself, too, and the 1894 selection, "Lindy, Does You Love Me," shows what he could do with lyrical songcraft. Once the industry switched to a system of making permanent masters, Quinn had less work to do but nonetheless put his definitive stamp on early 20th century classics, such as "Bill Bailey, Won't You Please Come Home," "Good Morning, Carrie," "Mister Dooley," and "O Didn't He Ramble." Retired (or unemployed) from recording after 1906, Quinn made a comeback in 1915, recording "Beatrice Fairfax, Tell Me What to Do" and "At the Fountain of Youth." The old-timer was hired by all the new companies that sprang onto the scene in the late 1910s—Gennett, Paramount, Operaphone, Rex, Majestic and others—before quitting for good around 1918.
All-time Favorites and Unbelievable Rarities
Besides the obvious "hits," Anthology presents Quinn's versions of "Drill, Ye Tarriers, Drill," "Ma Blushin' Rosie," "My Jersey Lily," and "Football." These are songs you've heard by other artists (such as Al Jolson), and now you get to hear Quinn's spin on them. With his charm and precision, it's easy to see why one company advertised about him that "His name is a guarantee of the record." Other important tracks here display how Quinn worked for just about every company, including the American Talking Machine Company ("Say You Love Me Sue," a brick-red etched disc), Lambert Company of Chicago ("Couldn't Help It, Had To"), the Brooklyn Phonograph Company ("Oh, Wouldn't that Jar You?", a "Phonetic" record), and the American Record Company ("The Growler on a String," a "blue Indian" record). For Zonophone, Quinn recorded "Fol De Iddley Ido" with Helen Trix, one of the very few duets he ever did.
Quinn's Story Told
New research presented in the extensive notes accompanying the CD tell Quinn's story more thoroughly and accurately than ever before. Scarce details about his parents and siblings, his occupation as a young man, his wife and kids, and his breakthrough into the recording business are outlined here in Richard Martin's fascinating essay. Moreover, we challenge the traditional wisdom on Quinn's "quiet years," when he worked as a booking agent in New York City. And, in true tabloid style: perhaps most intriguing of all are the revelations about Quinn's involvement in one of the most notorious scandals of the Gilded Age—the Seeley Dinner of December 1896, often called the world's first modern bachelor party (and certainly the first to be busted by the police).
Deluxe Digipak and Top-Notch Sound
The 78-minute compact disc comes housed in an attractive, full-color digipak with a 52-page booklet that includes an essay, track notes, a full discography, and numerous photographs, news clippings, catalog images, sheet music, and other illustrations. Both the sound and print quality are first-rate. You'll barely believe you are listening to music made 120 years ago! In fact, the dozen brown-wax cylinder selections here are possibly the best of that medium you've ever heard. Listen to the samples below for "The Handicap Race," "Mr. Captain, Stop the Ship," or "They All Follow Me" and see what we mean.
Not only is Anthology: The King of Comic Singers a thoroughly enjoyable CD to listen to and read, it fulfils with distinction Archeophone's mission of preserving and contextualizing the world's oldest recordings. We are proud to call this one of our very best productions and know you will agree.
ARSC Awards For Excellence
Best Research in Recorded Popular Music: Best History, 2016

This release is included in the following packages.
Save 20% on our entire catalogue