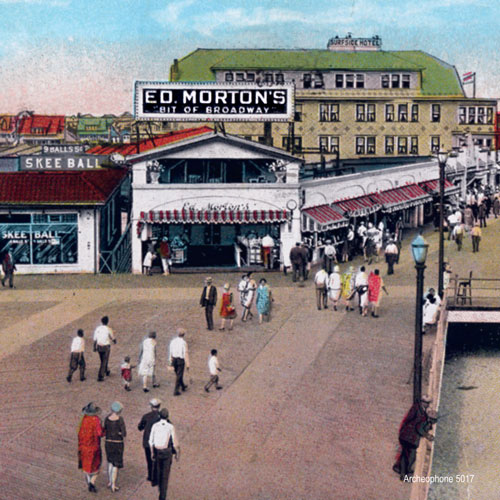 The Sound of Vaudeville, Vol. 2 covers the career of Eddie Morton from 1911 through 1917. He was one of the variety stage's most important song pluggers of the era: if Eddie featured it, it would be a hit. All-time classics include "The Oceana Roll" and "Play That Barbershop Chord." Don't miss Morton's own compositions, "Noodle Soup Rag" and "I've Got You, Steve!" Researcher Ryan Barna revisits the early life of Morton and fills in some gaps before taking us to the end of Eddie's stage life and beyond, when he ran a restaurant on the Wildwood boardwalk called Ed. Morton's "Bit of Broadway. List price: $16.49 Sale price: $13.19
OVERVIEW
Catalogue number: ARCH 5017
UPC: 778632905542
Original release date: March 27, 2012
Running length: 73:20 / 27 tracks
Notes & packaging: Includes a 28-page full color booklet
Tracks recorded: 1911-1917
Contains racially derogatory language
In Archeophone's Pioneers series
Tracks and Sound Samples
Product Description
Package Deals
More by this Artist
Sample all tracks
Tracklist

1.
What's the Matter with Father?
Eddie Morton
ca. 1910-1911

2.
Play that Barbershop Chord
Eddie Morton
ca. 1910-1911

3.
That Peculiar Rag
Eddie Morton
1911

4.
The Oceana Roll
Eddie Morton
1911

5.
You Can Lead a Mule to Water, but You Can't Make Him Drink
Eddie Morton
1911

6.
They're All Good American Names
Eddie Morton
1911

7.
Bill from Louisville
Eddie Morton
1911

8.
Nothing to Do Till Tomorrow
Eddie Morton
1911

9.
The Trolley Car Swing
Eddie Morton
1912

10.
The Last Shot Got Him (The Great Bloo-ie Song)
Eddie Morton
1912

11.
Beans! Beans!! Beans!!!
Eddie Morton
1912

12.
There's Lots of Stations on My Railroad Track
Eddie Morton
1912

13.
I've Got You, Steve!
Eddie Morton
1912

14.
Somebody Else Is Gettin' It
Eddie Morton
1912

15.
Waiting for Me
Eddie Morton
1912

16.
They've Got Me Doing It Now
Eddie Morton
1913

17.
Noodle Soup Rag
Eddie Morton
1913

18.
Ever Since You Told Me that You Loved Me (I'm a Nut! I'm a Nut!)
Eddie Morton
1913

19.
What Do You Mean, You Lost Your Dog?
Eddie Morton
1913

20.
Isch-Ka-Bibble (I Should Worry)
Eddie Morton
1913

21.
I'm Crying Just for You
Eddie Morton
1913

22.
While They Were Dancing Around
Eddie Morton
1913

23.
He's a Devil in His Own Home Town
Eddie Morton
1914

24.
Goodbye Broadway
Eddie Morton and the Peerless Quartet
1914

25.
You're Here and I'm Here
Eddie Morton
1914

26.
Just a Little Bit of Monkey Left in You and Me
Eddie Morton
1917

27.
Come Out of the Kitchen, Mary Ann
Eddie Morton
1917
When people think about vaudeville today, they usually think of the novelty acts: the jugglers, contortionists, sister acts, whistlers and on and on. Occasionally we hear about the big-name stars such as Sophie Tucker and Eva Tanguay. But rarely do we consider the vaudeville song-pluggers, who were ubiquitous and whose role was of unparalleled importance in the lives and deaths of popular songs. Eddie Morton made a name for himself as a vaudevillian specialty act from about 1903 until 1910, but from 1911 through the rest of his career, he became one of the best-known and most effecive song pluggers in the business. He was in high demand from publishers who knew that in Eddie's hands, their song would become a hit. On Ed. Morton's "Bit of Broadway," the second volume of The Sound of Vaudeville, we chronicle the latter part of this enigmatic singer's career. With songs recorded from 1911 through 1917 and featuring a 28-page full-color booklet and detailed original research by Ryan Barna, this is an essential CD for all lovers of show business and early-century songcraft.
Revisiting Volume 1
While doing the research for this collection, Ryan Barna decided he wanted to revisit the notes from The Sound of Vaudeville, Vol. 1–and some of the educated guesses we made about the early life of Ed. Morton–to see if he could fill in the picture better, now that the research tools have improved so much since we released the original compilation. The results are fascinating. Luckily, our detective work holds up! Ryan takes us back to the time before Eddie was born, when his father Charles Henry Morton originated the role of Herzog in the legendary show, The Black Crook. We also find out more about what happened to his dad, his brother, and to his career as a Philadelphia policeman. Like we said, it's fascinating stuff!
Cylinder Recordings for U-S Everlasting
Some time late in 1910 or, more likely, early 1911, Morton made his first records for U-S Everlasting, desirable collector items today that are hard to find. "What's the Matter with Father?" is a humorous piece still heard occasionally today, but the Bert Williams' vehicle, "Play That Barbershop Chord," a four-minute cylinder, is an all-time great hit. Eddie does it full justice, dragging and sliding the notes, and having some fun in duet with an unnameed collaborator the last time through the chorus. "Nothing to Do Till Tomorrow" would follow on U-S Everlasting about a year later.
Those Irresistible Ragtimers
Notice that three remarkable tracks in a row–"Play That Barbershop Chord," "That Peculiar Rag," and "The Oceana Roll" (possibly Eddie's biggest hit ever)–all center around the same theme: a ragtime piano player with irresistible hooks. Once you hear them, you will never escape them. Notice also that several composers with impeccable ragtime credentials contribute to the Morton cause: Cecil Mack and Ford Dabney, writers of "You Can Lead a Mule to Water, but You Can't Make Him Drink" (from the Follies of 1911); Mack and Chris Smith, with "The Last Shot Got Him"; and Smith and Elmer Bowman with "Beans! Beans!! Beans!!!" And notice, finally, what a great turn Eddie does on the ragtime smash, "The Trolley Car Swing."
Morton as Composer…
Eddie debuts in this volume as a singer of his own works: "Noodle Soup Rag" and "I've Got You, Steve!" He wrote at least a dozen others, all of which are documented in a special section in the accompanying booklet. One wonders whether, after all those years of making hits of other people's songs, Morton decided he wanted in on the action.
…and as Master Comedian
Some of the best comic pieces here get Morton's uniquely witty delivery, not to mention his agility with rapid-fire timing, songs like "They're All Good American Names" and Irving Berlin's "They've Got Me Doing It Now." He shines on the topical "Isch ka Bibble (I Should Worry)," which was a popular catch-phrase of the moment, and on the suggestive "Somebody Else Is Gettin' It." On "Waiting for Me," Morton does his best Carl Perkins, talking about how all the girls are lined up to see him, until misfortune finds him. Interestingly, it's the mosquitos who wait the longest for him, at his vacation spot in New Jersey–coincidentally his real-life vacation digs, and the place where he would set up his restaurant, Ed. Morton's "Bit of Broadway."
Final Recordings for the Biggies
Morton finished up for Columbia in 1914 with the super-catchy "While They Were Dancing Around," the well-known "He's a Devil in His Own Home Town," the back-to-the-farm farewell "Goodbye Broadway" (with the Peerless Quartet), and the show-stopping "You're Here and I'm Here." He was at the height of his popularity on stage, and he sounds like he still has gas in the tank, so why the layoff from recording?
Eddie's Biggest Hit–but he didn't record it
Few people realize today that Morton was responsible for introducing "I Didn't Raise My Boy to Be a Soldier," and he made a fantastic hit of it. But his recording career was done, so it was up to others to wax it. Eddie also introduced the pro-war "Don't Bite the Hand that's Feeding You." We surmise that Morton's ability to turn a hit may have been what killed his recording career–perhaps his numbers were a little too impermanent? A fickle theatre audience is one thing, but record buyers wanted something a bit longer lasting.
Final records for Emerson
In 1917, Eddie made his last two recordings for the new label, Emerson, maker of small discs: "Just a Little Bit of Monkey Left in You and Me" and "Come Out of the Kitchen, Mary Ann." He stayed on in vaudeville for another decade, although performing less and less once the 1920s came around. Morton increasingly devoted himself to his business interests in Wildwood, New Jersey, including the golf club he co-founded there in 1921. He lived out his days surrounded in his work by his family and apparently in good health and humor. Morton died April 11, 1938 at the age of 68.
Encore!
If you have been following Archeophone for a while, you can probably guess we're big fans of Mr. Morton. There is something so fresh, so vital about his records that makes them stand out from the crowd. Whatever the merits of the music or the sentiment, the personality of the singer comes to us unencumbered a hundred years later and takes its place in our understanding of the history of the variety stage. You'll be asking for more.
This release is included in the following packages.
Save 20% on our entire catalogue