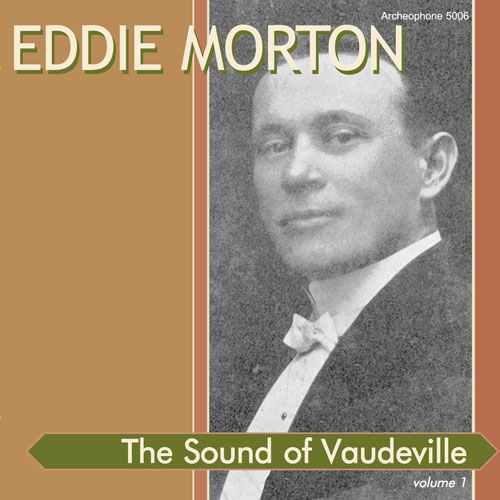 28 songs from 1907-1910, recorded in Camden and New York, with a lavish 28-page booklet containing newly discovered biographical data and rare graphics. Includes all the early rare Victors and Columbias, as well as the Edison 4-minute cylinder of "A Singer Sang a Song," and the Indestructible cylinder of "In the Right Church, but in the Wrong Pew." The former "Singing Cop" from Philadelphia, Eddie Morton was a top stage performer for more than 20 years. List price: $16.49 Sale price: $13.19
OVERVIEW
Catalogue number: ARCH 5006
UPC: 777215104648
Original release date: October 4, 2003
Running length: 78:57 / 28 tracks
Notes & packaging: Includes a 28-page booklet
Tracks recorded: 1907-1910
Contains racially derogatory language
In Archeophone's Pioneers series
Tracks and Sound Samples
Product Description
Package Deals
More by this Artist
Sample all tracks
Tracklist
1.
That's Gratitude
Eddie Morton
1907

2.
Just a Friend of the Family
Eddie Morton
1907

3.
Mariuch Dance da Hootch-a-Ma-Kootch
Eddie Morton
1907

4.
The Peach that Tastes the Sweetest Hangs the Highest on the Tree
Eddie Morton
1908

5.
The Right Church but the Wrong Pew
Eddie Morton
1908

6.
The Party that Wrote "Home, Sweet Home" Never Was a Married Man
Eddie Morton
1908

7.
Don't Take Me Home
Eddie Morton
1908

8.
Somebody Lied
Eddie Morton
1908

9.
Music Makes Me Sentimental
Eddie Morton
1908

10.
In the Right Church but in the Wrong Pew
Eddie Morton
1908

11.
A Singer Sang a Song
Eddie Morton
1908

12.
I'm a Member of the Midnight Crew
Eddie Morton
1909

13.
In Ireland
Eddie Morton
1909

14.
I'd Rather Be a Minstrel Man than a Multimillionaire
Eddie Morton
1909

15.
That's the Doctor, Bill
Eddie Morton
1909

16.
Please Don't Tell My Wife
Eddie Morton
1909

17.
Wild Cherry Rag
Eddie Morton
1909

18.
Then We'll All Go Home
Eddie Morton
1909

19.
Don't Take Me Home
Eddie Morton
1909

20.
You Ain't Talking to Me
Eddie Morton
1909

21.
If He Comes In, I'm Going Out
Eddie Morton
1910

22.
I Won't Be Back Till August
Eddie Morton
1910

23.
Wild Cherries Rag
Eddie Morton
1910

24.
Let George Do It
Eddie Morton
1910

25.
Oh, You Dream
Eddie Morton
1910

26.
That's the Fellow I Want to Get
Eddie Morton
1910

27.
Don't Make Me Laugh, Bill
Eddie Morton
1910

28.
If I Could See as Far Ahead as I Can See Behind
Eddie Morton
1910
One of the most extraordinary performers of the early recording industry, Eddie Morton was a top vaudeville draw for 20 years. Morton could really deliver a song, make it his own, and give it over to an audience. He had good humor, a real warmth, impeccable timing, and he could "put over" a song on the money notes, always ending with a very strong finish. Eddie is so personable in his delivery, you may feel like you know him. If you want to know what vaudeville sounded like, Eddie Morton is the real deal!
"The Singing Cop"
From about 1898 until about 1905 or 1906, Eddie Morton worked for the Philadelphia Police Department, where he gained a reputation as a singer. He took a chance on variety and made his mark on the Madison Square Garden rooftop in the summer of 1907 as a cast member of The Maid and the Millionaire. He immediately got a recording contract. Unlike many of his contemporaries who made only a handful of records or none at all, Eddie graced the world with more than 50 recordings, and here is the first of an eventual two-volume set covering his career. His first stage hits, "That's Gratitude" and "Just a Friend of the Family" (the latter a hit for Williams and Walker), are both here. So too is a very funny number that incorporates some stage talk into the verses, "The Party that Wrote 'Home, Sweet Home' Never Was a Married Man." We've put the entire song for you to hear, and we're sure you'll want to hear more!
Imitator of Bert Williams
Morton's early specialty was "coon" songs. He sang songs popularized by Bert Williams, many of which were recorded by Arthur Collins, such as "Somebody Lied" and "The Right Church but the Wrong Pew." Like Williams and Collins, Morton was a baritone, and lucky for us today, recording company brass at the time didn't want overlap between Morton and the other two, so he didn't record his stage hits such as "Moving Day" and "The Preacher and the Bear"—those were left to Collins. Eddie instead recorded the big-show-finisher "I'd Rather Be a Minstrel Man than a Multi-Millionaire" and "Music Makes Me Sentimental." If you like Bert Williams, you will definitely enjoy this CD, but where Bert talks his way into your heart, Eddie sings his way there.
Comical Songs
Often the humor of 100 years ago doesn't seem so funny nowadays. Not so with this collection. "That's the Fellow I Want to Get," "A Singer Sang a Song," "Let George Do It" (based on the comic strip by George McManus), and "I Won't Be Back Till August" will genuinely have you laughing. And, if a little ethnic humor is your thing, "In Ireland" and "Mariuch" will fill the bill. Drinking songs? "Then We'll All Go Home" will do the trick. There's a little of everything here. One of the most pleasing songs of all is "Oh, You Dream," the Jerome and Schwartz composition that tenderly and favorably compares the singer's beloved to all the top stars of the variety stage. It's a poignant "who's who" of a love song.
Like an Afternoon at the Show
Terrific singing, funny songs, a clear delivery, and a personal, accessible style make Eddie Morton the true "sound of vaudeville." It's like taking an afternoon to go to the matinee. This CD packs in 28 songs, nearly 79 minutes in all, and a 28-page booklet full of rare sheet music, pictures, advertisements, and previously unpublished, newly discovered facts about Eddie's early life. And the sound of the records is unparalleled in our catalogue. All the tracks are from 1907-1910, and they never sounded better!
This release is included in the following packages.
Save 20% on our entire catalogue