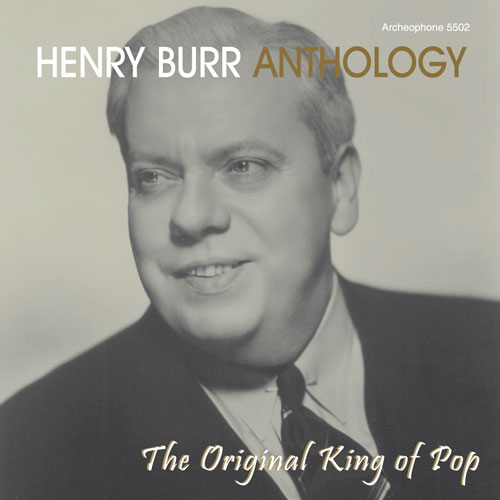 Now available in an improved second edition: a career-spanning retrospective, featuring 27 songs, recorded over 25 years by Henry Burr--the most popular ballad singer of the first 30 years of the recording industry. The collection begins in 1903, when disc technology was still in its primitive stages, and ends in 1928, during the early electrical recording era, showing Burr in full vocal power. Duets with Ada Jones, Albert Campbell, and Frank Stanley, trios with Campbell and Oakland and the Sterling Trio, and quartets with the amazing Peerless Quartet-they're all here on this outstanding collection. List price: $16.99 Sale price: $13.59
OVERVIEW
Catalogue number: ARCH 5502
UPC: 777215108066
Original release date: March 17, 2005
Running length: 78:44 / 27 tracks
Notes & packaging: Includes a 24-page booklet
Tracks recorded: 1903-1928
Contains racially derogatory language
In Archeophone's Anthology series
Tracks and Sound Samples
Product Description
Package Deals
More by this Artist
Sample all tracks
Tracklist

1.
The Holy City
Henry Burr
ca. 1903

2.
Come Down, Ma Evenin? Star
Henry Burr
ca. 1903

3.
Silver Threads Among the Gold
Henry Burr
ca. 1903

4.
Loch Lomond
Henry Burr
1905

5.
In the Shade of the Old Apple Tree
Irving Gillette
1905

6.
Love Me and the World Is Mine
Henry Burr
ca. 1906

7.
Mighty Lak' a Rose
Henry Burr
ca. 1908

8.
Women
Peerless Quartet
1908

9.
Shine on, Harvest Moon
Frank C. Stanley and Henry Burr
ca. 1909

10.
I Wonder Who's Kissing Her Now
Henry Burr
1909

11.
I've Got the Time, I've Got the Place, But It's Hard to Find the Girl
Henry Burr
1910

12.
Last Night Was the End of the World
Henry Burr
1913

13.
Peg O' My Heart
Henry Burr
1913

14.
What Do You Mean, You Didn't Want to Do It?
Ada Jones and Henry Burr
1914

15.
Everything Reminds Me of that Old Sweetheart of Mine
Al Campbell and Henry Burr and Will Oakland
1914

16.
Stay Down Here Where You Belong
Henry Burr
1915

17.
M-O-T-H-E-R (A Word That Means the World to Me)
Henry Burr
1915

18.
America, Here's My Boy!
Peerless Quartet
1917

19.
A Baby's Prayer at Twilight (For Her Daddy Over There)
Henry Burr
1917

20.
Hush-A-Bye, Ma Baby (Missouri Waltz)
Sterling Trio
ca. 1917

21.
When You and I Were Young Maggie
Henry Burr
ca. 1918

22.
I'm Forever Blowing Bubbles
Albert Campbell and Henry Burr
1919

23.
My Buddy
Henry Burr
1922

24.
I Wonder Where My Baby Is To-Night?
Henry Burr and Billy Murray
1925

25.
Always
Henry Burr
1926

26.
Are You Lonesome To-Night?
Henry Burr
1927

27.
Cross Roads
Henry Burr
1928
Now available in a second edition with improved audio: Archeophone presents the songs of Henry Burr, the most popular and most prolific ballad-singing tenor of the acoustic era of recording. Here are his biggest hits: "Come Down, Ma Evenin' Star," "In the Shade of the Old Apple Tree," "Love Me and the World Is Mine," "M-O-T-H-E-R," "A Baby's Prayer at Twilight," and so many more. We've got a great cross-section of material from throughout Burr's career and highlighted the duets, trios, and quartets that he sang in.
The Most Prolific Tenor
Probably no one, not even Billy Murray, participated in as many recordings in the acoustic era as Henry Burr. He was born in Canada as Harry McClaskey, and he originally wanted to be a concert singer and to perform sacred hymns, such as he did in one of his first recording sessions, waxing "The Holy City." His voice had a very serious sound to it, which you can hear on songs like the traditional Scottish song, "Loch Lomond," "Silver
Threads Among the Gold," and the pathetic "Mighty Lak' a Rose."
The Dean of Ballad Singers
But Harry warmed to the horn and soothed the hearts of audiences for over 25 years with his impeccable delivery of the most beautiful ballads the world has heard. You can hear his newly mature voice on "I've Got the Time, I've Got the Place, But It's Hard to Find the Girl" and the big hit, "I Wonder Who's Kissing Her Now," and a few years later on the perennial favorite, "When You
and I Were Young, Maggie."
The Best of Team Players
Henry Burr had trouble in his business and managerial relationships, which are chronicled in Anthology's thorough notes by Burr expert Arthur Makosinski, but when it came to singing, no one could harmonize as well or let his partners shine as brightly as Henry Burr. You can hear him with his first partner, Frank Stanley, on "Shine on, Harvest Moon," or with his longest and most successful partner, Albert Campbell, on the smash hit, "I'm Forever Blowing Bubbles." But we've also got Burr duets with Ada Jones on the novelty piece, "What Do You Mean, You Didn't Want to Do It?" and with Billy Murray on the
early electric number, "I Wonder Where My Baby Is Tonight?"
Introducing the Peerless Quartet
Additionally, Burr was a consummate team player on early Peerless Quartet songs-and the two songs on Anthology back up the boast of the quartet's name. From Franz Lehar's worldwide success The Merry Widow, the Peerless introduce "Women," a masterpiece of early acoustic recording technology. Burr and his partners trade lines and harmonize masterfully in this 1908 recording, when basso Frank Stanley was in charge of the group. From 1917, when Burr was the leader of the Peerless, we have "America, Here's My Boy!" a
rousing pro-World War I piece.
Going Out in Style
Unlike many of his early stable mates, Henry Burr made the transition from the acoustic to electrical era of recording technology. His sweet tenor is still on beautiful display on the Irving Berlin classic, "Always," as well as the unforgettable "Are You Lonesome To-Night?" "Cross Roads" is one of Burr's last recordings, and he is still at his best on the 1928 record. Over his last dozen years, Henry continued to sing the
classic songs he and his audiences loved the best.
The importance of this collection is immense. Everyone who has hear of old records has heard the name of Henry Burr, but never before have his songs been collected on CD. With this, our second Anthology collection, Archeophone shows once again why we are the leader in issuing the most important acoustic-era artists.
This release is included in the following packages.
Save 20% on our entire catalogue