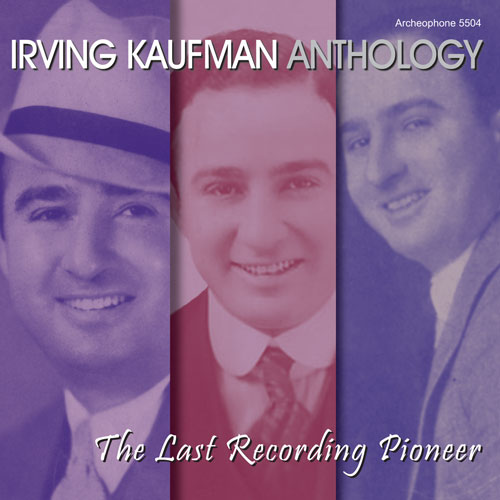 Irving Kaufman, Anthology: The Last Recording Pioneer represents Irving's incredible 60-year span of activity, beginning from his first acoustic recordings in 1914 to the final cuts made in his home in August 1974. The booklet includes several rare photographs, some contributed by Irving's family, and features detailed liner notes by Kaufman expert Ryan Barna, examining both the professional and personal life of this legendary performer. List price: $16.99
OVERVIEW
Catalogue number: ARCH 5504
UPC: 777215109469
Original release date: December 6, 2005
Running length: 76:27 / 26 tracks
Notes & packaging: Includes a 24-page booklet
Tracks recorded: 1914-1974
In Archeophone's Anthology series
Tracks and Sound Samples
Product Description
Package Deals
More by this Artist
Sample all tracks
Tracklist

1.
I Love the Ladies
Irving Kaufman
1914

2.
They Don't Hesitate Any More
Irving Kaufman
1914

3.
Underneath the Japanese Moon
Irving Kaufman
1914

4.
Listen to That Dixie Band
Irving Kaufman
ca. 1915

5.
My Fox Trot Wedding Day
Irving Kaufman
1915

6.
Are You from Dixie? ('Cause I'm from Dixie Too)
Billy Murray and Irving Kaufman
1915

7.
You're a Dangerous Girl
Avon Comedy Four
1916

8.
Mr. Jazz Himself
Irving Kaufman
1917

9.
I'm All Bound 'Round with the Mason Dixon Line
Irving Kaufman
1917

10.
Hail! Hail! The Gang's All Here
Irving Kaufman and Columbia Quartette
1917

11.
Oh! Susie Behave
Irving Kaufman
1918

12.
Take Your Girlie to the Movies (If You Can't Make Love at Home)
Irving Kaufman
1919

13.
You'd Be Surprised
Irving Kaufman
1919

14.
Goodnight Angeline
The Three Kaufields
ca. 1920

15.
Sweet Lady (Medley)
Robert Black, Chorus by Billy Clark (Eubie Blake with Irving Kaufman)
1921

16.
Ten Little Fingers and Ten Little Toes (Down in Tennessee)
Irving Kaufman
1921

17.
My Yiddisha Mammy
Irving Kaufman
1922

18.
Mr. Gallagher and Mr. Shean
Irving and Jack Kaufman
1922

19.
When You and I Were Young Maggie Blues
Irving Kaufman
1922

20.
Yes! We Have No Bananas
Bailey's Luck Seven, Irving Kaufman sings Chorus
1923

21.
Yes Sir, That's My Baby
Irving Kaufman
1925

22.
You Took Advantage of Me
Vaughn DeLeath and Frank Harris
1928

23.
That's the Good Old Sunny South
Irving Kaufman
1929

24.
In the Good Old Summertime
Irving Kaufman
1946

25.
Think It Over Mary
Irving Kaufman and The Dandies
ca. 1947

26.
God Bless America
Irving Kaufman
1974
A long-forgotten and overlooked personality of the entertainment industry, Irving Kaufman was among the most popular, active, and versatile singers in recording history. He sang on countless phonograph records and worked with such legends as Billy Murray, Al Jolson, Eddie Cantor, Sophie Tucker, and later, Tiny Tim. His recorded output spanned longer than virtually any other artist—from 1914 to 1974.
This CD represents Irving's incredible 60-year span of activity, beginning from his first acoustic recordings in 1914 to the final cuts made in his home in August 1974. The booklet includes several rare photographs, some contributed by Irving's family, and features detailed liner notes by Kaufman expert Ryan Barna, examining both the professional and personal life of this legendary performer.
Solid Acoustic-Era Credentials
Most people who remember Kaufman know him from his appearances as guest vocalist on dance and jazz records from the late 1920s through the 1940s. But Irving's career goes all the way back to 1914, when he made his first records for Edison's new cylinder format, the Blue Amberol. Kaufman's very first record was "I Love the Ladies," and within a year he was also making top hits for Victor with "Underneath the Japanese Moon" (from the Ziegfeld Follies of 1914) and "They Don't Hesitate Anymore." By 1916, Irving was helping to usher in the Jazz Age for Columbia with "Mr. Jazz Himself," and before long, he was featured on practically every label in existence.
Big-Name Partners
As a new artist, Irving was given a great boost by being paired with the old pro Billy Murray on "Are You from Dixie? ('Cause I'm from Dixie Too)." At the same time he was teamed with the famous vaudeville duo of Smith and Dale in the new Avon Comedy Four. They waxed several classics in the mid-1910s, such as the Jolson vehicle, "You're a Dangerous Girl." But that wasn't all. With his brother Jack, already an established star, Irving made many popular recordings, including the hottest hit of 1922, "Mr. Gallagher and Mr. Shean." When Jack and Irving ventured out for a trio, they called on songwriter and recording star Arthur Fields to form The Three Kaufields. On Anthology you can hear them sing the Sissle, Blake and Europe song, "Goodnight Angeline." Other great collaborations include the timeless "Hail! Hail! The Gang's All Here," which Irving sings with the Columbia (a.k.a. Peerless) Quartet, and "You Took Advantage of Me," which demonstrates the crooning style that Irving put on for this delicious duet with "The Original Radio Girl," Vaughn De Leath.
Comedy Classics and Hot Jazz
Irving Kaufman was called on to do Jolson-esque or Cantor-like renditions of current hit songs. But he left a lasting impression on the likes of the phenomenal "I'm All Bound 'Round with the Mason Dixon Line" and the impish "You'd Be Surprised." Irving also gave definitive performances of the obscure World War I number, "Oh! Susie Behave," "Take Your Girlie to the Movies" (rivaling Billy Murray's version), and the Eddie Cantor-composed "My Yiddisha Mammy." The latter, played in a minor chord, is filled with a curious but infectious blend of novelty and pathos. Besides singing comedy, Kaufman became the phonograph industry's favorite vocalist on jazz and dance refrains in the 1920s. He does a turn on Eubie Blake's hot piano solo, "Sweet Lady," gives a shout-out on Bailey's Lucky Seven's version of "Yes! We Have No Bananas," and delivers a blistering performance of "Yes Sir, That's My Baby." You will agree that Irving Kaufman is one of the most versatile of early recording stars.
A Snapshot from Kaufman's Twilight Years
We are lucky to hear examples of Irving Kaufman's singing as he neared retirement and from his final years. "That's the Good Old Sunny South" shows him at his peak, aged 39, in full control of his comic timing and dialect skills. Nearly two decades later, from 1946, Kaufman sang "In the Good Old Summertime" like a young man, not someone who had seen as many years as he. Then, from 1947 and just before his heart attack, Irving gave a silky rendition of the old classic, "Think It Over Mary," with the Dandies serving as backup vocalists. Our Anthology concludes in 1974, at Irving's home, as The Last Recording Pioneer sang an emotional "God Bless America" for producer Paul Nehrich to the piano accompaniment of Mrs. Irving Kaufman, the former Belle Brooks.
Don't miss out on this fabulous collection, that is as cheerful as it is intriguing!
This release is included in the following packages.
Save 20% on our entire catalogue