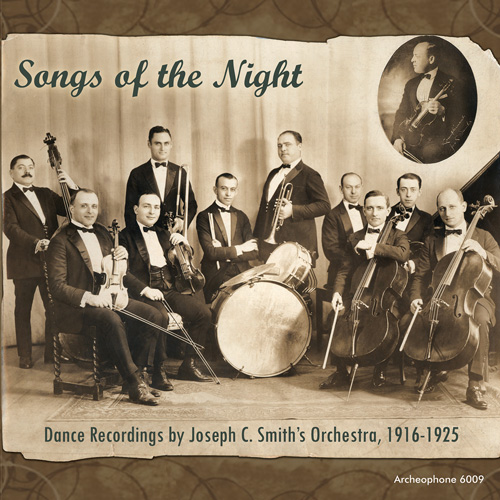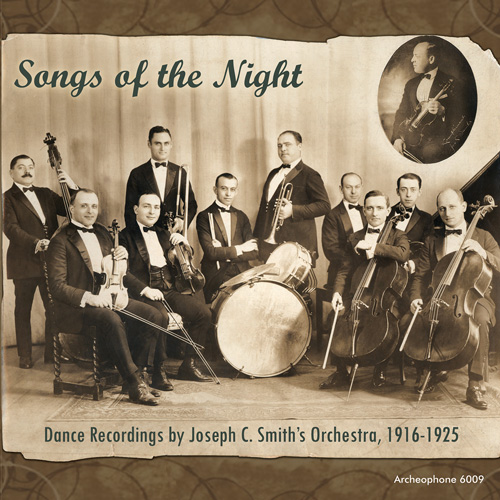 It took a violin virtuoso leading the band at an upscale New York hotel to turn the world of dance records upside down. Eschewing the cold, impersonal arrangements of military bands, Joseph C. Smith brought a warmth and intimacy to the soundtrack of the 1910s dance craze--always with taste and discipline. He reinvigorated the waltz, helped standardize the fox trot, incorporated vocal refrains, and introduced many future classics. For a brief moment, the night belonged to Maestro Smith. Featuring 47 tracks recorded between 1916 and 1925, these two CDs and 32-page booklet tell the story of Smith's career and the innovations he pioneered. Researcher Ryan Barna has uncovered new information on Smith's life and shares valuable insights into the bandleader's singular contributions during the rapidly-changing world of early-century dance music. Smith was the first bandleader to introduce vocal refrains on dance records, and you can hear old industry pros Harry Macdonough on songs such as "Smiles" and "Peggy" and Billy Murray on "Ching-a-Ling's Jazz Bazaar." Moreover, Smith provided a launching pad for many top musicians, who perform their solo specialties here, including trombonist Harry Raderman; xylophonists Teddy Brown and George Hamilton Green; pianists Hugo Frey, Harry Akst and William Bergé; and saxophonist Rudy Wiedoeft. Smith himself provides sometimes beautiful ("Missouri Waltz"), sometimes scorching violin work ("Sally") throughout the proceedings. List price: $27.99
OVERVIEW
Catalogue number: ARCH 6009
UPC: 778632907416
Original release date: September 11, 2015
Running length: 154:38 / 47 tracks / 2 CD set
Notes & packaging: Includes a 32-page full-color booklet
Tracks recorded: 1916-1925
In Archeophone's Jazz, Dance & Blues series
Awards: 58th GRAMMY Nominee, Best Album Notes
Tracks and Sound Samples
Product Description
Reviews
Honors & Awards
Package Deals
More by this Artist
Explore Further
Sample all tracks
Tracklist: CD 1

1.
Songs of the Night
Joseph C. Smith's Orchestra
1916

2.
Money Blues
Joseph C. Smith's Orchestra
1916

3.
I've a Shooting Box in Scotland
Joseph C. Smith's Orchestra
1917

4.
Havanola
Joseph C. Smith's Orchestra
1918

5.
Poor Butterfly
Joseph C. Smith's Orchestra
1918

6.
Allah's Holiday
Joseph C. Smith's Orchestra
1918

7.
St. Elmo
Joseph C. Smith's Orchestra
1918

8.
Dance and Grow Thin
Joseph C. Smith's Orchestra
1918

9.
Missouri Waltz
Joseph C. Smith's Orchestra
1918

10.
Calicoco
Joseph C. Smith's Orchestra
1918

11.
When You Come Back
Joseph C. Smith's Orchestra
1918

12.
Smiles
Joseph C. Smith's Orchestra
1918

13.
Rose Room
Joseph C. Smith's Orchestra
1918

14.
Mary
Joseph C. Smith's Orchestra
1918

15.
Hindustan
Joseph C. Smith's Orchestra
1918

16.
Rockin' the Boat
Joseph C. Smith's Orchestra
1918

17.
Head Over Heels
Joseph C. Smith's Orchestra
1918

18.
Mickey
Joseph C. Smith Trio
1919

19.
Dear Old Pal of Mine
Joseph C. Smith's Orchestra
1919

20.
Somebody's Sweetheart and Good Morning, Judge
Joseph C. Smith's Orchestra
1919

21.
Rainy Day Blues
Joseph C. Smith's Orchestra
1919

22.
Coo Coo
Joseph C. Smith's Orchestra
1919

23.
The Vamp
Joseph C. Smith's Orchestra
1919
Tracklist: CD 2

1.
Who Did It?
Joseph C. Smith's Orchestra
1919

2.
Peggy
Joseph C. Smith's Orchestra
1919

3.
Yellow Dog Blues
Joseph C. Smith's Orchestra
1919

4.
Happy
Joseph C. Smith's Orchestra
1919

5.
Lovely Summertime
Joseph C. Smith's Orchestra
1919

6.
That Naughty Waltz
Joseph C. Smith's Orchestra
1919

7.
Karavan
Joseph C. Smith's Orchestra
1920

8.
Ching-a-Ling's Jazz Bazaar
Joseph C. Smith's Orchestra
1920

9.
Love Nest
Joseph C. Smith's Orchestra
1920

10.
Alice Blue Gown
Joseph C. Smith's Orchestra
1920

11.
Sally
Joseph C. Smith's Orchestra
1921

12.
I Lost My Heart to You
Joseph C. Smith's Orchestra
1921

13.
Why, Dear?
Joseph C. Smith's Orchestra
1921

14.
It's You
Joseph C. Smith's Orchestra
1921

15.
Stealing
Joseph C. Smith's Orchestra
1921

16.
Three O'clock in the Morning
Joseph C. Smith's Orchestra
1922

17.
While Miami Dreams
Joseph C. Smith's Orchestra
1922

18.
Rose of Stamboul
Joseph C. Smith's Orchestra
1922

19.
Where Is the Man of My Dreams
Joseph C. Smith's Orchestra
1922

20.
Sweetheart of Sigma Chi
Joseph C. Smith's Orchestra
1923

21.
Stella
Joseph C. Smith's Orchestra
1923

22.
It Ain't Gonna Rain No Mo!
Joseph C. Smith and His Mount Royal Orchestra
1924

23.
Driftwood
Joseph C. Smith and His Mount Royal Orchestra
1924

24.
I Like You Best of All
Joseph C. Smith's Orchestra
1925
It took a violin virtuoso leading the band at an upscale New York hotel to turn the world of dance records upside down. Eschewing the cold, impersonal arrangements of military bands, Joseph C. Smith brought a warmth and intimacy to the soundtrack of the 1910s dance craze–always with taste and discipline. He reinvigorated the waltz, helped standardize the fox trot, incorporated vocal refrains, and introduced many future classics. For a brief moment, the night belonged to Maestro Smith.
A Thorough Retrospective
Featuring 47 tracks recorded between 1916 and 1925, these two CDs and 32-page booklet tell the story of Smith's career and the innovations he pioneered. Researcher Ryan Barna has uncovered new information on Smith's life and shares valuable insights into the bandleader's singular contributions during the rapidly-changing world of early-century dance music. He made his name at the Plaza Hotel in New York, where Victor discovered him and then employed him to be their dance master. He recorded "Songs of the Night," "Poor Butterfly," "Allah's Holiday" and the first Cole Porter tune ever waxed, "I've a Shooting Box in Scotland." Initial public reaction to the new dance stylings presented by Smith seemed muted, so the company allowed him to go to Columbia, where he made two sides: "Calicoco" and "When You Come Back" (both included here). Then everything changed.
How to Waltz
"Missouri Waltz" was the last thing Smith did at Victor before defecting to Columbia. Sales skyrocketed, and Victor called him back for good. Other bands made waltz records, but not like this. Smith's arrangements were intimate and romantic; his violin was the language of love. Smith would keep the waltz, his specialty, fresh and up-to-date–whether in a sustained mood of sadness, like with "That Naughty Waltz," or by employing a remarkable hesitation beat, like with "Three O'clock in the Morning." Smith's proponents insisted that while fads would come and go, the waltz would always stay around, and nobody could play a waltz like Smith's band.
Innovations
Smith was the first bandleader to introduce vocal refrains on dance records, and you can hear old industry pros Harry Macdonough on songs such as "Smiles" and "Peggy" and Billy Murray on "Ching-a-Ling's Jazz Bazaar." Moreover, Smith provided a launching pad for many top musicians, who perform their solo specialties here, including trombonist Harry Raderman; xylophonists Teddy Brown and George Hamilton Green; pianists Hugo Frey, Harry Akst and William Bergé; and saxophonist Rudy Wiedoeft. Smith himself provides sometimes beautiful ("Missouri Waltz"), sometimes scorching ("Sally") violin work throughout the proceedings. And he also gives renditions of several of his own compositions, including "Coo Coo" and "Who Did It?"
Caught in the Middle
Despite giving Victor some powerful hits, such as the exotic-sounding "Hindustan," the eerie "The Vamp," the tender "Mickey" (with vocal by Henry Burr), and the all-time best-selling "Love Nest," Smith found himself without a label by mid-1922. A victim of his own success, Smith became passé when other bandleaders no longer followed his lead but, rather, championed new innovations and left the Maestro behind. Brunswick gave Smith a chance, billing him as"The Man Who Made Dancing to the Phonograph Possible," and Gershwin's "Where Is the Man of My Dreams," as well as "Sweetheart of Sigma Chi" and "Stella" represent his time with the upstart company. Smith ended his recording career with the Canadian branch of Victor in Montreal, where Smith and His Mount Royal Orchestra were engaged. "It Ain't Gonna Rain No Mo!" "Driftwood," and "(I Like Pie, I Like Cake but) I Like You Best of All" show this final period to grreat advantage. Smith even provides his own vocal on "I Like You Best of All," the last track he ever recorded.
Goodbye–Hello
Smith spent nearly another 20 years in the business, playing hotels and restaurants to appreciative dance-and-dinner patrons, before retiring to south Florida, where he passed away in 1965 at the age of 81. There remain a number of questions about Smith's biography, so we'll let the music speak for itself and perhaps tell a thing or two about the essence of the man.
A Long-Requested Release
For years, Smith's fans have been clamoring for Archeophone to produce a set devoted to the Maestro, and here it is. With over two and a half hours of music (about a third of Smith's complete output) and extensive notes by Ryan Barna, Songs of the Night is destined to be an early dance-band classic. The set is produced by the team of Richard Martin and Meagan Hennessey, fresh off their Grammy-nominated work on Happy, the 1920 sides by Isham Jones' Rainbo Orchestra. As on Happy, the restorations and remastering of Songs of the Night are top notch, revealing depth and clarity in the ancient grooves that most listeners have never heard.
GRAMMY Awards
GRAMMY Nominee, Best Album Notes, 2015
This release is included in the following packages.
Save 15% when you order all in-stock releases in our Jazz, Dance & Blues Series
Save 20% on our entire catalogue
TRAILER
FROM OUR BLOG
It's new-release Friday and the beginning of Archeophone's Fall Sale. Be sure to pick up your copy of our new double-CD set, Songs of the Night by Joseph C. Smith's Orchestra, and grab those other items you've been eyeing. Everything is at least ten percent off. For today's blog, let's celebrate by taking a good …
Continue reading

Smith Arrives!
→
posted: September 11, 2015
For you lovers of physical media, we want to tell you that our next CD, Dan W. Quinn's Anthology: The King of Comic Singers, 1894-1917, will be released next Tuesday, June 16, 2015. It's a beautiful digipak edition with a 52-page color booklet that will be offered at a discounted price for the first couple …
Continue reading

Introducing Joseph C. Smith
→
posted: June 12, 2015