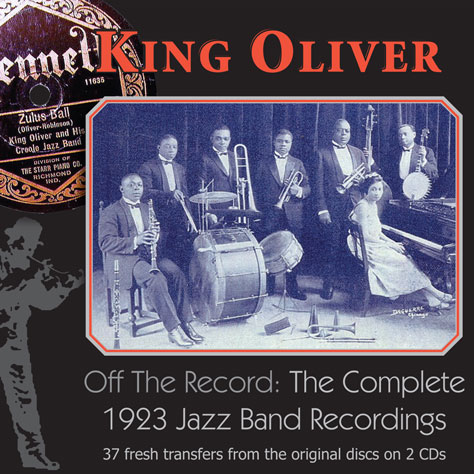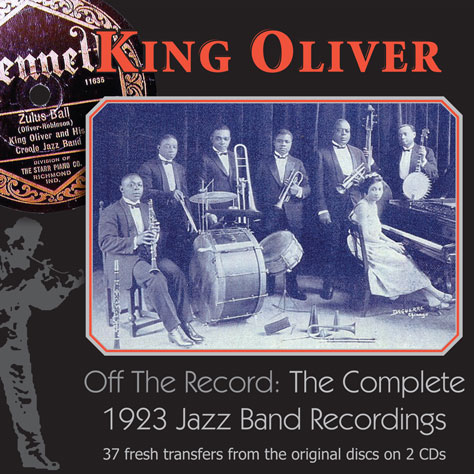 Currently unavailable
Archeophone is proud to the finest reissue of King Oliver's legendary 1923 jazz band sides ever. Taken from pristine original sources, expertly speed-corrected, only lightly processed, and preserved in true flat frequency response: you will hear nuances you never knew were there. It's the next best thing to owning the originals. Contains 37 tracks and an extensive essay, with several unpublished photos. List price: $31.99
OVERVIEW
Catalogue number: ARCH OTR-MM6-C2
UPC: 777215111028
Original release date: November 5, 2006
Running length: 104:59 / 37 tracks / 2 CD set
Notes & packaging: Includes a 32-page booklet
Tracks recorded: 1923
An Off The Record production
Awards: 50th GRAMMY Nominee, Best Album Notes
Tracks and Sound Samples
Product Description
Reviews
Honors & Awards
Save More
More by this Artist
Sample all tracks
Tracklist: CD 1

1.
Just Gone
King Oliver's Jazz Band
1923

2.
Canal Street Blues
King Oliver's Jazz Band
1923

3.
Mandy Lee Blues
King Oliver's Jazz Band
1923

4.
I'm Going Away to Wear You Off My Mind
King Oliver's Jazz Band
1923

5.
Chimes Blues
King Oliver's Jazz Band
1923

6.
Weather Bird Rag
King Oliver's Jazz Band
1923

7.
Dipper Mouth Blues
King Oliver's Jazz Band
1923

8.
Froggie Moore
King Oliver's Jazz Band
1923

9.
Snake Rag
King Oliver's Jazz Band
1923

10.
Snake Rag
King Oliver's Jazz Band
1923

11.
Sweet Lovin' Man
King Oliver's Jazz Band
1923

12.
High Society Rag
King Oliver's Jazz Band
1923

13.
Sobbin' Blues
King Oliver's Jazz Band
1923

14.
Where Did You Stay Last Night
King Oliver's Jazz Band
1923

15.
Dipper Mouth Blues
King Oliver's Jazz Band
1923

16.
Jazzin' Babies Blues
King Oliver's Jazz Band
1923
Tracklist: CD 2

1.
Alligator Hop
King Oliver's Jazz Band
1923

2.
Zulu's Ball
King Oliver's Jazz Band
1923

3.
Workingman Blues
King Oliver's Jazz Band
1923

4.
Krooked Blues
King Oliver's Jazz Band
1923

5.
Chattanooga Stomp
King Oliver's Jazz Band
1923

6.
London (CafÈ) Blues
King Oliver's Jazz Band
1923

7.
Camp Meeting Blues
King Oliver's Jazz Band
1923

8.
New Orleans Stomp
King Oliver's Jazz Band
1923

9.
Buddy's Habit
King Oliver's Jazz Band
1923

10.
Tears
King Oliver's Jazz Band
1923

11.
I Ain't Gonna Tell Nobody
King Oliver's Jazz Band
1923

12.
Room Rent Blues
King Oliver's Jazz Band
1923

13.
Riverside Blues
King Oliver's Jazz Band
1923

14.
Sweet Baby Doll
King Oliver's Jazz Band
1923

15.
Working Man Blues
King Oliver's Jazz Band
1923

16.
Mabel's Dream
King Oliver's Jazz Band
1923

17.
Mabel's Dream [take 1]
King Oliver's Jazz Band
1923

18.
Mabel's Dream [take 2]
King Oliver's Jazz Band
1923

19.
The Southern Stomps [take 1]
King Oliver's Jazz Band
1923

20.
The Southern Stomps [take 2]
King Oliver's Jazz Band
1923

21.
Riverside Blues
King Oliver's Jazz Band
1923
The 37 issued titles by King Oliver's (Creole) Jazz Band are among the finest recordings of genuine New Orleans Jazz ever recorded! The sheer drive, imagination and power found on these 1923 recordings have inspired countless musicians, collectors, and jazz fans.
While universally treasured, these gems have been largely inaccessible sonically for two reasons:
the limitations of the original recordings themselves
the fact no reissue has yet presented these performances in a consistent manner, bringing out their true characteristics.
Off the Record offers an amazingly fresh and simple alternative – one that proves to be a definitive step in presenting these truly classic sides. By special arrangement with Archeophone Records, Off the Record is proud to present all 37 issued titles by the Oliver band, newly transferred from the best available original sources, issued on two compact discs. Engineer and master sound recording restoration specialist Doug Benson – known for his definitive work on "The Complete Hit of the Week" on Archeophone Records – and David Sager – jazz historian and trombonist – have searched far and wide to gain access to the cleanest copies of all the Oliver discs, including the unique copy of "Zulus Ball" and "Working Man Blues." Using a meticulous musical ear, a wide variety of styli and the subtlest application of digital technology, Benson, perhaps for the first time, has revealed the natural ambience of these discs.
Unprecedented Detail and Clarity
The Oliver ensemble has never been heard to better advantage. Passages long accepted as muddy and indistinct pour forth with unprecedented clarity. The sterling ensemble work and swing of "Canal Street Blues" has never sounded more compelling. Even the introduction of the ultra-rare "Zulus Ball," often lamented for its poor condition, shines through crystal clear!
Straight off the discs with as little processing as possible
There is no better way to bring these old discs to life than with the right stylus, a sensitive ear, and careful application of non-invasive processing. Whereas many reissues are marred by over-processing, resulting in muffled sound and/or digital artifacts, Off the Record has judiciously applied just enough non-invasive technique in order to remove ticks, pops, harsh resonances and other unwelcome noise – leaving the music to speak for itself.
Expertly Speed Corrected
Just because we call 'em 78s doesn't mean that they really are. Sound recordings from the early days of sound recording rarely spin at exactly 78 rpm. Back in those days there was no standardization regarding speed; often discs ran at 70, 76, or even 85 rpm! Of course if you want to hear the music the way it was played, the discs must spin at the same speed at which they were recorded. All 37 sides here have been painstakingly adjusted so that they play in correct pitch and tempo.
The King and Louis
The 1923 Oliver records are notable in so many ways, not the least of which is that they are the earliest recordings of Louis Armstrong. The inspiring anecdotes about the musical kinship between the 22-year-old Armstrong and his mentor, "Papa Joe" are endless. Now, with sonic clarity that has never before been realized, hear these two great masters on selections such as "Weather Bird Rag" and "Snake Rag" as they harmonize, drive the ensemble, and play their legendary breaks.
The Dodds Brothers, Dutrey and Miss Lil Too!
You will also hear the soaring, heroic sound of Johnny Dodds' clarinet, masterfully wrapping the ensemble with his magical obbligati. And don't forget brother Baby Dodds: though his drum set was often reduced to woodblock, Chinese tom-tom and cymbal (for the sake of the recording method), his contribution can now be heard for what it was: supportive, rhythmic and exciting as on the great Paramount recording of "Mabel's Dream." The great tailgate trombone of Honore Dutrey and the swinging piano of Lil Hardin come through like never before!
Read all about it
The package includes a handsome 32 page illustrated booklet containing:
Scholarly and thoughtful essay by David Sager on the Oliver Band, with many hitherto unpublished facts.
Photographs and historical documents – both rare and well known – including shots of each and every label!
Engineer Doug Benson's explanatory note on the techniques used for this landmark reissue.
A preface by the dean of jazz journalists, Dan Morgenstern.
Discography of the 37 Oliver recordings.
Technical information chart showing playback speeds, styli used and record condition.
Layout and design by the folks at Archeophone Records – alone, this is worth the price of admission!
Praise for King Oliver, Off the Record
Hear what these famous and widely respected critics, producers and scholars have to say about King Oliver – Off the Record:
"To hear these astonishing transfers is, in a very real sense, to truly hear this music for the first time."
– Dan Morgenstern, Director, Rutgers Institute of Jazz Studies
"…Here at last is what I believe to be the closest anyone has gotten to reproducing what Oliver laid down in those glorious few months before Louis split."
– George Avakian, Recipient, 2000 Down Beat Lifetime Achievement Award
"The realism and dimension of these fresh transfers from 80+ year old artifacts confirm that the king Oliver band was inspired, inspiring, and unforgettable."
– Dick Spottswood, author/compiler, Ethnic Music on Records
"…Maybe you can hear the Oliver band's music in far greater detail than if you'd been lucky enough to be in the Lincoln Gardens in 1923 with jostling and shoving and feet stepping on yours."
– Lawrence Gushee, author, Pioneers of Jazz: The Story of the Creole Band
GRAMMY Awards
GRAMMY Nominee, Best Album Notes, 2007
This release is included in the following packages.
Save 20% on our entire catalogue