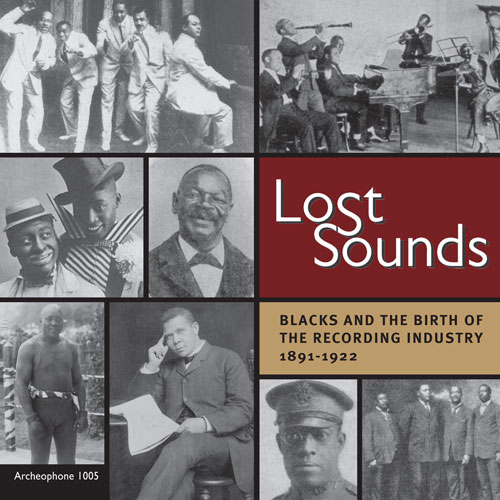 Fifty-four tracks by 43 artists, and 60 pages of in-depth commentary and analysis: Lost Sounds is a monumental achievement that stretches back to the faint beginnings of commercial recordings and travels to the brink of the Jazz Age to trace the contributions of black artists on American records. Sometimes noisy and raucous, sometimes quiet and austere, these recordings demonstrate the deep involvement and lasting influence of African Americans in the nascent recording industry. List price: $29.99
OVERVIEW
Catalogue number: ARCH 1005
UPC: 777215109025
Original release date: October 9, 2005
Running length: 154:06 / 54 tracks / 2 CD set
Notes & packaging: Includes a 60-page booklet
Tracks recorded: 1891-1922
Contains racially derogatory language
In Archeophone's Genres series
Awards: 49th GRAMMY Winner, Best Historical Album; 49th GRAMMY Nominee, Best Album Notes
Tracks and Sound Samples
Product Description
Reviews
Honors & Awards
Package Deals
More by these Artists
Sample all tracks
Tracklist: CD 1

1.
Mamma's Black Baby Boy
Unique Quartet
1893

2.
Keep Movin'
Standard Quartet
1894

3.
Who Broke the Lock
Unique Quartet
ca. 1895

4.
Brother Michael, Won't You Hand Down that Rope
Oriole Quartette
ca. 1895-1896

5.
Poor Mourner
Cousins and DeMoss
1898

6.
Who Broke the Lock
Cousins and DeMoss
1898

7.
Down on the Old Camp Ground
Dinwiddie Colored Quartet
1902

8.
Jerusalem Mornin'
Polk Miller and His Old South Quartet
1909

9.
Little David / Shout All Over God's Heaven
Fisk University Jubilee Quartet
1909

10.
Swing Low, Sweet Chariot
Apollo Jubilee Quartet
1912

11.
Shout All Over God's Heaven
Apollo Jubilee Quartet
1912

12.
Good News
Tuskegee Institute Singers
1914

13.
The Rain Song
Right Quintette
1915

14.
Goodnight Angeline
Four Harmony Kings
1921

15.
Experiences in the Show Business
Charley Case
1909

16.
The Whistling Coon
George W. Johnson
1891

17.
Adam and Eve and de Winter Apple [excerpt]
Louis Vasnier
ca. 1893

18.
The Laughing Song
George W. Johnson
ca. 1894-98

19.
Minstrel First Part, featuring "The Laughing Song"
Spencer, Williams and Quinn's Imperial Minstrels
ca. 1894

20.
Listen to the Mocking Bird
George W. Johnson
1896

21.
The Laughing Coon
George W. Johnson
ca. 1898

22.
The Whistling Girl
George W. Johnson
1898

23.
My Little Zulu Babe
Bert Williams and George Walker
1901

24.
Carving the Duck
George W. Johnson
1903

25.
The Merry Mail Man
Len Spencer and George W. Johnson
1906

26.
Nobody
Bert Williams
1906

27.
My Own Story of the Big Fight (part 1)
Jack Johnson
1910

28.
Beans, Beans, Beans
Opal Cooper
1917

29.
Great Camp Meetin' Day
Noble Sissle
1920
Tracklist: CD 2

1.
Atlanta Exposition Speech
Booker T. Washington
1908

2.
Old Black Joe
Thomas Craig
1898

3.
Old Dog Tray
Carroll Clark
1910

4.
I Surrender All
Daisy Tapley and Carroll Clark
1910

5.
Swing Along
Afro-American Folk Song Singers
1914

6.
The Rain Song
Afro-American Folk Song Singers
1914

7.
Exhortation
Right Quintette
1915

8.
Vesti la Giubba
Roland Hayes
1918

9.
Go Down Moses
Harry T. Burleigh
1919

10.
Sometimes I Feel Like a Motherless Child
Edward H. S. Boatner
1919

11.
Villanelle
Florence Cole-Talbert
1919

12.
Barcarolle
R. Nathaniel Dett
1919

13.
Lament
Clarence Cameron White
1919

14.
When de Co'n Pone's Hot / Possum
Edward Sterling Wright
1913

15.
Down Home Rag
Europe's Society Orchestra
1913

16.
Bregeiro (Rio Brazilian Maxixe)
Joan Sawyer's Persian Garden Orchestra
1914

17.
On the Shore at Le-Lei-Wei
Ciro's Club Coon Orchestra
1916

18.
Down Home Rag
Wilbur Sweatman
1916

19.
Some Jazz Blues
Memphis Pickaninny Band
1917

20.
Sarah from Sahara
Eubie Blake Trio
1917

21.
The Jazz Dance
Blake's Jazzone Orchestra
1917

22.
Ev'rybody's Crazy 'Bout the Doggone Blues
Wilbur Sweatman's Original Jazz Band
1918

23.
Darktown Strutters' Ball
Lieut. Jim Europe's 369th U. S. Infantry "Hell Fighters" Band
1919

24.
Camp Meeting Blues
Ford Dabney's Band
1919

25.
St. Louis Blues
W. C. Handy's Memphis Blues Band
1922
Fifty-four tracks by 43 artists, 60 pages of in-depth commentary and analysis, and 1 Grammy Award for Best Historical Album: Lost Sounds is a monumental achievement that stretches back to the faint beginnings of commercial recordings and travels to the brink of the Jazz Age to trace the contributions of black artists on American records. Sometimes noisy and raucous, sometimes quiet and austere, these recordings demonstrate the deep involvement and lasting influence of African Americans in the nascent recording industry.
From Book to Audio
First published by the University of Illinois Press in 2004, Tim Brooks' mammoth Lost Sounds brought before the world the stories of pioneering black recording artists who had been consigned to permanent obscurity. Now Archeophone gives these artists their voice on this ambitious two-CD set. Every major artist covered in the book (except for one whose recordings have never been found) and several minor ones are represented here. Never before has such an overview been attempted, and many of the recordings found here have literally not been heard in over 100 years.
Historic Recordings
The release of Lost Sounds is nothing short of historic. You have heard of many of these singers, musicians, and public figures, but you probably haven't heard the sonic documents they left behind. Here for the first time is Thomas Craig, "the colored basso," stage star Opal Cooper, boxer Jack Johnson, and Tuskegee Institute founder Booker T. Washington. Also featured are five operatic performers who made records for Broome Special Phonograph Records, ca. 1919, and who led distinguished musical careers: Harry Burleigh, Edward Boatner, Florence Cole–Talbert, Nathaniel Dett, and Clarence Cameron White. Lost Sounds also includes one of the ultra-rare personal records made by Roland Hayes, "Vesti la giubba," that helped him jump-start his career.
Newly Discovered Gems
With the help of gracious collectors we have also unearthed rarities whose importance cannot be overstated. Here for the first time is heard an African-American vocal group from 1895: the Oriole Quartette doing "Brother Michael, Won't You Hand Down that Rope?" Also included is one of the earliest minstrel records in existence; from 1894, it's Spencer, Williams & Quinn's Imperial Minstrels doing their Minstrel First Part and featuring George W. Johnson's great "Laughing Song." Those who have heard Cousins and DeMoss doing "Poor Mourner" for Berliner in 1898 have a treat in store with their rousing rendition of "Who Broke the Lock" also from 1898. These guys were making rock records before anybody knew what that meant.
Four Distinct Genres
Four distinct musical genres emerged when the recordings were laid out: Vocal Harmonies, Minstrel & Vaudeville Traditions, Aspirational Motives, and Dance Rhythms. The two CDs are arranged according to these themes, with a full trajectory of nearly 30 years' worth of material covered in each section. Several musical superstars are represented: Bert Williams, Wilbur Sweatman, Jim Europe's bands, and W. C. Handy. But other lesser-known pioneers are here too. Under the "Vocal" section come the celebrated Unique Quartette, here heard on the superior-sounding "Mamma's Black Baby Boy" from 1893 and "Who Broke the Lock" from about 1895 (comparing the two versions of the song raises questions about vernacular performances from the 1890s). The "Minstrel" section takes us, meanwhile, from rough "coon" songs, introduces Williams and Walker, and ends with "Great Camp Meetin' Day," by Noble Sissle, one-half of the most popular black team of the 1920s. The "Aspirational" section chronicles efforts by black artists to overcome circumstance and establish themselves among the world's "serious" music, seen for instance in "Swing Along," by Will Marion Cook's Afro-American Folk Song Singers. In the "Dance" genre, we have great performances by Clef Club members on the Europe Society Band's "Down Home Rag" and the Joan Sawyer Orchestra's version of "Bregeiro," led by Dan Kildare. One standout is one of Eubie Blake's first records, "Sarah from Sahara," performed by the Blake Trio in 1917. Also featured is the rarely reissued Ford Dabney Band, doing the infectious "Camp Meeting Blues" from 1919.
The Complete Musical Story of George W. Johnson
Of special interest on Lost Sounds is George W. Johnson, the first black man to record. "Lost Sounds" includes all eight of his extant recordings, from the 1891 North American cylinder of "The Whistling Coon" and "The Laughing Song," which features unusually early ragtime piano accompaniment, to "The Whistling Girl," "The Laughing Coon" and the ultra-rare "Carving the Duck" from 1903—a record that had not surfaced until earlier this year. Lesser-known and uncommon recordings by Johnson are his whistling solo for Berliner of "The Mocking Bird" and his speaking cameo on Len Spencer's "Merry Mail Man," the last original routine the elderly Johnson appeared on.
Attractive Booklet, Detailed Notes
With notes by Tim Brooks and David Giovannoni, the accompanying 60-page booklet is nearly worth the price alone. Beautifully illustrated, and featuring many rare photos, the booklet (it's really a book!) brings the music and the actors alive. We've included a general introduction, four genre introductions, selected mini-biographies, copious track notes and lyrics on selected songs, along with a handful of other special features. This stunning book is sure to make Lost Sounds a deeply rewarding experience for you.
A Testament to the Power of Preservation
Lost Sounds makes a persuasive case for preserving old recordings before it is too late. Some of these newly-rescued sounds bear the marks of their tortured history, while others somehow made it to the present day surprisingly pristine. Archeophone is proud to be at the vanguard of these preservation attempts, and we encourage other collectors, as they enjoy this sonic history that was nearly lost, to take the time to preserve their old recordings and to share them with the world. Archeophone stands ready to aid you in your efforts!
GRAMMY Awards
GRAMMY Winner, Best Historical Album, 2006
GRAMMY Nominee, Best Album Notes, 2006
This release is included in the following packages.
The Roots and Ragtime Collection
Save 10% when you order three of our most popular titles together.
Save 15% when you order all in-stock releases in our Genres series.
Save 20% on our entire catalogue