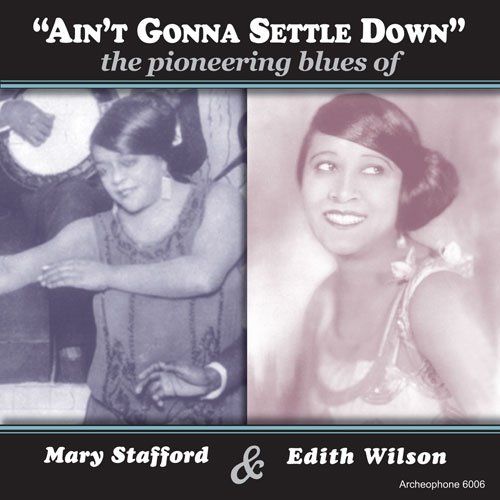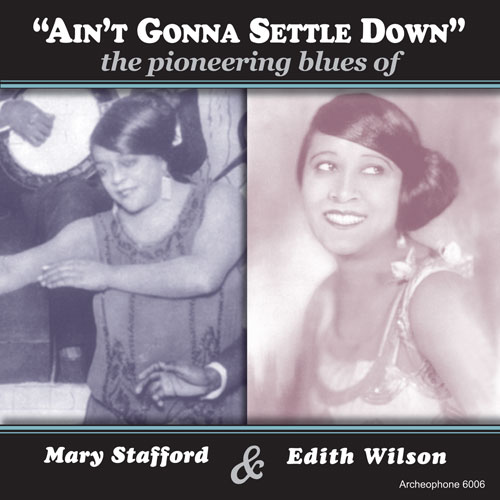 "Ain't Gonna Settle Down" features all 14 recordings made by the obscure but remarkable cabaret star Mary Stafford in 1921 and 1926 and 32 selections by Louisville-born Edith Wilson, covering her entire released repertoire from 1921 to 1930. A handsomely illustrated 32-page booklet with notes by blues scholar Steve Tracy accompanies the two CDs. These records have never sounded better, and for the first time they are presented with the care they deserve. List price: $28.99 Sale price: $23.19
OVERVIEW
Catalogue number: ARCH 6006
UPC: 778632901483
Original release date: May 15, 2008
Running length: 143:03 / 46 tracks / 2 CD set
Notes & packaging: Includes a 32-page booklet
Tracks recorded: 1921-1930
In Archeophone's Jazz, Dance & Blues series
Tracks and Sound Samples
Product Description
Package Deals
More by these Artists
Sample all tracks
Tracklist: CD 1
1.
Royal Garden Blues
Mary Stafford and Her Jazz Band
1921

2.
Crazy Blues
Mary Stafford and Her Jazz Band
1921

3.
I'm Gonna Jazz My Way Right Straight Thru Paradise
Mary Stafford and Her Jazz Band
1921

4.
Down Where They Play the Blues
Mary Stafford and Her Jazz Band
1921

5.
If You Don't Want Me Send Me to My Ma
Mary Stafford and Her Jazz Band
1921

6.
Strut Miss Lizzie
Mary Stafford and Her Jazz Band
1921

7.
Wild Weeping Blues
Mary Stafford and Her Jazz Band
1921

8.
I've Lost My Heart to the Meanest Girl in Town
Mary Stafford and Her Jazz Band
1921

9.
Arkansas Blues
Mary Stafford and Her Jazz Band
1921

10.
Down Home Blues
Mary Stafford and Her Jazz Band
1921

11.
Blind Man Blues
Mary Stafford and Her Jazz Band
1921

12.
Monday Morning Blues
Mary Stafford and Her Jazz Band
1921

13.
Ain't Got Nobody to Grind My Coffee in the Morning
Mary Stafford
1926

14.
Take Your Finger Off It
Mary Stafford
1926

15.
Nervous Blues
Edith Wilson and Johnny Dunn's Original Jazz Hounds
1921

16.
Vampin' Liza Jane
Edith Wilson and Johnny Dunn's Original Jazz Hounds
1921

17.
Old Time Blues
Edith Wilson and Johnny Dunn's Original Jazz Hounds
1921

18.
Frankie
Edith Wilson and Johnny Dunn's Original Jazz Hounds
1921

19.
I Don't Want Nobody Blues
Edith Wilson and Johnny Dunn's Original Jazz Hounds
1921

20.
The West Texas Blues
Edith Wilson and Johnny Dunn's Original Jazz Hounds
1921

21.
Wicked Blues
Edith Wilson and The Original Jazz Hounds
1922

22.
Birmingham Blues
Edith Wilson and The Original Jazz Hounds
1922

23.
Mammy, I'm Thinking of You
Edith Wilson and Johnny Dunn's Original Jazz Hounds
1922

24.
Take It 'Cause It's All Yours
Edith Wilson and Johnny Dunn's Original Jazz Hounds
1922
Tracklist: CD 2
1.
He May Be Your Man (But He Comes to See Me Sometimes)
Edith Wilson and Johnny Dunn's Original Jazz Hounds
1922

2.
Rules and Regulations "Signed Razor Jim"
Edith Wilson and Johnny Dunn's Original Jazz Hounds
1922

3.
Lonesome Mama Blues
Edith Wilson and Johnny Dunn's Original Jazz Hounds
1922

4.
What Do You Care (What I Do)
Edith Wilson and Johnny Dunn's Original Jazz Hounds
1922

5.
Evil Blues
Edith Wilson and Johnny Dunn's Original Jazz Hounds
1922

6.
Pensacola Blues (Home Again Croon)
Edith Wilson and Johnny Dunn's Original Jazz Hounds
1922

7.
Dixie Blues
Edith Wilson and Johnny Dunn's Original Jazz Hounds
1922

8.
He Used to Be Your Man but He's My Man Now
Edith Wilson and Johnny Dunn's Original Jazz Hounds
1922

9.
Daddy, Change Your Mind
Edith Wilson and Her Jazz Band
1924

10.
I Don't Know and I Don't Care Blues
Edith Wilson and Her Jazz Band
1924

11.
How Come You Do Me Like You Do?
Edith Wilson (accompaniment by "Alabama Joe")
1924

12.
Muscle Shoals Blues
Edith Wilson (accompaniment by "Alabama Joe")
1924

13.
He's a Mean Mean Man (But He's Good to Me)
Edith Wilson and Her Jazz Hounds
1924

14.
Double-Crossin' Papa (Don't Double-Cross Me)
Edith Wilson and Her Jazz Hounds
1924

15.
It's Gonna Be a Cold, Cold Winter
Edith Wilson and "Doc" Straine
1925

16.
There'll Be Some Changes Made
Edith Wilson and "Doc" Straine
1925

17.
(What Did I Do to Be So) Black and Blue
Edith Wilson
1929

18.
My Man Is Good for Nothing but Love
Edith Wilson
1929

19.
Loving You the Way I Do
Bubber Miley and His Mileage Makers (vocal by Edith Wilson)
1930

20.
The Penalty of Love
Bubber Miley and His Mileage Makers (vocal by Edith Wilson)
1930

21.
My Handy Man Ain't Handy No More
Edith Wilson
1930

22.
I'll Get Even with You
Edith Wilson
1930
"Ain't Gonna Settle Down" features all 14 recordings made by the obscure but remarkable cabaret star Mary Stafford in 1921 and 1926 and 32 selections by Louisville-born Edith Wilson, covering her entire released repertoire from 1921 to 1930. A handsomely illustrated 32-page booklet with notes by blues scholar Steve Tracy accompanies the two CDs. As usual, remastering and design come from Grammy-winning production team of Richard Martin and Meagan Hennessey. These records have never sounded better, and for the first time they are presented with the care they deserve.
Genuine Trailblazers
After Mamie Smith exploded onto the blues scene for OKeh in 1920–proving once and for all that black artists and black consumers were a force to be reckoned with–all the other record companies responded with their best imitations. Lucille Hegamin followed for Arto in November 1920, but the first major-label offerings were Mary Stafford and Edith Wilson. Stafford began recording with Charlie Johnson's Orchestra in January 1921 and Wilson, backed by a formidable Johnny Dunn ensemble, in September 1921. What resulted is the purest, generally overlooked, iteration of the classic or vaudeville style of blues singing–which only now can be appreciated for its trailblazing character right alongside the guitar-slinging and knife-fighting kind of blues from the masculine set. White male writers who have chronicled the blues for decades have privileged the "primitive" sound of the rural, guitar-playing, often indigent men who rightfully occupy their places in the blues pantheon. But these two talented women belong there too–and they were among the first.
"You couldn't beat Mary Stafford for pipes"
So said Willie "the Lion" Smith in a moment of exuberant praise. Mary Stafford's recording career consisted of 14 released sides–far too few for a stage singer who could deliver the blues with strength and panache. Backed by "Her Jazz Band" (which was really the Charlie Johnson Orchestra), Stafford burst onto the scene with the first released version of the future classic "Royal Garden Blues" by Clarence Williams and Spencer Williams. For a suitable flip-side, Stafford does her own unique turn on "Crazy Blues"–the Mamie Smith vehicle that started the whole blues craze. Mary definitely blows her "pipes" on "Down Where They Play the Blues" and "If You Don't Want Me Send Me to My Ma," but something magical happens in the cacophonous beauty of the muddy "Wild Weeping Blues." That one and its flip, "I've Lost My Heart to the Meanest Girl in Town," are really meant as jazz band records, where Stafford is buried in the mix–yet her wailing cuts through the noise like a knife.
Curiously, the studio engineers rethought that strategy and pushed Mary way up front when she returned four months later to record "Arkansas Blues" and "Blind Man Blues." The sound is noticeably thinner, allowing a focus on Stafford's smooth, nostalgic lament. That was September 1921; only one more recording–"Monday Morning Blues"–followed in November 1921, and then Mary Stafford had a long break before her final recordings. She remained active, performing for example with the Carroll Dickerson Band and Frankie "Half Pint" Jaxon (source of one of only two known photographs of her), yet it wasn't until Pathé-Actuelle recorded her ca. March 1926 that she got back in the studio. The final selections were the double-entendre blues, "Ain't Got Nobody to Grind My Coffee in the Morning" and "Take Your Finger Off It." Stafford deserved a longer career, but at least with "Ain't Gonna Settle Down" we can still visit her "down where they play the blues."
Out from behind Mamie's Shadow
Mary Stafford may have been the direct response to Mamie Smith, but it was Edith Wilson who got her break at Mamie's expense. "Crazy Blues" composer Perry Bradford had Smith slated for his show Put and Take, but when her stage manager wouldn't allow it, Bradford tapped Wilson to take her place. The result was a positive review for Wilson and her first three recordings: "Nervous Blues," "Vampin' Liza Jane," and the show-stopping "Old Time Blues." She was backed by a very tight ensemble led by cornetist/trumpeter Johnny Dunn (formerly of W. C. Handy's Memphis Blues Band) that gave her recordings some of the best jazz accompaniments waxed to that date. Edith finished out 1921 with the spirited coupling of "I Don't Want Nobody Blues" and "The West Texas Blues," the latter featuring her doing a stop-time call and response and some tough sliding by trombonist Herb Flemming.
Between 1921 and 1925, Wilson had 21 recording sessions and saw 26 sides issued from her labors. Most of the selections show off Edith's non-12-bar vaudeville-style vocalizing, often right next to instrumental breaks with the 12-bar standard blues structure. She remade the work of others, such as Lucille Hegamin's "He May Be Your Man," but she also introduced a number of songs on record, including Perry Bradford's "Rules and Regulations 'Signed Razor Jim,'" "What Do You Care," and "Wicked Blues." She was a regular stage attraction by the time she recorded "Daddy, Change Your Mind." Gone now are Johnny Dunn and company, in favor of a crisp Fletcher Henderson band, with Don Redman on clarinet and Charlie Dixon on banjo. In early 1924 Wilson teamed with guitar virtuoso Roy Smeck (masquerading as "Alabama Joe") on "How Come You Do Me Like You Do?" and "Muscle Shoals Blues." A full, tight band is back for "He's a Mean Mean Man" and "Double-Crossin' Papa," and then Edith is joined by stage partner Doc Straine on her first electric recordings, "It's Gonna Be a Cold, Cold Winter" and "There'll Be Some Changes Made," where the two exchange vocal volleys about the nature of their domestic tranquility.
Hot Chocolates Creates a Sensation with Razaf's Protest Song
Absent from recording for four years, Wilson returned to the studio in 1929 to wax her big hit from the Hot Chocolates revue, which ran for 219 performances. The song was "(What Did I Do to Be So) Black and Blue," a Fats Waller tune with scathing lyrics by Andy Razaf about racial injustice. The song became a classic, with multiple recordings, including one by Louis Armstrong, and a place in Ralph Ellison's Invisible Man. Wilson followed this up by guesting with Bubber Miley and His Mileage Makers on "Loving You the Way I Do" and "The Penalty of Love," from the musical comedy Hot Rhythm. Although she remained very busy in the 1930s with shows like the Edith Wilson Revue, Shuffle Along of 1933, Blackbirds of 1934, and Rhapsody in Black (with Sam Wooding), Edith's final recordings of the 78 era came in October 1930 with the double-entendre "My Handy Man Ain't Handy No More" and the sassy "I'll Get Even with You."
Film, stage, and radio gigs followed–Wilson did a turn on "Amos and Andy"–but it was her job appearing as Aunt Jemima that allowed her to engage in her passion for charity work in later years. Semi-retired by 1966, she began a musical comeback in the 1970s, recording with Eubie Blake and appearing live with Terry Waldo. Edith Wilson was the senior woman of blues and a well-respected figure at the time of her death in 1981 at the age of 84.
This release is included in the following packages.
Save 15% when you order all in-stock releases in our Jazz, Dance & Blues Series
Save 20% on our entire catalogue