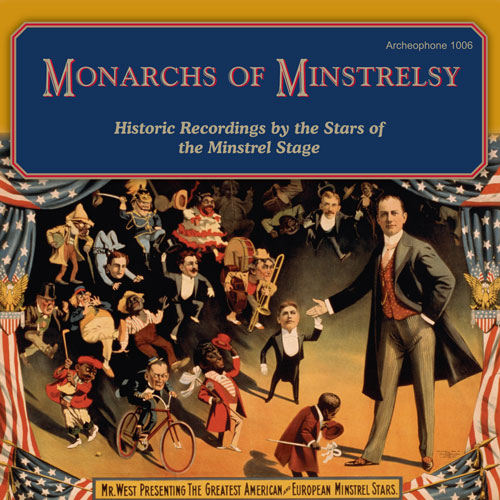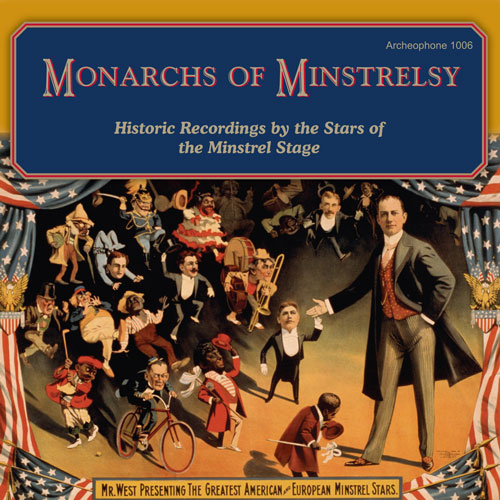 From the research of Allen Debus comes Monarchs of Minstrelsy: Historic Recordings by the Stars of the Minstrel Stage, a collection of rare recordings by the stars who once performed them in minstrel shows. These are real veterans of the blackface minstrel stage, singing the songs they made famous on stage and performing the minstrel routines that have made them notorious today. Monarchs includes 28 tracks and a full-color 24-page booklet. List price: $16.49 Sale price: $13.19
OVERVIEW
Catalogue number: ARCH 1006
UPC: 777215110366
Original release date: June 3, 2006
Running length: 78:19 / 28 tracks
Notes & packaging: Includes a 24-page full-color booklet
Tracks recorded: 1902-1954
Contains racially derogatory language
In Archeophone's Genres series
Tracks and Sound Samples
Product Description
Package Deals
More by these Artists
Sample all tracks
Tracklist

1.
The Minstrel Parade
Victor Orchestra
1905

2.
Mobile Minstrels
Victor Minstrel Company
1913

3.
Turkey Specialty
Billy Golden and Joe Hughes
1910

4.
Down on the Mississippi (Levee & Steamboat Scenes)
American Quartet
1910

5.
Any Rags?
Burt Shepard
ca. 1903

6.
Lily of Laguna
Eugene Stratton
1911

7.
Old Time Minstrel Scene
Tom Lewis
1924

8.
The Song Birds are Singing of You
James McCool
1905

9.
My Sweetheart's the Man in the Moon
Manuel Romain
1926

10.
Hippodrome Minstrel Medley
Manuel Romain
1916

11.
Don't Be An Old Maid Molly
Harry Ellis
ca. 1910

12.
Ring Down the Curtain, I Can't Sing To-Night
Francklyn Wallace
ca. 1902

13.
Boxing Scene
Neil O'Brien and James J. Corbett
1929

14.
Roll Them Roly Boly Eyes
Al Bernard
1928

15.
Ida, Sweet as Apple Cider
Eddie Leonard
ca. 1940

16.
Brass Band Ephraham Jones
Al Jolson
1912

17.
Dear Old Girl
Richard Jose
1904

18.
Silver Threads Among the Gold
Richard Jose
1904

19.
Everybody Works But Father
Lew Dockstader
1905

20.
Uncle Quit Work, Too
Lew Dockstader
1906

21.
Fiddle, Dee, Dee
Lew Dockstader and Vocal Quartette
1912

22.
Roll on Silvery Moon
Matt Keefe
1917

23.
In the Good Old Summer Time
William Redmond
ca. 1902

24.
When You and I Were Young, Maggie
Will Oakland
1909

25.
Reminiscing about Minstrel Days
Will Oakland
ca. 1954

26.
Evalyne
Will Oakland and Billy Murray
1913

27.
The Belle of the Barber's Ball
Ada Jones and Billy Murray
1910

28.
Oh, You Coon
Ada Jones and Billy Murray
1908
From the research of Allen Debus comes Monarchs of Minstrelsy: Historic Recordings by the Stars of the Minstrel Stage, a collection of rare recordings by the stars who once performed them in minstrel shows. These are real veterans of the blackface minstrel stage, singing the songs they made famous on stage and performing the minstrel routines that have made them notorious today.
The last throes of American minstrelsy are documented here on rare recordings that show the stars of the minstrel stage gradually moving away from the crass racist caricatures of mid-19th-century minstrelsy toward minstrelsy as a celebrity vehicle, one in which popular ballad singers drew the biggest audiences and paved the way for vaudeville. Curiously, the vogue for dialect minstrel routines in the early recording industry marked a step backward in race consciousness.
Four Main Parts
The CD is broken into four main parts. The first is a miniature minstrel show in four acts, to give the basic (and often shocking) outlines of a typical minstrel show, including the minstrel morning parade, and the show proper, which had a First Part, Olio, and Afterpiece. The second part of the CD focuses on four minstrel men who began their careers early in the coverage period: Burt Shepard, Eugene Stratton, Tom Lewis, and James McCool. The third part takes a long look at Lew Dockstader's Minstrel Show, focusing on Manuel Romain, Harry Ellis, Francklyn Wallace, Neil O'Brien (and James J. Corbett, the former heavyweight champ), Al Bernard, Eddie Leonard, Al Jolson, Richard Jose, and Dockstader himself. The final section of the CD is devoted to the successful minstrel revival shows of Cohan and Harris, featuring Matt Keefe, William Redmond, and Will Oakland, along with two important songs from the Cohan and Harris shows that were recorded by Ada Jones and Billy Murray.
Sentimental Appeal
Professor Debus shows us that the final big-name minstrel shows were a different affair than their predecessors of one and two generations before. The difference? Whereas racist caricatures continued to dominate the minstrel First Part, minstrel celebrities such as Richard Jose and Manuel Romain dominated the Olio portion of the minstrel show, singing sentimental ballads (such as "Dear Old Girl" and "Silver Threads Among the Gold" by Jose and "My Sweetheart's the Man in the Moon" by Romain) and moving the minstrel show toward the personality-based aesthetic that characterized vaudeville. Fortunately for us today, a handful of minstrel veterans committed their voices to wax at the dawn of the recording industry—and one former minstrel, Billy Murray, became the biggest acoustic-era personality and the singer most called upon to sing minstrel songs when original cast members were unavailable.
Shock Value
The racist content of Monarchs of Minstrelsy is undeniable, but once again Archeophone is committed to presenting an accurate historical picture, unvarnished. Also highly surprising, however, are the large number of sappy love songs that American patrons of the late minstrel show ate up: "Don't Be an Old Maid, Molly" by Harry Ellis, "Ring Down the Curtain, I Can't Sing To-Night," a 1902 Zonophone by Francklyn Wallace, "The Song Birds Are Singing of You" by James McCool, "When You and I Were Young, Maggie" by Will Oakland, and "Roll on Silvery Moon," a yodel ballad by Matt Keefe (Billy Murray's former stage partner). Comedy routines by Golden and Hughes ("Turkey Specialty"), Tom Lewis ("Old Time Minstrel Scene"), and Neil O'Brien and James J. Corbett ("Boxing Scene," an excerpt from their 1929 film) keep the program from getting too serious!
Acoustic-era Gems
Apart from their appeal to scholars of minstrelsy, there are several tracks here that any fan of the acoustic era will not want to be without. Burt Shepard, the monologist, takes a rare turn at singing the hit song from 1903, "Any Rags," while Al Bernard sings Eddie Leonard's famous "Roll Them Roly Boly Eyes." Leonard himself, one of the most celebrated minstrels of all time, sings a version of his biggest hit, "Ida, Sweet as Apple Cider," in an excised scene from a 1940 movie–it's the only example of his voice to survive. Furthermore, we present all three songs that Lew Dockstader recorded: "Everybody Works but Father," it's follow-up "answer" song, "Uncle Quit Work, Too," and "Fiddle, Dee, Dee," an odd but infectious Irving Berlin tune from 1912. George M. Cohan's ragtime number, "The Belle of the Barber's Ball," is also here, and most fun of all is the 2-minute wonder by Manuel Romain called "Hippodrome Minstrel Medley." Romain and orchestra serve up nine minstrel classics in the medley, including "Hello My Baby" and "Oh, I Don't Know, You Ain't So Warm."
Another Glorious Booklet
Thanks to Professor Debus' collection of sheet music and the minstrelsy collection at the Library of Congress, we have for you a beautiful, full-color 24-page booklet that looks like a miniature art book for your coffee table. It brings the period alive and shows without doubt that for several generations the institution of blackface minstrelsy was a complicated, technicolor affair in the life of American culture.
This release is included in the following packages.
Save 15% when you order all in-stock releases in our Genres series.
Save 20% on our entire catalogue