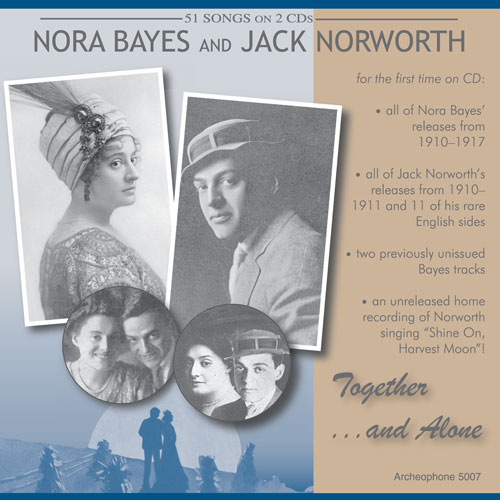 Out of Stock
With 51 songs on 2 CDs and running for over two and a half hours, Together and Alone is a landmark retrospective of two of Broadway's brightest stars ever, Nora Bayes and Jack Norworth. This ambitious collection boasts some of the most classic songs in American history, performed by the pair that brought them to the stage. In addition to a 32-page booklet with extensive illustrations and notes co-authored by Allen G. Debus, the CD includes three never-before released tracks: two by Nora Bayes from 1917 and one by Jack Norworth from ca. 1950—"a home recording of Bayes and Norworth's biggest hit, "Shine On, Harvest Moon." List price: $27.99
OVERVIEW
Catalogue number: ARCH 5007
UPC: 777215107052
Original release date: October 12, 2004
Running length: 156:32 / 51 tracks/ 2 CD set
Notes & packaging: Includes a 32-page booklet
Tracks recorded: 1910-1917 and ca. 1950
Contains racially derogatory language
In Archeophone's Pioneers series
Tracks and Sound Samples
Product Description
Package Deals
More by these Artists
Sample all tracks
Tracklist: CD 1
1.
Has Anybody Here Seen Kelly?
Nora Bayes
1910

2.
Come Along, My Mandy
Nora Bayes and Jack Norworth
1910

3.
College Medley (Parody on College Songs)
Jack Norworth
1910

4.
Back to My Old Home Town
Jack Norworth
1910

5.
Daffydils
Nora Bayes
1910

6.
Young America
Nora Bayes
1910

7.
That Lovin' Rag
Nora Bayes
1910

8.
Sadie Brady, Listen Good to Me
Jack Norworth
1910

9.
Rosa Rosetta
Nora Bayes and Jack Norworth
1910

10.
What Good Is Water, When You're Dry?
Nora Bayes
1910

11.
For Months and Months and Months
Jack Norworth
1910

12.
How Can They Tell that Oi'm Irish?
Nora Bayes
1910

13.
Turn Off Your Light, Mr. Moon Man
Nora Bayes and Jack Norworth
1911

14.
Strawberries
Nora Bayes
1911

15.
Harmony Baby
Nora Bayes
1914

16.
You Can't Get Away from It
Nora Bayes
1914

17.
The Good Ship Mary Ann
Nora Bayes
1914

18.
We Take Our Hats Off to You, Mr. Wilson!
Nora Bayes
1914

19.
I Work Eight Hours, Sleep Eight Hours, That Leaves Eight Hours for Love
Nora Bayes
1914

20.
Sunbeam Sal
Nora Bayes
1914

21.
The A.O.H.'s of the U.S.A.
Nora Bayes
1914

22.
Molly McCarthy
Jack Norworth
1914

23.
Kitty, The Telephone Girl
Jack Norworth
1914

24.
Sister Susie's Sewing Shirts for Soldiers
Jack Norworth
1914

25.
Mother's Sitting Knitting Little Mittens
Jack Norworth
1915
Tracklist: CD 2
1.
Sally from Calais
Jack Norworth and Gertrude Lang
1915

2.
Safe in Our Wardrobe for Two
Jack Norworth and Gertrude Lang
1915

3.
You Can't Get Away from It
Jack Norworth
1915

4.
Go Away, Mr. Moon
Jack Norworth and Gertrude Lang
1915

5.
Cassidy
Jack Norworth
1915

6.
On His First Day Home on Leave
Jack Norworth
1916

7.
Keep Your Head Down
Jack Norworth
1916

8.
Homesickness Blues
Nora Bayes
1916

9.
Are You Prepared for the Summer
Nora Bayes
1916

10.
The Greatest Battle Song of All
Nora Bayes
1916

11.
For Dixie and Uncle Sam
Nora Bayes
1916

12.
Hello, Hawaii, How Are You?
Nora Bayes
1916

13.
When Old Bill Bailey Plays the Ukulele
Nora Bayes
1916

14.
Broken Doll
Nora Bayes
1916

15.
When John McCormack Sings a Song
Nora Bayes
1916

16.
Hicki Hoy
Nora Bayes
1916

17.
Cheer Up! Eat and Grow Thin
Nora Bayes
1916

18.
Please Keep Out of My Dreams
Nora Bayes
1916

19.
Ragging the Songs Mother Used to Sing
Nora Bayes
1916

20.
Pull the Cork Out of Erin (Let the River Shannon Flow)
Nora Bayes
1917

21.
Daniel in the Lion's Den
Nora Bayes
1917

22.
My Little Motor Car [unissued]
Nora Bayes
1917

23.
Over There
Nora Bayes
1917

24.
(Goodbye; and Luck Be with You) Laddie Boy
Nora Bayes
1917

25.
Our Bungalow [unissued]
Nora Bayes and Irving Fisher
1917

26.
Shine On, Harvest Moon [personal recording]
Jack Norworth
ca. 1950
With 51 songs on two CDs and running for over two and a half hours, Together and Alone is a landmark retrospective of two of Broadway's brightest stars ever, Nora Bayes and Jack Norworth. This ambitious collection boasts some of the most classic songs in American history, performed by the pair that brought them to the stage. In addition to a 32-page booklet with extensive illustrations and notes co-authored by Allen G. Debus, the CD includes three never-before released tracks: two by Nora Bayes from 1917 and one by Jack Norworth from ca. 1950-a home recording of Bayes and Norworth's biggest hit, "Shine On, Harvest Moon."
Act 1: Vaudeville Days
Our 2-CD set might be seen as a play in four acts with an epilogue. Act 1 begins with the "Together" period of Bayes and Norworth, who billed themselves as "America's Happiest Couple." They were married in 1908, when each was already a big hit in vaudeville. As a couple they were headliners in Ziegfeld's Follies of 1908 and 1909. Then came enormous success in Lew Fields' The Jolly Bachelors, and this is where our collection starts out. Nora sings her imported (and rewritten) hit, "Has Anybody Here Seen Kelly?" and Jack responds with his very clever "College Medley." As a duo, the pair sang "Come Along, My Mandy" and "Rosa Rosetta" and a year later returned with "Turn Off Your Light, Mr. Moon Man" from the show Little Miss Fix-It.
But the "together" stage is about more than just the three duets issued by Bayes and Norworth. They wrote most of their own material together, and on the first 14 tracks on this collection, you can sense their infectious stage presence and even see a glimpse of their interplay. Jack's "For Months and Months and Months" is a humorous, often autobiographical romp through its protagonist's misadventures. And Nora displays her ragtime chops with "That Lovin' Rag" (a song popularized by Sophie Tucker), and she shows herself master of dialect comedy in "What Good Is Water, When You're Dry?"
Act 2: Nora Solo
All good things must end, and so did the Bayes-Norworth marriage and stage act. After a three-year hiatus from the studio, Bayes returned in style in 1914 with "Harmony Baby" and the anti-war anthem, "We Take Our Hats Off to You, Mr. Wilson." She slows down the pace a bit with the unusual "Sunbeam Sal" and picks it up again with the risqué "I Work Eight Hours, Sleep Eight Hours, That Leaves Eight Hours for Love." During all this time, Nora was a major hit in vaudeville, and she toured the world as well.
Act 3: Jack in England
Nora took another break from recording just as 1914 was ending, and now Jack Norworth, equally a star attraction in vaudeville, left for a sustained period in England. He starred in Hullo Tango and recorded some of the show's hits, such as "Kitty, the Telephone Girl" for the Columbia Company of England. But Jack's real success came from singing tongue-twisters, such as "Sister Susie's Sewing Shirts for Soldiers," a song that became an international phenomenon. Because Britain was in the midst of the Great War, several of Norworth's comic songs have a war theme, including "Molly McCarthy" and "Cassidy."
With Gertrude Lang, Jack starred in J. M. Barrie's only musical, Rosy Rapture (1915), and the recordings the pair made from the show feature dialogue along with singing, so you feel like you're watching the musical live. "Sally from Calais," by Norworth and Lang, is a play on "Sally in Our Alley," and the pair's "Safe in Our Wardrobe for Two," is an infectious number on the flipside of the 12-inch disc with "Sally." Jack Norworth's recordings from England are exceedingly scarce today, even in Great Britain, and we are happy to present 11 of these gems on Together and Alone.
Act 4: Nora Scores with War Songs
Bayes returned to recording in 1916 with a great number, "Homesickness Blues." Her songs were now featured on double-sided discs, so the flipside was "The Greatest Battle Song of All," a comic war song in which "Here Comes the Bride" is the greatest battle song, beating out all other nationalist anthems. "Are You Prepared for the Summer" and "For Dixie and Uncle Sam" also deal with American preparedness, as U.S. entry into the European war looked more certain every day. The former is a humorous song, while the latter is a serious look at the issue of enlistment.
Many of Nora Bayes' songs of this period are lighthearted, including the very famous "Hello, Hawaii, How Are You?" about long-distance telephoning, and "When John McCormack Sings a Song," an affectionate ode to one of Miss Bayes' most popular label-mates. "Daniel in the Lion's Den" is Nora's last effort at dialect singing in this set, which is punctuated by her definitive reading of George M. Cohan's "Over There."
Epilogue: Rare Tracks and a Fond Farewell
Heard here for the first time on compact disc are two pieces by Bayes that were rejected for issue in 1917. "My Little Motor Car" is a monologue, a hilarious talk Nora gives to her car that she featured in her vaudeville show to much acclaim. "Our Bungalow" has Bayes singing with Irving Fisher, the only person other than Jack Norworth that we can hear Nora singing with. Finally, our set fast-forwards on the last track to about 1950, with Jack reminiscing to recording industry historian Jim Walsh about Bayes and Norworth's biggest hit, "Shine On, Harvest Moon," never having been issued. Jack tries to correct the record by performing it with his own piano accompaniment, and what a Christmas treat he gives us with this gem!
Ninety-six years after Bayes and Norworth broke onto the entertainment scene, they have not been forgotten, and their music lives on. Archeophone is proud to present this stunning collection of these musical geniuses whose time in the spotlight has come again!
This release is included in the following packages.
Save 20% on our entire catalogue