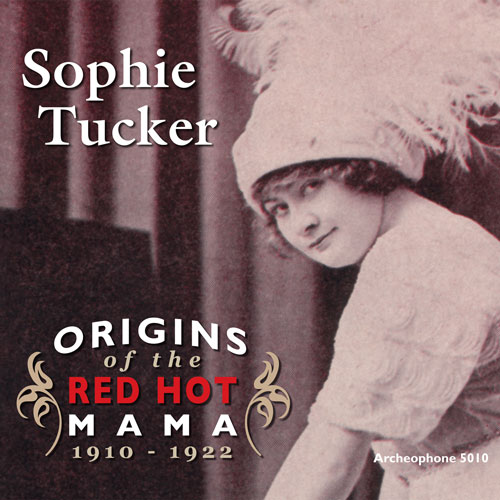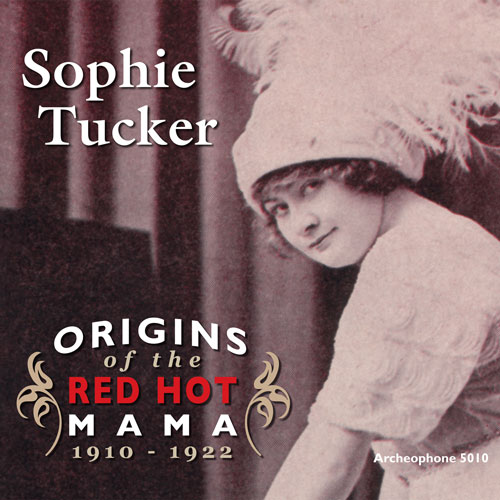 Gathered for the first time, here are Sophie Tucker's earliest recordings, from Edison wax cylinders and impossibly rare discs, chronicling the rough and ready rise of this lasting icon of the double entendre. A master of self-marketing, Tucker learned long before she became known as The Last of the Red Hot Mamas that the key to her success lie in controlling--and changing as needed--the facts of her personal story. Documentarians Susan and Lloyd Ecker unravel all the loose ends and contradictory threads comprising the early years of one of the 20th century's most colorful stage personalities. With a hardback book-binding and 72 full-color pages, this beautiful package features dozens of illustrations from Sophie's personal scrapbooks, a foreword by Michael Feinstein, and a personal remembrance by Carol Channing. List price: $23.99
OVERVIEW
Catalogue number: ARCH 5010
UPC: 778632901674
Original release date: August 25, 2009
Running length: 70:50 / 24 tracks
Notes & packaging: 72 pages of notes, packaged in a full-color CD-sized hardback
Tracks recorded: 1910-1922
Contains racially derogatory language
In Archeophone's Pioneers series
Awards: 52nd GRAMMY Nominee, Best Historical Album; 52nd GRAMMY Nominee, Best Album Notes
Tracks and Sound Samples
Product Description
Reviews
Honors & Awards
Package Deals
More by this Artist
Explore Further
Sample all tracks
Tracklist

1.
That Lovin' Rag
Sophie Tucker
1910

2.
My Husband's in the City
Sophie Tucker
1910

3.
That Lovin' Two-Step Man
Sophie Tucker
1910

4.
Reuben Rag
Sophie Tucker
1910

5.
Phoebe Jane
Sophie Tucker
1910

6.
That Loving Soul Kiss
Sophie Tucker
1911

7.
Some of These Days
Sophie Tucker
1911

8.
Missouri Joe
Sophie Tucker
1911

9.
Good Morning, Judge
Sophie Tucker
1911

10.
Knock Wood
Sophie Tucker
1911

11.
Won't You Be a Dear, Dear Daddy to a 'Itta Bitta Doll Like Me?
Sophie Tucker and Her Five Kings of Syncopation
1918

12.
I'm Glad My Daddy's in a Uniform
Sophie Tucker and Her Five Kings of Syncopation
1918

13.
Please Don't Take My Harem Away
Sophie Tucker and Her Five Kings of Syncopation
1919

14.
Everybody Shimmies Now
Sophie Tucker and Her Five Kings of Syncopation
1919

15.
Don't Put a Tax on Beautiful Girls
Sophie Tucker and Her Five Kings of Syncopation
1919

16.
You Can't Remember What I Can't Forget
Sophie Tucker and Her Five Kings of Syncopation
1919

17.
Learning
Sophie Tucker and Her Five Kings of Syncopation
1920

18.
It's All Over Now
Sophie Tucker and Her Five Kings of Syncopation
1920

19.
Jig Walk
Sophie Tucker
1922

20.
High Brown Blues
Sophie Tucker
1922

21.
Blue Bird, Where Are You?
Sophie Tucker
1922

22.
She Knows It
Sophie Tucker
1922

23.
Pick Me Up and Lay Me Down in Dear Old Dixieland
Sophie Tucker
1922

24.
Complainin' (It's Human Nature to Complain)
Sophie Tucker
1922
A CD & book that will rank as one of the most important documents in the history of recorded popular music, Origins of the Red Hot Mama, 1910-1922 is Sophie Tucker as you've never seen or heard her before. This unique package comes as a CD-sized hardback book with 72 full-color pages filled with new research into the early years of this icon of the double entendre and dozens of extraordinary illustrations–many of them from Sophie's personal scrapbooks, which she amassed over a 60-year period. Of special value are a foreword by acclaimed singer Michael Feinstein and a personal remembrance by a woman who knew Sophie Tucker better than most people: Broadway legend Carol Channing.
More than One Origin
Sophie Tucker knew that the key to succeeding in show business was to treat it as a business. Having a compelling story to keep her star in the press was the ticket–and if that meant playing fast and loose with the facts to make them more compelling, Sophie was ready to play. In their extensive notes, documentary producers Susan and Lloyd Ecker take us through the tangled web of Tucker's uncertain origins and humorously try to make sense of them. Where was she born? How did her father, Zachary Kalish, become Joseph Abuza? What did she say when she left her son to the care of her sister and headed off to the big time? Even where the exact details are difficult or impossible to know for certain, you will leave knowing much more about the kind of person this Queen of Vaudeville was.
Hard Knocks and Edison Wax
By the time 24-year-old Sophie Tucker entered the Edison studio, she had been in the business nearly four years, had moved from small-time burlesque to headlining at the Palace, had liberated herself from blackface stage makeup, and had endured the height of success and the abyss of failure–both arriving courtesy of the Ziegfeld Follies of 1909. Between 1910 and 1911, Sophie made ten wax cylinders for Edison: historic, now extremely rare performances that serve as a window onto the vaudeville stage of a century ago, when "coon shouters" such as Sophie Tucker belted out their songs without the aid of microphones or electricity. "That Lovin' Rag" was the first release, followed by "My Husband's in the City," a winking parody on Irving Berlin's "My Wife's Gone to the Country (Hurrah! Hurrah!)"–and a naughty hint of the kind of blue-tinged material Sophie would become famous for. Other eyebrow-raising slections followed: "That Loving Soul Kiss" and "Knock Wood" among them. But the standout number from the Edison sessions is an unparalleled classic: "Some of These Days" by African-American composer Shelton Brooks, about whose song Sophie told several different stories over the years. The Eckers weigh the evidence. You decide.
The 7-1/2 Year Glitch
From mid-1911 until 1918, Sophie Tucker rose to the top of her profession. She was a headlining vaudeville star whereever she appeared, and in all the cities she visited, Tucker performed charitable works that got her in the press and gradually made her a household name. But she stopped recording during this period, even though her visage graced the covers of hundreds of published sheet music pieces. When Sophie did return to the studio in late 1918, it was with her new act, The Five Kings of Syncopation, for the upstart Aeolian-Vocalion label. She recorded songs by composers with whom she would have long professional relationships, such as Creamer and Layton ("Won't You Be a Dear, Dear Daddy to a 'Itta Bitta Doll Like Me?"), Charles McCarron (the risqué war number, "I'm Glad My Daddy's in a Uniform"), and most of all, Jack Yellen ("Don't Put a Tax on the Beautiful Girls"). The hottest selections Tucker cut with her new band were "Please Don't Take My Harem Away" and "Everybody Shimmies Now," on which she perfects her talk-singing style with impeccable syncopated timing. Unfortunately, the records were deleted within months after their release, once Aeolian-Vocalion shifted from vertical-style recordings to the more popular lateral kind. Hence, these records have become impossibly rare and unheard by all but a few people–until now.
Sophie the Entrepreneur
Even fewer people have ever witnessed the result of Sophie Tucker's one shot at making records: her 1921 "personal" record of her composition "Learning," backed with Lew Brown and Albert Von Tilzer's "It's All Over Now." Having begun a publishing firm and attempting to publicize her newest song, Sophie started the Sophie Tucker Record Company–but it was really just a vanity pressing service, the New York Recording Laboratories, that had made the record and allowed her to paste her own label over it. With only a few copies of this record, Tucker would have tried to drum up interest in her new enterprise. Like her venture at the same time into real estate developing, her new scheme failed. She went back to the thing she knew best: vaudeville.
Sophie Conquers Britain
In March 1922, Sophie Tucker signed a contract with OKeh Records, made a half dozen recordings for them, and boarded a ship for England on an extended tour to see if she could win over the British isles. She needn't have worried. Her first single for OKeh, the outrageous "High Brown Blues," backed with the hilarious, bragful "She Knows It," was making a huge hit back home while she was charming her first English audiences–attendants at a benefit for a Jewish hospital–with the Yiddish humor of "Blue Bird, Where Are You?" For the next five months, singing hot numbers like "Jig Walk" and Luckey Roberts' "Complainin'," Sophie Tucker and her Two Syncopators (pianists Ted Shapiro and Jack Carroll) were the hottest ticket in the U.K. She returned to the U.S. an international superstar.
What's in a Name?
1923 was the year when, for the first time, Sophie Tucker was called "The Last of the Red Hot Mamas." Origins of the Red Hot Mama covers Tucker's entire rise to that point when she gained immortal fame–whether she was called "The Live Coon Shouter from the Sunny South," "The Mary Garden of Ragtime," "The Syncopated Cyclone," "Her Majesty Queen Sophie Tucker" or a score of other soubriquets. From her humble beginning washing dishes at Abuza's Restaurant to her hobnobbing with the Prince of Wales, it's all here in this gorgeous package, this love letter to an American classic. Not forgotten, but hardly understood, Sophie Tucker now takes her rightful place in early recording history.
GRAMMY Awards
GRAMMY Nominee, Best Historical Album, 2009
GRAMMY Nominee, Best Album Notes, 2009
This release is included in the following packages.
Save 20% on our entire catalogue
FROM OUR BLOG
Fifty years ago today we lost the biggest entertainer in the world, Sonya Kalish Abuza, a.k.a., Sophie Tucker. A veteran of the stage, screen, and phonograph, her sixty-year career began during the era of Edison's wax cylinders, spanned the era of the microgroove LP, and concluded at the time the Beatles were beginning their "mature" …
Continue reading

Sophie Tucker Anniversary
→
posted: February 9, 2016