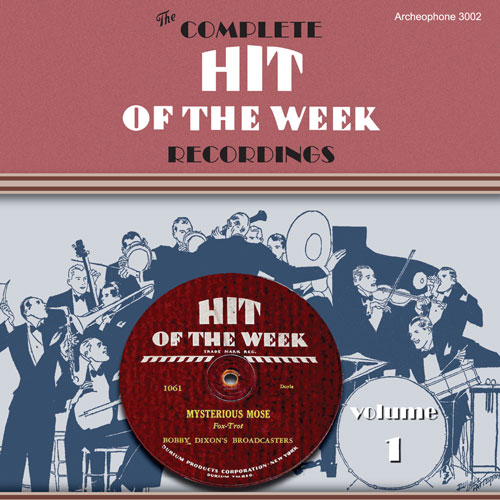 The first double-CD set in an eventual four-volume series featuring all regular weekly issues of these cardboard records that were the best-selling records during the Depression, along with several advertising and uncommonly scarce promotional records from the Durium Company. The biggest names in 1930s music are here: Ben Pollack, Phil Spitalney, Vincent Lopez, and Duke Ellington, playing as "The Harlem Hot Chocolates." Top vocalists include Smith Ballew, Irving Kaufman, and Scrappy Lambert. More than two hours of music and a very informative 24-page booklet with notes by Doug Benson and Hit of the Week expert Hans Koert. List price: $31.99 Sale price: $25.59
OVERVIEW
Catalogue number: ARCH 3002
UPC: 777215107472
Original release date: December 14, 2004
Running length: 131:15 / 46 tracks / 2 CD set
Notes & packaging: Includes a 24-page booklet
Tracks recorded: 1930
Volume 1 of The Complete Hit of the Week Recordings
In Archeophone's Labels & Innovations series
Tracks and Sound Samples
Product Description
Package Deals
More by these Artists
Sample all tracks
Tracklist: CD 1
1.
Back In Your Own Back Yard [test or prototype record]
Hit of the Week Orchestra
ca. 1929

2.
Tip-Toe Through The Tulips With Me [demonstration record]
Don Voorhees Orchestra
1929

3.
Through
Bert Lown and His Hotel Biltmore Music
1930

4.
Hello Baby
Bert Lown and His Hotel Biltmore Music
1930

5.
My Fate Is In Your Hands
Vincent Lopez Orchestra
1930

6.
My Sweeter Than Sweet [take A]
Vincent Lopez Orchestra
1930

7.
My Sweeter Than Sweet [take B]
Vincent Lopez Orchestra
1930

8.
I'm Following You
Ben Pollack Orchestra
1930

9.
Cryin' For The Carolines
Ben Pollack Orchestra
1930

10.
There's Danger In Your Eyes, Cherie!
Vincent Lopez Orchestra
1930

11.
Congratulations
Bert Lown and His Hotel Biltmore Music
1930

12.
University Of Maine Stein Song
Hotel Pennsylvania Music
1930

13.
With You
Statler Pennsylvanians
1930

14.
University Of Maine Stein Song [sample record]
Statler Pennsylvanians
1930

15.
A Cottage For Sale
The New York Twelve
1930

16.
Lazy Lou'siana Moon
Jan Garber's Orchestra
1930

17.
Sing You Sinners
Harlem Hot Chocolates
1930

18.
St. James' Infirmary
Harlem Hot Chocolates
1930

19.
Springtime In The Rockies
Vincent Lopez Orchestra
1930

20.
The Song Without A Name
Phil Spitalny's Music
1930

21.
Give Yourself A Pat On The Back
Phil Spitalny's Music
1930

22.
Mysterious Mose [not a regular issue]
Bobby Dixon's Broadcasters
1930

23.
Song Of The Dawn
Phil Spitalny's Music
1930
Tracklist: CD 2
1.
Get Happy [not a regular issue]
Happy-Rose Orchestra
1930

2.
If I Had A Girl Like You
Phil Spitalny's Music
1930

3.
Across The Breakfast Table
Hit of the Week Orchestra
1930

4.
Ro-Ro-Rollin' Along
Hit of the Week Orchestra
1930

5.
Dancing With Tears In My Eyes
Hit of the Week Orchestra
1930

6.
Cheer Up Good Times Are Comin'
Phil Spitalny's Music
1930

7.
Anchors Aweigh
Phil Spitalny's Music
1930

8.
Singing A Song To The Stars
Hit of the Week Orchestra
1930

9.
Swingin' In A Hammock
Phil Spitalny's Music
1930

10.
You Brought A New Kind Of Love To Me
Hit of the Week Orchestra
1930

11.
Old New England Moon
Phil Spitalny's Music
1930

12.
Just A Little Closer
Hit of the Week Orchestra
ca. 1929

13.
Confessin' That I Love You
Phil Spitalny's Music
1930

14.
Little White Lies
Vincent Lopez Orchestra
1930

15.
Here Comes The Sun
Vincent Lopez Orchestra
1930

16.
Bye Bye Blues
Bert Lown and His Hotel Biltmore Music
1930

17.
Go Home And Tell Your Mother
Don Voorhees Orchestra
1930

18.
I Still Get A Thrill
Hotel Pennsylvania Orchestra
1930

19.
What's The Use
Phil Spitalny's Music
1930

20.
A Medley Of Canadian Songs [promotional record]
Phil Spitalny's Music
1930

21.
Betty Co-Ed [take F]
Phil Spitalny's Music
1930

22.
Betty Co-Ed [take G]
Phil Spitalny's Music
1930

23.
Souvenir From Phil Spitalny To The Northwestern University [not a regular issue]
Phil Spitalny's Music
1930
They sold on newsstands during the Great Depression for 15 cents and quickly became the best-selling records of the early 1930s: the laminated flexible cardboard records known as "Hit of the Week." Featuring the top songs of the day, performed by some of the most noted jazz and dance musicians (often under pseudonyms), Hit of the Week records provided just that–one hit, once a week–to an American public with hardly a dime to spare but hungry for great music by great artists. Today, you'll find a number of these records all curled up and unplayable at garage sales down the street, but for the first time ever, Archeophone is presenting the complete output of the Durium Company, makers of Hit of the Week records, during its short lifespan.
In collaboration with producer and engineer Doug Benson, and with a great helping hand from the world's top Hit of the Week scholar, Hans Koert, Archeophone's Volume 1 of the Complete Hit of the Week Recordings issues 46 songs on two CDs from that magical year of pop music, 1930. In addition to the regular weekly issues by Hit of the Week from February through October of 1930, this collection presents several extremely rare non-standard-issue advertising and promotional records from the Durium company. So collectors take note! You may have some of these records, but you probably don't have all of them in the pristine shape found here along with the excruciatingly uncommon issues such as "Back in Your Own Back Yard" or "Get Happy" or even "Mysterious Mose." They're all here!
A Technological Triumph
Professor Hal T. Beans of Columbia University developed the Durium process for making flexible records and patented it with Joseph Reilly in 1930. They boasted that Durium records would last longer and sound better than any other records, and they had good reason for their claim. Hit of the Week records have a wonderful, rich sound that will leave you incredulous that 75-year-old cardboard-backed recordings can sound so good. The first promotional record for the new line of records features a long spoken introduction into the method of manufacture, the company's plans for releasing a new hit each week, and a musical sample of "Tip-Toe Through the Tulips with Me" by Don Voorhees Orchestra.
The musical jury of Vincent Lopez, Florenz Ziegfeld, and Eddie Cantor had the job each week of selecting a song for recording by one of Broadway's top orchestras, such as Bert Lown & His Hotel Biltmore Music, playing "Hello Baby" with Smith Ballew singing and "Bye Bye Blues" with vocal by Frank Luther, The New York Twelve doing "A Cottage for Sale," sung by Scrappy Lambert, or even Lopez' own orchestra, doing "Little White Lies," with Lew Conrad on vocal. Two of the most sought-after Hit of the Week sides are by Ben Pollack's Orchestra–"I'm Following You" and "Cryin' for the Carolines"–and they are both here. Sometimes contractual obligations kept the real names of the orchestras quiet, so Duke Ellington's band took the pseudonym of the Harlem Hot Chocolates when they performed "Sing You Sinners" and "St. James' Infirmary" (both sung by Irving Mills)–two of the hottest Hit of the Week sides of all.
The Best House Band Around
The Hit of the Week Orchestra was not a random assortment of nameless musicians. Instead, some of jazz's top names passed through its ranks–people like Mannie Klein, Bunny Berigan, Tommy Dorsey, and Andy Sannella, along with director Bert Hirsch. The Hit of the Week Orchestra also employed famous singers, such as Dick Robertson, Frank Munn, singing "Dancing with Tears in My Eyes," and Irving Kaufman, singing "Ro-Ro-Rollin' Along." Other bands on Hit of the Week with different names, such as Hotel Pennsylvania Music and Statler Pennsylvanians, were actually pseudonyms for bands led by the most prolific recording artist on Hit of the Week, Phil Spitalny. Here's Spitalny leading the band on "Confessin' that I Love You" from the September 4, 1930 Hit of the Week release.
Thorough Collection with Rare Sides
Other attempts to reissue Hit of the Week recordings have featured only tidbits and highlights, but Archeophone's series of four volumes will include all regular weekly issues, as well as some notable duplicate takes, such as "My Sweeter than Sweet" by Vincent Lopez Orchestra and "Betty Co-Ed" by Phil Spitalny's Music. Additionally, we have here several rare promotional records, like "Get Happy" by the Happy-Rose Orchestra, "A Medley of Canadian Songs," and "Souvenir from Phil Spitalny to the Northwestern University," and some extraordinarily rare records such as "Mysterious Mose" by Bobby Dixon's Broadcasters. That is a record that lives up to its name: a true mystery in the history of Hit of the Week because, while it looks like a regular weekly issue, it never was and may have been a "one-off" demo. Only a handful of copies are known to exist, and this is the first commercial release of "Mose."
The Hit of the Week is now the Hit of the Year
Those of you who like the classic dance songs of the early electric era with some of America's most memorable lyrics will want to take note too, because you'll find here the classic songs of yesteryear by the most celebrated songwriters of the past–Berlin, Donaldson, Vallee, and many, many more. And, with detailed liner notes and attractive illustrations, the 24-page accompanying booklet is worth the price of admission alone. This is the CD you'll be taking to all your Christmas and New Year's parties.
This release is included in the following packages.
Save 20% on our entire catalogue