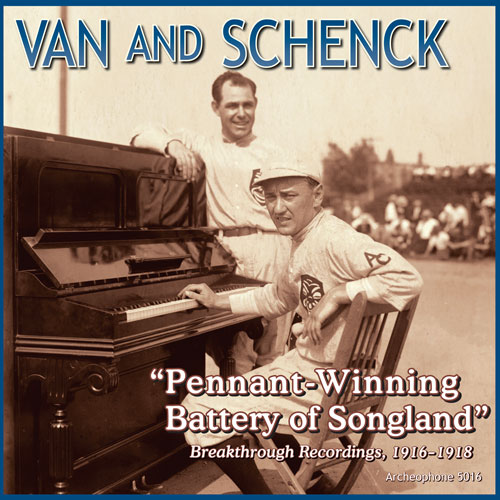 "Pennant-Winning Battery of Songland" compiles the first recordings made by Jazz Age superstars Gus Van and Joe Schenck. The collection features 28 selections recorded between 1916 and 1918 and includes a 28-page color booklet with biographical notes by vaudevillian and author Trav S.D. that trace their rise from boyhood friends performing in Brooklyn to vaudeville superstars. The booklet also includes full discographical information for the featured selections and lots of images of both the duo and the recordings. List price: $16.49 Sale price: $13.19
OVERVIEW
Catalogue number: ARCH 5016
UPC: 778632905535
Original release date: February 7, 2012
Running length: 74:21 / 28 tracks
Notes & packaging: Includes a 28-page full-color booklet
Tracks recorded: 1916-1918
Contains racially derogatory language
In Archeophone's Pioneers series
Tracks and Sound Samples
Product Description
Package Deals
More by this Artist
Sample all tracks
Tracklist
1.
Hawaiian Sunshine [short version]
Gus Van and Joe Schenck
1916

2.
Hawaiian Sunshine [longer version]
Gus Van and Joe Schenck
1916

3.
It's a Long, Long Time Since I've Been Home
Gus Van and Joe Schenck
1916

4.
I Wasn't Skeared But I Thought I'd Better Go
Gus Van
1916

5.
Yaddie Kaddie Kiddie Kaddie Koo
Gus Van and Joe Schenck
1916

6.
That's How You Can Tell They're Irish
Gus Van and Joe Schenck
1916

7.
My Little China Doll [short version]
Gus Van and Joe Schenck
1917

8.
My Little China Doll [longer version]
Gus Van and Joe Schenck
1917

9.
Mother, May I Go In to Swim?
Gus Van and Joe Schenck
1917

10.
Dance and Grow Thin
Gus Van and Joe Schenck
1917

11.
For Me and My Gal
Gus Van and Joe Schenck
1917

12.
There's Something Nice about the South
Gus Van and Joe Schenck
1917

13.
I Don't Think I Need a Job that Bad
Gus Van
1917

14.
Far Away in Honolulu
Gus Van and Joe Schenck
1917

15.
Huckleberry Finn
Gus Van and Joe Schenck
1917

16.
Mulberry Rose
Gus Van and Joe Schenck
1917

17.
The Ragtime Volunteers Are Off to War
Gus Van and Joe Schenck
1917

18.
If I Was as Strong as Samson
Gus Van
1917

19.
Southern Gals
Gus Van and Joe Schenck
1917

20.
I Miss the Old Folks Now
Gus Van and Joe Schenck
1917

21.
I Don't Want to Get Well
Gus Van and Joe Schenck
1917

22.
In the Land O' Yamo Yamo [version 1]
Gus Van and Joe Schenck
1917

23.
In the Land O' Yamo Yamo [version 2]
Gus Van and Joe Schenck
1918

24.
Where Do They Get 'Em and How Do They Get 'Em?
Gus Van and Joe Schenck
1918

25.
My Mind's Made Up to Marry Carolina
Gus Van and Joe Schenck
1918

26.
I'm in Love
Gus Van
1918

27.
Beans, Beans, Beans
Gus Van
1918

28.
Ragtime Moses Old-Time Bomboshay
Gus Van and Joe Schenck
1918
Original readers of F. Scott Fitzgerald's The Great Gatsby would have heard the voices of Van and Schenck in their heads as they encountered the printed lyrics of "Ain't We Got Fun," a song the Brooklyn duo made famous in 1921. They embodied the carefree sound of the Jazz Age, but the story of this dynamic vaudeville duo goes back much further. Still teenagers when they first performed together, Gus Van and Joe Schenck made their "easy" harmonies appear effortless by putting in years of practice and honing their songcraft. "Pennant-Winning Battery of Songland" compiles the first 28 recordings made by the pair, waxed between 1916 and 1918. With stunning photos and notes by vaudevillian Trav. S.D. (author of No Applause, Just Throw Money: The Book That Made Vaudeville Famous) the CD tells the story of their leap from neighborhood fan favorites to established stars.
Boys from the Neighborhood
Van and Schenck attended the same school, but Van was four years older so they didn't know each other well. In 1905, 18-year-old Van left a singing act and went solo, accompanied on the piano by tween Schenck, whose voice hadn't changed yet. They practiced for a while at the home of Schenck's girlfriend, a certain Mae West, and within a few years, Schenck got his mature tenor voice and became a full partner with Van. By 1912, they had published a song, "Teach Me that Beautiful Love," and Variety hailed their vaudeville act as one of the best of its kind. Publishers including Leo Feist hailed their ability to put over a song, making them the "Pennant-Winning Battery of Songland."
Welcome to the Big Time
They played London's Empire Theatre and they played the Palace—many times, in fact. The folks back home in Brooklyn formed a fan club that went to all the Manhattan shows to provide a cheering section. And in the fall of 1916, Van and Schenck made their first records for the fledgling Emerson label. First up was "Hawaiian Sunshine" (in both shorter and longer versions), performed with Hawaiian ukulele players Helena and Palakiko, and "It's a Long, Long Time Since I've Been Home," by Josephine Vail, the sheet music to which featured Van and Schenck on the cover. Gus Van performed solo on the Bert Williams-penned "I Wasn't Skeared but I Thought I'd Better Go." Now, if you have never heard an Emerson, be aware these records are very unusual: they were intended to be played back on both lateral and vertical talking machines, and they don't sound good on either. But the material on these is so fascinating, we don't think you'll mind a little extra noise.
Solidifying Their Position
The boys debuted on Victor in March 1917 with "Yaddie Kaddie Kiddie Kaddie Koo" and "That's How You Can Tell They're Irish," before finishing their time at Emerson, which concluded in early 1917 with "My Little China Doll" (a short version and a longer version) and the naughty "Mother, May I Go in to Swim?" Then Van and Schenck put forward their biggest hit of the period, the classic "For Me and My Gal," backed with Irving Berlin's "Dance and Grow Thin." The records kept coming in 1917: "There's Something Nice about the South" and "Far Away in Honolulu" travel thousands of miles east to west with the flip of a shellac disc; and "Huckleberry Finn" and "Mulberry Rose" go from south to north, from the tale of a carefree layabout kid to the story of a hardworking immigrant eager to settle down with his gal.
Through the War and Onward
As the year marched on, so did the U.S. involvement in World War I. Van and Schenck give us two remarkable songs during the conflict, both lighthearted and comical. "The Ragtime Volunteers Are Off to War" shows that the South really will do her bit—ragging up the military march while they're at it. "I Don't Want to Get Well" was said to be a favorite of the enlisted men, making light of potentially catastrophic injury, because the singers want to stay in the hospital, as they're "in love with a beautiful nurse." "Southern Gals," "I Miss the Old Folks Now," and "In the Land O' Yamo Yamo" (version 1) were the other final numbers for Victor (for the time being), and then at the beginning of 1918, Van and Schenck began a long exclusive period with Columbia. They started with a reprisal of "In the Land O' Yamo Yamo" (version 2). Remember, "Yamo Yamo" is more a state of mind than a place on the map.
Bert Williams Wannabe
After doing "I Wasn't Skeared…," Gus Van made two more recordings in the "shiftless darkey" vein, "I Don't Think I Need a Job that Bad" and "If I Was as Strong as Samson." Problem is, they aren't as funny as Williams' own material and they are a far sight more mean. Offensive, yes, but historically very interesting. More successful is "Beans, Beans, Beans," which has an accompaniment more noteworthy than on the version by Eddie Morton. Van—the former August Von Glahn—also tried out his Yiddish dialect on "I'm in Love," rehearsing every stereotype in the book.
Moving On
It's not by accident that many observers see Van and Schenck as heirs to the throne previously held by Collins and Harlan—who for nearly 20 years had been the most popular recording comedy duo. Their rough and ready routine wasn't built for the Jazz Age, whereas Van and Schenck were. There was Gus Van, acting out in front of the piano, while Joe Schenck tickled the ivories with one hand and gesticulated with the other. A nuanced pair, the material also became more complex. "Where Do They Get 'Em and How Do They Get 'Em?" hints hilariously at subjects mostly verboten until now, while "My Mind's Made Up to Marry Carolina" shows us a new, up-to-date Southern landscape. The only really strange "throwback" among the final tracks is "Ragtime Moses Old-Time Bomboshay," a number co-written by the pair along with their Emerson pianist Malvin Franklin. It's a lively piece, but its caricatures are gross and make the listener wonder whether Van and Schenck are playing Collins and Harlan in jazz costume.
This release is included in the following packages.
Save 20% on our entire catalogue