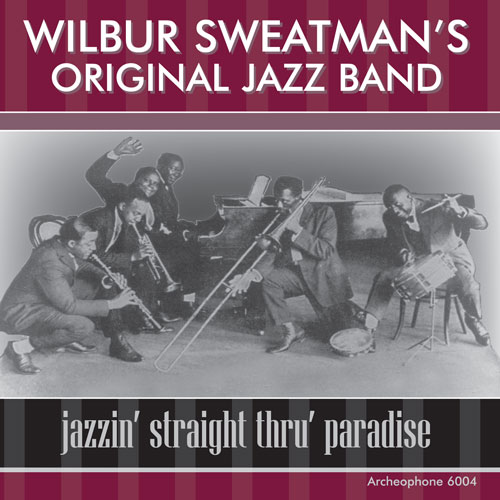 Vaudevillian Wilbur C. Sweatman impressed audiences by playing three clarinets at once, but he was more than just a novelty. A transitional figure in the move away from ragtime and into jazz, Sweatman and his band were the hottest and the best players of the Dixieland style of jazz that erupted onto the American music scene in the late 1910s. 25 tracks, including the complete Columbia releases of Sweatman's band recorded from 1918 to 1920, along with one rarity, the Little Wonder (5-1/2" disc) of "Lonesome Road." The 24-page booklet with writing by Harlem Renaissance scholar Steve Tracy features an overview of Sweatman's life, detailed and informative notes on the selections, and a persuasive argument for Sweatman's place in the early jazz pantheon. List price: $16.49 Sale price: $13.19
OVERVIEW
Catalogue number: ARCH 6004
UPC: 777215107045
Original release date: December 14, 2004
Running length: 74:04 / 25 tracks
Notes & packaging: Includes a 24-page booklet
Tracks recorded: 1918-1920
In Archeophone's Jazz, Dance & Blues series
Tracks and Sound Samples
Product Description
Package Deals
More by this Artist
Sample all tracks
Tracklist

1.
Regretful Blues
Wilbur Sweatman's Original Jazz Band
1918

2.
Ev'rybody's Crazy 'Bout the Doggone Blues But I'm Happy
Wilbur Sweatman's Original Jazz Band
1918

3.
The Darktown Strutters' Ball
Wilbur Sweatman's Original Jazz Band
1918

4.
Good-bye Alexander (Goodbye Honey Boy)
Wilbur Sweatman's Original Jazz Band
1918

5.
Indianola
Wilbur Sweatman's Original Jazz Band
1918

6.
Oh! You La! La!
Wilbur Sweatman's Original Jazz Band
1918

7.
Rock-a-Bye Your Baby with a Dixie Melody
Wilbur Sweatman's Original Jazz Band
1918

8.
Those Draftin' Blues
Wilbur Sweatman's Original Jazz Band
1918

9.
Has Anybody Seen My Corinne
Wilbur Sweatman's Original Jazz Band
1918

10.
Dallas Blues
Wilbur Sweatman's Original Jazz Band
1918

11.
Ringtail Blues
Wilbur Sweatman's Original Jazz Band
1918

12.
Bluin' the Blues
Wilbur Sweatman's Original Jazz Band
1918

13.
Rainy Day Blues
Wilbur Sweatman's Original Jazz Band
1919

14.
Ja-Da! (Ja-Da, Ja-Da, Jing, Jing, Jing)
Wilbur Sweatman's Original Jazz Band
1919

15.
A Good Man Is Hard to Find
Wilbur Sweatman's Original Jazz Band
1919

16.
Lonesome Road
Wilbur Sweatman's Original Jazz Band
1919

17.
That's Got 'Em
Wilbur Sweatman's Original Jazz Band
1919

18.
Kansas City Blues
Wilbur Sweatman's Original Jazz Band
1919

19.
Slide, Kelly, Slide
Wilbur Sweatman's Original Jazz Band
1919

20.
I'll Say She Does
Wilbur Sweatman's Original Jazz Band
1919

21.
Lucille
Wilbur Sweatman's Original Jazz Band
1919

22.
Hello, Hello!
Wilbur Sweatman's Original Jazz Band
1919

23.
I Ain't Gonna Give Nobody None O'This Jellyroll
Wilbur Sweatman's Original Jazz Band
1919

24.
But
Wilbur Sweatman's Original Jazz Band
1920

25.
Think of Me Little Daddy
Wilbur Sweatman's Original Jazz Band
1920
When he is talked about at all these days, it is mostly as the reflected glory of his association with Scott Joplin, Duke Ellington, or other luminaries of the early jazz pantheon. But now, with the compilation of all of his band's recordings from 1918 through 1920 on Jazzin' Straight Thru' Paradise, Wilbur Sweatman is finally getting the respect he has deserved for decades. Here are 25 tracks that chronicle the shift from ragtime to jazz and demonstrate Sweatman's seminal place in the development of the latter. At the same time, Sweatman's incredible clarinet pyrotechnics are on full display throughout. Jazzin' Straight Thru' Paradise features a 24-page booklet with extensive and illuminating notes by Steve Tracy, the noted scholar of the Harlem Renaissance, and over 74 minutes of the most exciting Dixieland-style music you'll find anywhere.
Beginnings
Wilbur Sweatman was born in Missouri in 1882. By about 1902 he was living in Minneapolis–already a veteran of Professor Clark Smith's Pickaninny Band of Kansas, the P. G. Lowery Band, and W. C. Handy's Musical Spillers–and where, according to legend, Sweatman cut a cylinder around 1904 of Joplin's "Maple Leaf Rag." He moved on to Chicago in 1908 and spent time as an orchestra conductor before leaving for New York and the vaudeville stage in 1911. Sweatman gained notoriety as a "flash" act, playing three clarinets at once, but he contributed mightily to the popularity of ragtime during its "second wave" via his compositions of "Down Home Rag" and "Old Folks Rag." Then Sweatman and his band recorded a series of discs for Emerson and Pathé.
From Ragtime to Jazz
Our collection begins just after this point. Picking up where the Original Dixieland Jazz Band and Earl Fuller's Band had begun, Sweatman's Original Jazz Band played the new, wild type of music that had its feet still in the ragtime idiom, playing their charts fairly closely and flourishing with a little improvisation. You can hear the transition from ragtime to jazz on "I Ain't Gonna Give Nobody None O'This Jellyroll," with its traditional ragtime figures morphing into a looser, jazzier style of playing. Similarly, "Ringtail Blues" shows Sweatman moving in and out of the melody and giving it his unique individualistic stamp.
Infectious, Hard-Driving Songs
"Regretful Blues," the first song on the disc, is an apt template for the rest of the CD. As Steve Tracy writes in the accompanying notes, it is "highly spirited music, often hard-driving, leaping, cascading music played with a verve, especially by Sweatman, that is truly infectious." "Oh! You La! La!" is another example of the propulsive character of these songs. The players are going at breakneck speed, and the drummer won't quit. On "Has Anybody Seen My Corinne" (which intepolates "Down on Frog's Isle" and "Livery Stable Blues"–the latter being the ODJB's first record), it is Sweatman himself who is in charge, his clarinet forceful, ringing, driving.
Experimentations
Sweatman's band experimented with different sounds and a variety of arrangements. On many of the songs, such as the war-themed "Good-Bye Alexander" and "Indianola," Sweatman interpolates one or more other songs into the middle of the main melody. Additionally, Sweatman's Band gives the first recording of Hart Wand's "Dallas Blues," and they did several other "blues," such as "Those Draftin' Blues," "Bluin' the Blues," "Rainy Day Blues," and "Kansas City Blues." On "Ja-Da" and "A Good Man Is Hard to Find," the band introduces violin into the mix, and on "Lucille" and "I'll Say She Does," guitar and banjolines are added to the ensemble for a very interesting effect.
Re-evaluating Sweatman
Wilbur Sweatman has been unfairly ignored as a pioneering force in early jazz, and this CD will help in putting him and his band in their rightful position. But aside of that, lovers of great dance music and consummate playing will want this collection of hot, upbeat historic performances.
This release is included in the following packages.
Save 15% when you order all in-stock releases in our Jazz, Dance & Blues Series
Save 20% on our entire catalogue