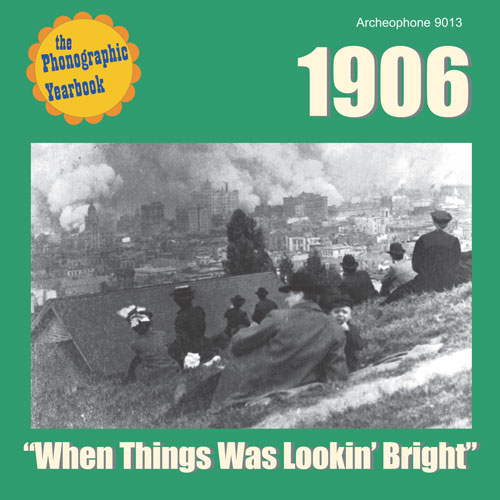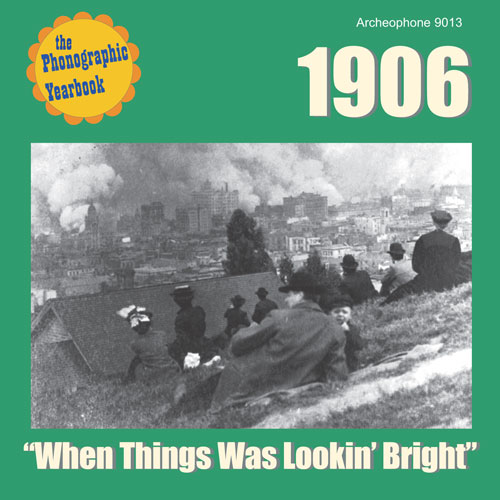 Out of Stock
1906: "When Things Was Lookin' Bright" features 27 tracks from the year of the great San Francisco earthquake and the publication of Upton Sinclair's The Jungle. The CD comes with a generously illustrated 24-page full-color booklet, including notes on each of the selections and an interpretive essay on the events of the year. List price: $25.00
OVERVIEW
Catalogue number: ARCH 9013
UPC: 778632901476
Original release date: May 12, 2009
Running length: 73:43 / 27 tracks
Notes & packaging: Includes a 24-page full-color booklet
Tracks recorded: 1905-1906
Contains racially derogatory language
In Archeophone's Phonographic Yearbook series
Tracks and Sound Samples
Product Description
Package Deals
More by these Artists
Sample all tracks
Tracklist

1.
Everybody Works but Father
Billy Murray
1905

2.
Waiting at the Church
Ada Jones
1906

3.
Love Me and the World Is Mine
Henry Burr
ca. 1906

4.
Fol the Rol Lol
Edward M. Favor
1906

5.
Nobody
Bert Williams
1906

6.
Forza del Destino–Solenne in quest' ora
Enrico Caruso and Antonio Scotti
1906

7.
Wait 'Till the Sun Shines, Nellie
Byron G. Harlan
ca. 1906

8.
Why Don't You Try?
Harry Tally
1905

9.
He Walked Right in, Turned Around and He Walked Right Out Again
Bob Roberts
1906

10.
How'd You Like to Spoon with Me?
Corinne Morgan and Haydn Quartet
1905

11.
Buffalo Rag
Vess L. Ossman
1906

12.
Bill Simmons
Arthur Collins
1906

13.
Just a Little Rocking Chair and You
Ada Jones
ca. 1906

14.
Cheyenne
Billy Murray
1906

15.
The Good Old USA
Byron G. Harlan
ca. 1906

16.
Good Night, Little Girl, Good Night
Henry Burr
1905

17.
Let It Alone
Bert Williams
1906

18.
Peaches and Cream
Ada Jones and Len Spencer
1906

19.
So Long, Mary!
Corinne Morgan with Male Chorus
1906

20.
Love Me and the World Is Mine
Albert Campbell
1906

21.
On the Rocky Road to Dublin
Arthur Pryor's Band
1906

22.
The Linger Longer Girl
Frank C. Stanley and Elise Stevenson
1906

23.
The Leader of the German Band
Arthur Collins and Byron Harlan
1905

24.
Wait Till the Sun Shines, Nellie
Harry Tally
1905

25.
Waltz Me Around Again Willie
Billy Murray and Haydn Quartet
1906

26.
Will You Love Me in December as You Do in May
Harry Macdonough and Haydn Quartet
1905

27.
You're a Grand Old Rag
Billy Murray
1906
The U.S. suffered its worst natural catastrophe to date when a massive earthquake hit San Francisco in April 1906. What the shaking earth did not destroy, ravaging fires in the quake's aftermath did. Coming at a time when dangerous irregularities in the country's packing plants were uncovered in Upton Sinclair's landmark book, The Jungle, it was obvious that the American infrastructure was unconsolidated and unprepared for significant disruptions. Archeophone's Phonographic Yearbook, 1906: "When Things Was Lookin' Bright," shines a light on these events and provides a 27-selection soundtrack to the historical moment.
All-Time American Classics
Many of the biggest hits of 1906 are also prominent members of the great American songbook, and none more so than Bert Williams' moaning lament, "Nobody." Our number-one all-time most requested song, "Nobody" perfectly sums up the feeling of helplessness felt by the victims of cruel fortune. More optimistically, "Wait 'Till the Sun Shines, Nellie" was so popular that major hit versions of it were scored by both Byron G. Harlan and Harry Tally. Similarly, the stirring ballad, "Love Me and the World Is Mine" was a hit for both Henry Burr and Albert Campbell–two of the early industry's most versatile tenors who would later form a duet partnership.
Ballads by Notable Female Artists
Other enduring songs from 1906 were first introduced by female vocalists, making the year look like a breakthrough period for early women artists. Corinne Morgan beams on two numbers: "How'd You Like to Spoon with Me?" and "So Long, Mary!", accompanied on both by members of the Haydn Quartet. Ada Jones was only a one-year-old act, featured here on the Edison cylinder of "Just a Little Rocking Chair and You," along with Vesta Victoria's hit of "Waiting at the Church," and her duet with Len Spencer on "Peaches and Cream." And Elise Stevenson marks one of her first major hits with partner Frank C. Stanley on "The Linger Longer Girl."
Billy Murray as a Bona Fide Superstar
By 1906 it was indisputable: Billy Murray was the first genuine hit personality of the fledgling acoustic-era industry. He had scored big hits already, but now he added huge pieces to his repertoire: Lew Dockstader's "Everybody Works but Father," the cowboy-themed "Cheyenne," and George M. Cohan's controversial masterpiece, "The Grand Old Rag." Eager to capitalize on Murray's success, Victor paired him up with their best vocal ensemble, the Haydn Quartet, for "Waltz Me Around Again Willie" to build on the franchise.
Musical Hilarities
Strong instrumentals are to be had with the Arthur Pryor Band's rendering of "On the Rocky Road to Dublin" and Vess Ossman's take on "Buffalo Rag," but what you'll most remember on 1906: "When Things Was Lookin' Bright" are the humorous selections. Bert Williams delivers a second classic on the year with "Let It Alone," about the wisdom of minding your own business, while Edward M. Favor recites some of the most clever (and clean) limericks you'll ever hear in "Fol the Rol Lol." Meanwhile, Collins and Harlan mix it up with an oom-pah band on "The Leader of the German Band" and Bob Roberts will cause your head to spin around with "He Walked Right in, Turned Around and He Walked Right Out Again."
A Bittersweet Reminder
Our 1906 Phonographic Yearbook captures the hopeful feeling of the times, but the historical moment of San Francisco's April 1906 agony is especially etched into the beautifully recorded aria of "Forza del Destino—Solenne in quest' ora" by Enrico Caruso and Antonio Scotti. The two opera stars had recorded it in Camden only weeks before they performed in Carmen at the Grand Opera House in San Francisco the night before the earthquake struck. A terrified Caruso swore he would never return to the Bay city–and he kept his promise.
This release is included in the following packages.
The Early 1900s
Save 20% on our entire catalogue
| Get Package Deal
Phonographic Yearbook Starter Kit
Save 15% when you order all in-stock editions of our Phonographic Yearbook series together.
Save 20% on our entire catalogue