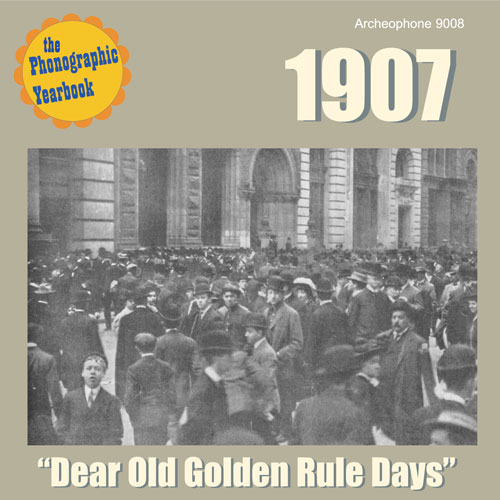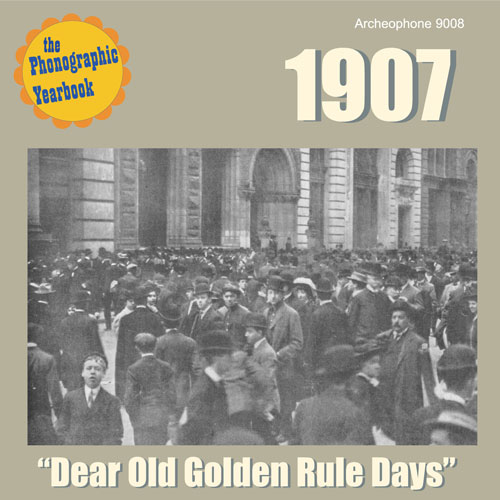 25 hits from 1907, the year that American banks suffered one of the worst panics in U.S. history, ushering in a two-year depression. Features sentimental favorites by Byron G. Harlan ("School Days") and Frank Stanley ("Auld Lang Syne"), comic hits by Collins and Harlan, Bob Roberts, and Helen Trix ("The Bird on Nellie's Hat"), and the first stateside hit for Harry Lauder ("I Love a Lassie"). Other top artists include Billy Murray ("San Antonio" and "Harrigan"), Bert Williams, Ada Jones, Stanley and Burr ("Red Wing"), Enrico Caruso ("Vesti La Giubba" from Pagliacci), and the U.S. Marine Band doing a rousing version of Joplin's "Maple Leaf Rag." Deluxe, full-color 24-page booklet features detailed notes on the songs, an historical essay, and rare graphics. List price: $17.49 Sale price: $14.87
OVERVIEW
Catalogue number: ARCH 9008
UPC: 777215104624
Original release date: May 27, 2003
Running length: 66:45 / 25 tracks
Notes & packaging: Includes a 24-page full-color booklet
Tracks recorded: 1905-1907
Contains racially derogatory language
In Archeophone's Phonographic Yearbook series
Tracks and Sound Samples
Product Description
Package Deals
More by these Artists
Sample all tracks
Tracklist

1.
School Days (When We Were a Couple of Kids)
Byron G. Harlan
1907

2.
I Just Can't Make My Eyes Behave
Ada Jones
1907

3.
San Antonio
Billy Murray
1907

4.
Red Wing (An Indian Fable)
Frank C. Stanley and Henry Burr
1907

5.
Camp Meeting Time
Arthur Collins and Byron Harlan
1906

6.
Maple Leaf Rag
U.S. Marine Band
1906

7.
Pagliacci-Vesti la giubba
Enrico Caruso
1907

8.
Because You're You
Elise Stevenson and Harry Macdonough
1906

9.
Let's Take an Old-Fashioned Walk
Ada Jones and Billy Murray
1907

10.
I Love a Lassie
Harry Lauder
1905

11.
The Bird On Nellie's Hat
Helen Trix
1906

12.
My Gal Sal
Byron G. Harlan
1907

13.
Merry Widow Waltz
Victor Dance Orchestra
1907

14.
No Wedding Bells for Me
Bob Roberts
1907

15.
Harrigan
Billy Murray
1907

16.
Honey Boy
Columbia Quartette
1907

17.
Three Rubes Seeing New York
Peerless Trio
1907

18.
Bake Dat Chicken Pie
Arthur Collins and Byron Harlan
1907

19.
My Irish Rosie
Ada Jones
1907

20.
Nobody's Little Girl
Byron G. Harlan
1907

21.
Because I'm Married Now
Billy Murray
1907

22.
He's a Cousin of Mine
Bert Williams
1907

23.
The Bully
May Irwin
1907

24.
If I'm Going to Die I'm Going to Have Some Fun
Arthur Collins
1907

25.
Auld Lang Syne
Frank C. Stanley
1907
In 1907, New York's financial districts needed to be taught the Golden Rule, as an October run on the Knickerbocker Trust Co. precipitated one of the biggest depressions in U.S. history. When the panic transpired, President Teddy Roosevelt was on a two-week nature expedition down the Mississippi River. Meanwhile, in homes across America, people were listening to Billy Murray, Ada Jones, Byron Harlan, and the newly-arrived sensation from the highlands of Scotland, Harry Lauder.
A Penchant for Sentimental Ballads
What adult today doesn't remember singing "School Days" in his or her youth? This classic song of nostalgia for the rigors of "readin' and writin' and 'rithmetic" was composed by Will Cobb and Gus Edwards and first heard in 1907. Byron G. Harlan, who performs it here, had perhaps his biggest successes this year. With "Nobody's Little Girl" and Paul Dresser's heartbreaking swan-song masterpiece, "My Gal Sal," Harlan had phonograph listeners shedding many a tear.
Cowboy and Indian Songs
Two peculiar genres were very much in vogue during 1907: so-called "cowboy" songs and "Indian" songs. Neither kind was especially authentic to its supposed origins, but that made little difference. In the former category, Billy Murray builds on the 1906 success of "Cheyenne" with his version of "San Antonio," performed here on an Edison black wax cylinder with a chorus. And in the latter genre, "Indian" songs, is "Red Wing," as sung by the team of Frank Stanley and Henry Burr. "Red Wing" was so well known that T. S. Eliot referenced it in his signature poem, "The Waste Land."
Now Appearing!
For many of the performers included here, their recordings during 1907 marked a first. "The Bird on Nellie's Hat" was the first release by new vaudeville star Helen Trix. For Harry Lauder, "I Love a Lassie" was his first recording released stateside (although it was made in 1905). Meanwhile, "The Bully" (an 1896 smash) was from May Irwin's first and only set of sessions for Victor. For the U.S. Marine Band, "Maple Leaf Rag" was from the first sessions for the outfit after a long absence from recording. And finally, the sketch, "Three Rubes Visiting New York" is taken from the first batches of releases for the new Indestructible cylinder company.
Songs You Can't Forget
"Auld Lang Syne," "My Irish Rosie," and "Merry Widow Waltz" are tunes that have stood the test of time. Here they are in versions nearly one hundred years old. These are recordings made by the most significant of early phonograph personalities: Frank C. Stanley, a singer of solo songs, duets with Henry Burr, and quartets with the Columbia Quartet; Ada Jones, already the most popular of all female singers, and newly introduced as a partner with Billy Murray; and the Victor Orchestra, ably conducted by Walter B. Rogers.
Nowhere else can you find all these great original songs, by the original artists, on one CD, beautifully remastered and accompanied by a lush, full-color 24-page booklet featuring extensive notes, an essay on the time period, and original source graphics and sheet music.
This release is included in the following packages.
The Early 1900s
Save 20% on our entire catalogue
| Get Package Deal
Phonographic Yearbook Starter Kit
Save 15% when you order all in-stock editions of our Phonographic Yearbook series together.
Save 20% on our entire catalogue