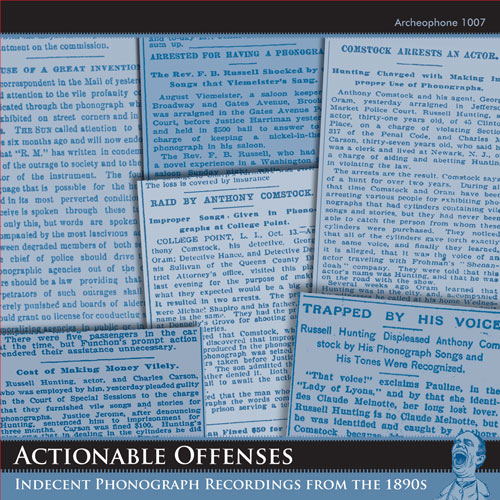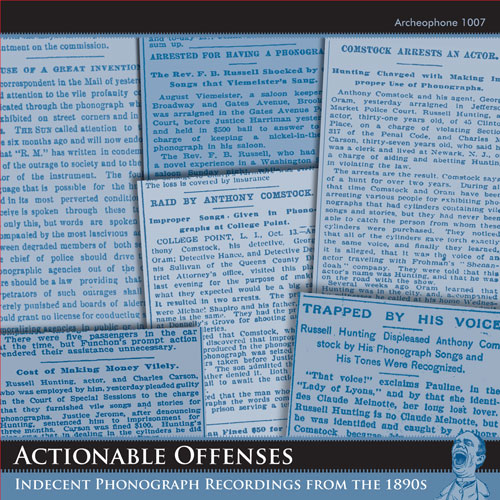 Pioneer recording artist Russell Hunting went to jail for what's on this CD. 19 cylinder selections (43 tracks) from c.1892-1900 of the rarest of the rare: explicit indecent spoken-word recordings that brought down the wrath of anti-vice crusader Anthony Comstock. Actionable Offenses is a critical edition that places these recordings in their original social and historical context. Featuring an oversized 60-page booklet with complete transcripts of the recordings, annotations on slang and out-of-date references, and a groundbreaking historical essay by Patrick Feaster and David Giovannoni detailing the rise of indecent recordings and arrest of Hunting. Also includes recordings by Cal Stewart, James White, and an unknown gentleman of the 1890s indulging his taste for home recordings. List price: $18.99
OVERVIEW
Original release date: May 16, 2007
UPC: 778632900509
Running length: 59:16 / 19 cylinders (43 indexed tracks)
Notes & packaging: Includes a 60-page larger-format booklet
Tracks recorded: ca. 1892 – 1900
Contains racially derogatory language
Contains explicit language
In Archeophone's Genres series
Awards: 50th GRAMMY Nominee, Best Historical Album; 50th GRAMMY Nominee, Best Album Notes
Tracks and Sound Samples
Product Description
Reviews
Honors & Awards
Package Deals
More by these Artists
Sample all tracks
Tracklist

1.
Learning a City Gal How to Milk
Cal Stewart
ca. 1897-98

2.
The Tapeworm Story
Cal Stewart
ca. 1897-98

3.
Gimlet's Soliloquy / The Rascal Detector [2 indexed tracks]
Unknown
ca. 1892

4.
The Whores' Union
Unknown
ca. 1892

5.
Boarding the Folsom / A Few Conundrums [2 indexed tracks]
Unknown
ca. 1892

6.
Out of Order
Russell Hunting
ca. 1895-96

7.
Did He Charge Too Much
Russell Hunting
ca. 1895-97

8.
Reilly as a Policeman
Russell Hunting
ca. 1895-98

9.
Sim Hadley on a Racket
Russell Hunting
ca. 1895-99

10.
Sim Hadley on a Racket
James White
ca. 1896-99

11.
Michael Casey Exhibiting His Panorama
James White
ca. 1896-99

12.
Dennis Reilly at Maggie Murphy's Home After Nine O'Clock
James White
ca. 1896-99

13.
Young Cylinder "A": Stroll on Capitol Hill / A Hard Head [2 indexed tracks]
Home Recording
ca. 1897-1900

14.
Young Cylinder "B": The Virtues of Raw Oysters
Home Recording
ca. 1897-1900

15.
Young Cylinder "C": Jokes, Riddles, Verses, a Limerick, and a Toast [8 indexed tracks]
Home Recording
ca. 1897-1900

16.
Young Cylinder "D": More Verses and Jokes [9 indexed tracks]
Home Recording
ca. 1897-1900

17.
Young Cylinder "E": The Lady's Friend / a Song / The Irishman's Prayer / a Joke [4 indexed tracks]
Home Recording
ca. 1897-1900

18.
Young Cylinder "F": Verses and Songs [4 indexed tracks]
Home Recording
ca. 1897-1900

19.
Young Cylinder "G": Poem: "I Sit Here Thinking, Will, of You"
Home Recording
ca. 1897-1900
New York City, 1896. A man walks into a bar. He sits down, orders a beer, and laughs long and hard at the bartender's newest story. It's a good tale, though a bit too bawdy to repeat at home. The next day he goes into the same bar, gets his beer, and drops his change into a phonograph. He's listening through rubber tubes to a man telling a story similar to the bartender's. Without warning Anthony Comstock's defenders of decency charge into the bar, push him aside, destroy
the record, and escort the bar's proprietor to jail for promoting indecency.
Obscene Recordings from 110 Years Ago
The commercial recordings on this CD are the only known copies that Comstock's men missed. They were preserved by long-time Edison Recording Manager Walter Miller and are now in the vault of the Edison National Historic Site. Scarcity and suppression have kept them silent for a century. They were stories told readily in the bar; yet they became legally actionable offenses when fixed in wax and played on a phonograph in that same bar. Brace yourself. Just because they are from the Victorian era does not mean they are tame by today's standards—far from it.
Pioneer Recording Artist Goes to Jail
They are so indecent that Russell Hunting was imprisoned in 1896 for making and selling them. Up to that point Hunting had been doing a brisk trade selling his bawdy cylinders to the exhibitors on Coney Island who had certain "discriminating" customers. Although he recorded under pseudonyms such as "Charley Smith" and "Willy Fathand," his voice was so well-known through his "Casey" routines that he was identified as the creator by aural evidence alone. Hunting's recording career never fully recovered, and he left the U.S. in 1898 to make a fresh start in England.
Cal Stewart and James White Join in
If you think you've heard every Cal Stewart routine, think again. In two unique recordings from early in his career, Cal Stewart assumes his familiar Punkin Centre dialect in "Learning a City Gal How to Milk" and performs with an Irish accent in "The Tapeworm Story." James White, who rose to prominence in the Edison organization as the director of many of its early films, performs the most bawdy routines in this collection. "Sim Hadley on a Racket" is a piece that White inherited from Hunting, and he surpasses his mentor in making it filthy.
Uncut, Uncensored, and in the Proper Historical Context
Recently retrieved from the vaults of the Edison National Historic Site, these extraordinarily scarce recordings are presented in their unexpurgated entirety. They allow us to hear uncut and uncensored what new technology made possible and the protectors of public morals made illegal: indecent performances driven out of town, out of business, off the public stage, and into the privacy of unmixed company in the home.
Bawdy Home Recordings
A second collection of cylinders heard on this CD was made at home by an amateur who delighted in reciting obscene jokes, limericks, songs, poems, and stories into the horn. What this tells us about late Victorian America may be shocking to some—these are extremely racy recordings and are not for the faint-hearted. But for historians and folklorists, these are primary documents of a poorly studied tradition. We've indexed the separate texts on these home recordings into different tracks to aid in research. And for all our audio samples below, we have judiciously selected non-obscene excerpts.
A Special Critical Edition
Phonograph historian Patrick Feaster and the Grammy-award winning team of David Giovannoni, Meagan Hennessey, and Richard Martin tell the whole story for the first time anywhere. At 60 pages, the CD's oversized booklet stands alone as a work of its own merit. It features several full-length articles, complete transcripts of all the recorded material, selections from the 1893 convention of phonograph dealers, and extensive footnotes. Plus the usual attractive design and previously unpublished illustrations you expect from Archeophone. It may be indecent—but it sure is classy!
GRAMMY Awards
GRAMMY Nominee, Best Historical Album, 2007
GRAMMY Nominee, Best Album Notes, 2007
This release is included in the following packages.
Save 15% when you order all in-stock releases in our Genres series.
Save 20% on our entire catalogue