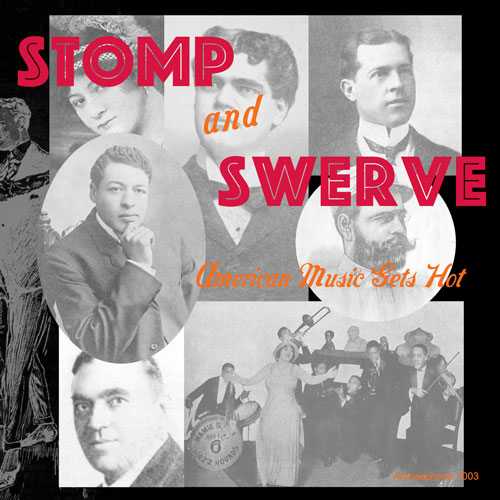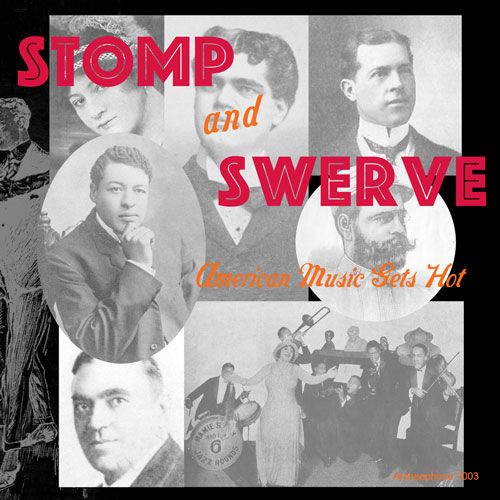 27 songs from 1897-1925, 28-page booklet with historical notes, artist bios, and unusual graphics chronicling the rise of "hot" playing in American music over four decades. Rare tracks by banjo virtuosos Cullen and Collins, vocalist Silas Leachman, Jim Europe's Orchestra, and his proteges in the Versatile Four. The ultra-rare "Sunset Medley" by Haenschen and Schiffer is here released for the first time, along with Edison cylinders by Sophie Tucker and Polk Miller. Companion to the book by David Wondrich, published by Chicago Review Press on the A Cappella imprint. List price: $16.49
OVERVIEW
Catalogue number: ARCH 1003
UPC: 777215105492
Original release date: October 4, 2003
Running length: 78:09 / 27 tracks
Notes & packaging: Includes a 28-page booklet
Tracks recorded: 1897-1925
Contains racially derogatory language
In Archeophone's Genres series
Tracks and Sound Samples
Product Description
Package Deals
More by these Artists
Sample all tracks
Tracklist

1.
El Capitan March
Edison Concert Band
ca. 1897

2.
Twin Star March
Joseph P. Cullen and William G. Collins
1899

3.
You've Been a Good Old Wagon but You Done Broke Down
Len Spencer
ca. 1902

4.
All Coons Look Alike to Me
Arthur Collins and Vess L. Ossman
ca. 1902

5.
I Thought I Was a Winner, or, I Don't Know, You Ain't So Warm
Columbia Orchestra
ca. 1897

6.
At a Georgia Camp Meeting
Sousa's Band
1904

7.
Maple Leaf Rag
Vess L. Ossman
1907

8.
A Coon Band Contest
Arthur Pryor's Band
1906

9.
Ain't That a Shame
Dan W. Quinn
1901

10.
The Fortune Telling Man
Silas Leachman
1901

11.
Nobody
Bert Williams
1906

12.
St. Louis Tickle
Ossman-Dudley Trio
1906

13.
The Smiler (A Joplin Rag)
Zon-O-Phone Concert Band
ca. 1908

14.
Castle House Rag
Europe's Society Orchestra
1914

15.
Circus Day in Dixie
Versatile Four
1916

16.
Watermelon Party
Polk Miller and Old South Quartet
1909

17.
Some of These Days
Sophie Tucker
1911

18.
Sans Souci (Maxixe Bresilienne)
Van Eps Banjo Orchestra
1914

19.
Carve Dat Possum
Harry C. Browne and Peerless Quartette
1917

20.
Old Dan Tucker
Uncle Dave Macon
1925

21.
A Coon Band Contest
Earl Fuller's Famous Jazz Band
1917

22.
Livery Stable Blues
Original Dixieland 'Jass' Band
1917

23.
Rose Room
Art Hickman's Orchestra
1919

24.
Sunset Medley (A Bunch of Blues/Babes in the Woods)
W. G. Haenschen and T. T. Schiffer
1916

25.
Crazy Blues
Mamie Smith and Her Jazz Hounds
1920

26.
Shake It and Break It
Lanin's Southern Serenaders
1921

27.
Cake Walking Babies from Home
Clarence Williams' Blue Five
1925
This CD is companion to the A Cappella-Chicago Review Press book by David Wondrich,
Stomp and Swerve: American Music Gets Hot, 1843-1924
. It is also the third title in our popular
Genres
series of CDs, which trace themes and trends across the 35 years of the acoustic-era recording industry. With Stomp and Swerve you will hear songs where the players used "hot" techniques—earlier than most people have been aware of. Jam-packed full with 27 tracks and a 28-page booklet that's loaded with rare graphics and extensive notes, Stomp and Swerve is a musical journey you'll never forget!
"Hot" = Stomp + Swerve
Wondrich's essay is a provocative look into America's richly layered musical traditions, in which the underground conversations by outsiders like blacks and hillbillies were gradually assimilated into the mix. The result was what Wondrich calls "hot": the marriage of the stomping, driving rhythmic phrases of mainstream, Euro-Celtic tradition with the swerving, break-the-rules slurring, smearing, and squawking that would be the impulse behind jazz. But the recording industry was always a little behind the times, and we have dug hard to find examples of those moments in the often staid recordings of the early years when something wonderfully unpredictable
happens.
Marches, Ragtime, Dance Music, and More
The early industry loved band music, especially marches. But listen to what Cullen and Collins, banjo experts par excellence, do with "Twin Star March." When cakewalks became the rage, Sousa's Band was leading the pack with "At a Georgia Camp Meeting." Ragtime and "coon" songs took syncopation further than cakewalks, and Len Spencer and a terrific unknown piano player show how it can be done on the Lambert cylinder of "You've Been a Good Old Wagon but You Done Broke Down." A few years later, when dance music swept the nation, syncopation broke out with heavy percussion, and a song like "Circus Day in Dixie," by Clef Club alums the Versatile Four, shows the results. "Carve Dat Possum" by Harry C. Browne is a 1917 look back to the 1875 composition by minstrel-man
Sam Lucas, showing that those guys knew how to rock.
Blues into Jazz
Examples of blues motifs on early records are sampled on Stomp and Swerve, and they seem to open up a whole new world. "Ain't That a Shame" by Dan Quinn is one of the earliest. So is the Williams and Walker piece, "The Fortune Telling Man," a tremendously rare disc by Chicagoan Silas Leachman, who sings the bluesy song in a hillbilly twang. "St. Louis Tickle," performed here by the Ossman-Dudley Trio, was well-known in its day by a number of different titles, including "The Funky Butt." On "Sunset Medley, a very rare personal record, Gus Haenschen (who later adopted the stage name, Carl Fenton) and T. T. Schiffer give us perhaps the earliest example on record of the loose kind of playing that can accurately be describe as having a "jazz feel." Finally, "Shake It and Break It," by Lanin's Southern Serenaders, featuring Jimmy Durante on piano and Phil Napoleon on trumpet, while paying tribute to its ragtime influences, demonstrates that jazz had finally arrived in full by 1921.
Dance to Rare Records
If you're looking for something to dance to, or if you like our collection Real Ragtime, you'll love Stomp and Swerve. If you want rare records, this CD has them in spades. Stomp and Swerve represents the first release in over 100 years of such rarities as "All Coons Look Alike to Me," the Bert Williams-composed "I Thought I Was a Winner, or, I Don't Know, You Ain't So Warm" from 1897, the ripping "Castle House Rag" by James Reese Europe's Society Orchestra, "Watermelon Party" by Polk Miller and the Old South Quartet, Sophie Tucker's "Some of These Days," and many, many others. But while this collection sees American music at its best, be aware it also shows the worst. Several of the tracks display shocking racist attitudes that we do not subscribe to, but which we present as an integral part of American history.
This release is included in the following packages.
The Roots and Ragtime Collection
Save 10% when you order three of our most popular titles together.
Save 15% when you order all in-stock releases in our Genres series.
Save 20% on our entire catalogue