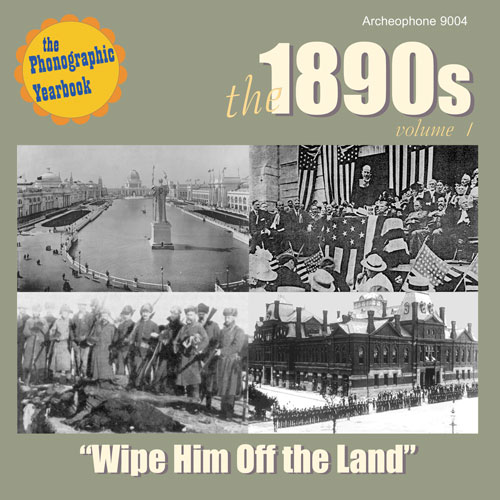 30 tracks from 1893-1902, transferred from exceedingly scarce Berliner discs and brown wax cylinders, with top artists such as Dan W. Quinn ("The Band Played On"), George J. Gaskin ("Drill, Ye Terriers, Drill"), John Yorke AtLee ("The Mocking Bird"), George W. Johnson ("The Whistling Coon"), Arthur Collins ("I'd Leave My Happy Home for You"), and Sousa's Band, Vess Ossman, Edward M. Favor, Russell Hunting, and more. The deluxe 24-page booklet boasts extremely rare photos of several of the artists (many only now published for the first time in over 100 years), artist bios, a timeline of when the songs first hit big, and an historical essay focusing on major social problems of the decade. Companion volume to ARCH 9006. List price: $17.49
OVERVIEW
Catalogue number: ARCH 9004
UPC: 656605928029
Original release date: April 4, 2001
Running length: 65:06 / 30 tracks
Notes & packaging: Includes a 24-page booklet
Tracks recorded: 1893-1902
Contains racially derogatory language
In Archeophone's Phonographic Yearbook series
Tracks and Sound Samples
Product Description
Package Deals
More by these Artists
Sample all tracks
Tracklist

1.
El Capitan March
Sousa's Band
1897

2.
The New Bully
J. W. Myers
1896

3.
She Was Bred in Old Kentucky
George J. Gaskin
1898

4.
Sally in Our Alley
Haydn Quartet
1899

5.
The Thunderer
Gilmore's Band
ca. 1899-1900

6.
At a Georgia Camp Meeting
Dan W. Quinn
1898

7.
The Mocking Bird
John Yorke AtLee
ca. 1893

8.
Casey as a Doctor
Russell Hunting
1897

9.
My Old Kentucky Home
Edison Male Quartet
1898

10.
In the Gloaming
Roger Harding
1897

11.
The Night Alarm
Edison Grand Concert Band
1898

12.
The Whistling Coon
George W. Johnson
1896

13.
Sweet Marie
Ada Jones
1894

14.
The Band Played On
Dan W. Quinn
1895

15.
I Guess I'll Have to Telegraph My Baby
Edward M. Favor
1899

16.
The Directorate March
U.S. Marine Band
1896

17.
My Old New Hampshire Home
Jere Mahoney
1898

18.
Just Break the News to Mother
George J. Gaskin
1899

19.
Uncle Josh in a Chinese Laundry
Cal Stewart
ca. 1900

20.
Turkey in the Straw
Billy Golden
1896

21.
I'd Leave My Happy Home for You
Arthur Collins
1899

22.
The Girl I Loved in Sunny Tennessee
J. J. Fisher
1899

23.
Washington Post March
Sousa's Band
1897

24.
In the Baggage Coach Ahead
Steve Porter
ca. 1899

25.
O Promise Me
Edward Franklin
ca. 1899-1900

26.
I'm Old but I'm Awfully Tough
Cal Stewart
1901

27.
Yankee Doodle (with variations)
Vess Ossman
1897

28.
Drill Ye Tarriers, Drill
George J. Gaskin
1899

29.
Crappy Dan
Spencer and Ossman
1897

30.
The Laughing Song
George W. Johnson
1902
Whistling solos, comic monologues, and "coon songs": these are the popular records of over 100 years ago, routines that remind us that the early talking machine was a novelty entertainment. The records—whether soft, non-durable brown wax cylinders or fragile shellac discs—were disposable curiosities that have accidentally survived the ravages of time to become crude
testimonies to history two centuries ago.
An odd kind of popularity
There are no "original" hits by original artists on records of the 1890s. Hit songs were the ones selling the most sheet music or those coming out of Broadway. In the fledgling recording industry, numerous versions of the songs appeared on commercial records. Over time, though, the reputations of certain artists, such as Dan W. Quinn, Len Spencer, George Gaskin, J. W. Myers, and Steve Porter, assured quality. These were the big "stars" of earliest days of recording.
A living testament to history
Many of the artists featured on the 1890s CD were born before the Civil War. In fact, recording phenom George W. Johnson was born a slave on a Virginia plantation. These are the voices of a history that usually seems beyond reach. But listen as Russell Hunting, in "Casey as Doctor," makes a joke about newly-inaugurated President McKinley. Or hear Sousa's Band play their director's "latest" march, "El Capitan." The booklet includes information on each of the artists featured to help bring these pioneers to life.
All the rough edges
The accompanying essay does not attempt a complete cultural history of the decade but, instead, focuses on a few key events that illuminate the songs, the marches, and comedy routines. Additionally, you'll be able to read some of the song lyrics; like many of the contemporary events, not all the songs are pretty. And not all the records have the clear sound of modern CD music. While we have attempted to minimize the noise on these rare records, the fact is that they are worn and noisier than most of the records Archeophone reissues.
This release is included in the following packages.
Phonographic Yearbook Starter Kit
Save 15% when you order all in-stock editions of our Phonographic Yearbook series together.
Save 20% on our entire catalogue